Taiwan
Get more with myNEWS
A personalised news feed of stories that matter to you
Learn more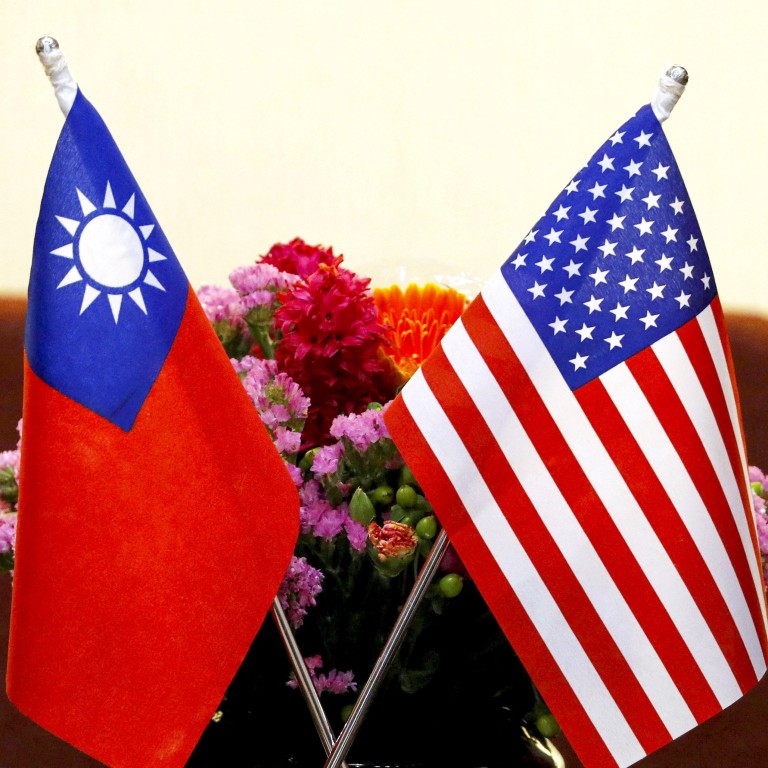 US-Taiwan trade talks rankle mainland China as 'inevitable' deal seen pulling island into US orbit
Taiwan's president heralded trade talks with United States this week as 'golden opportunity' to boost economy
But some economists say that reducing the self-ruled island's exposure to mainland China may be impossible
Trade talks between Taiwan and the United States this week give the self-ruled island a chance to accelerate exports to the giant Western consumer market and away from mainland China, a political adversary that many Taiwanese firms still depend on for business, according to officials and analysts.
The initiative, announced by US President Joe Biden's administration on June 1, calls on the US to support Taiwanese agriculture, which has lost consumers in mainland China over political spats, and to engage more in its digital economy – a sector that US officials hope to avoid in China over intellectual property concerns.
The initiative further aims to promote small-scale private enterprises in Taiwan and criticises "distortions" caused by "non-market practices of state-owned and state-controlled enterprises" – a possible reference to mainland China.
Former US president Donald Trump began withdrawing economically from mainland China in 2018 over what he called unfair Chinese trade practices and trademark violations. Trump elevated US-Taiwan ties through frequent arms sales and other shows of military support, a policy that Biden has extended since taking office in early 2021.
The US market is already Taiwan's largest source of export orders. From January to May this year, the value of orders placed by the US to Taiwan reached about 30 per cent of the total received by the Asian island. Taiwan's US$759 billion gross domestic product runs largely on exports of tech hardware, machinery and petrochemical products.
US officials have tapped Taiwan especially for semiconductor chips, as those components fell into short supply in 2020 due to surging demand for consumer electronics during the pandemic. Between a fifth and a quarter of the world's semiconductor revenue goes to Taiwan.
"These talks would be of substantial significance for further consolidating Taiwan-US economic relations," said Darson Chiu, a research fellow with the Taiwan Institute of Economic Research. "Taiwan plays a key role in the global semiconductor supply chain, and Taiwan can provide specific assistance to avoid the crisis of chain disruption."
The talks raise particular hope that Taiwan and the US could someday sign a two-way trade agreement, analysts believe. Such a trade pact would cut costs for Taiwanese exporters by eliminating US-side import tariffs.
"I believe the US strategy is trying to hold out on the inevitable as long as it can, which is the signing of a bilateral trade agreement … and see if the trade representative can score some key battles in relaxing Taiwan's protectionist policies and measures," said Ken Wu, vice-president of the Los Angeles chapter of the Taiwan advocacy group Formosan Association for Public Affairs.
Mainland officials claim sovereignty over Taiwan and have vowed to take back control of it, by force if necessary. Beijing also opposes any trade-liberalisation deals between Taiwan and other nations. That includes
Taiwan's bid
to join the 11-nation Comprehensive and Progressive Agreement for Trans-Pacific Partnership, noted Liang Kuo-yuan, president of the Taipei-based think tank Yuanta-Polaris Research Institute.
On Wednesday, Taiwan President Tsai Ing-wen said the US initiative gives Taiwan a "golden opportunity" to bolster its economy and heralds a breakthrough in relations between the two sides.
But reducing Taiwan's exposure to mainland China would take time and may be impossible, some economists say. Taiwanese have invested in mainland China since the 1980s, and from 1991 to mid-2021, approved investment in mainland China reached US$193.51 billion, according to official Taiwan figures.
Liang noted that Taiwanese investors still form "domestic clusters" in mainland China, such as in the cities of Dongguan and Kunshan. Many such investors thrive on the Chinese market size, he added.
"Negotiations can attract some Taiwanese to the US, but not like mainland China," he said. "It's closer, and [investors] can save on logistics costs."
The mainland remains Taiwan's top export destination, though more orders come from the US, said Chiu at the Taiwan Institute of Economic Research. When Taiwan receives an order from the US, he said, a "large part of the production" takes place in mainland China for re-export. The value of Taiwan-mainland trade reached US$166 billion in 2020, the island's official figures indicate.
Taiwan's competitors, such as export-reliant South Korea and Japan, have trade deals with one another as well as with the US. Taiwan has sought a deal with the US partly to reweight its historic reliance on mainland China to other parts of the world. In 1994, Washington and Taipei officials agreed to talk toward a deal and had met 10 times as of 2016.
"Taiwan's economy is trade-oriented, but it does not have sufficient [free-trade agreement] coverage," Chiu said. "Therefore, if Taiwan can negotiate and sign a trade deal with the United States, the world's largest economy, Taiwan's ruling and opposition parties will highly affirm it."
However, Wu with the Formosan Association for Public Affairs warned that US legislators may chafe at the details of a bilateral trade deal. Taiwan has a US$27.6 billion trade surplus with the US and protectionist rules in sectors such as agriculture. The US-South Korea trade agreement of 2012 took six years to finalise.
"I think it will be popular and a hot topic for the DC lawmakers to talk about," Wu said. "But ultimately it will open up a can of worms and lead to more discussions on how both sides can meet each other halfway without upsetting their voters."