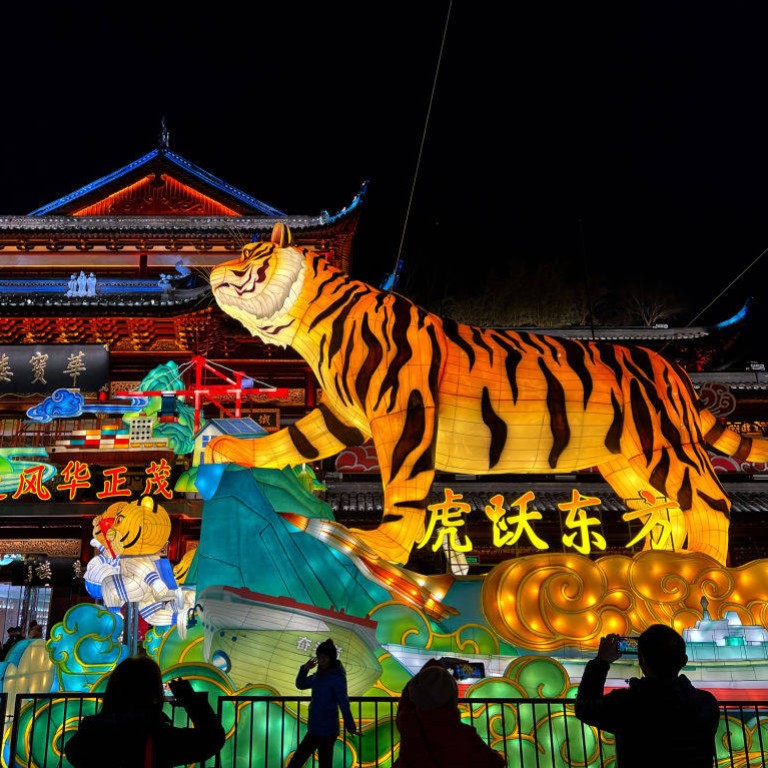 China's tourists are trickling back after two years of coronavirus disruptions. But will it last?
As coronavirus cases fall and travel restrictions are gradually lifted, China's tourism sector is rejoicing at what seems like a favourable turn
Online travel agency Qunar.com reported a 60 per cent surge in flight ticket enquiries after digital travel passes dropped the Covid-19 risk asterisk
Streets and shops are once again bustling with visitors in the old town of Dali in Yunnan province, a scene locals have not experienced since last year, after sporadic coronavirus outbreaks and subsequent snap lockdowns in some of China's largest cities debilitated domestic tourism.
As coronavirus cases fall and travel restrictions are gradually lifted, China's tourism sector is cautiously rejoicing at what seems like a favourable turn after two years of
on-again, off-again business
.
Sentiment brightened further on Wednesday when the Ministry of Industry and Information Technology announced the
removal of the asterisk mark
on people's travel record that showed whether a person has recently visited cities with high risk of Covid-19 exposure.
People with an asterisk on their travel history record were often subject to confusing and inconsistent rules that could include denial of entry, quarantine and multiple Covid-19 tests. It was a major hindrance to travel.
"It is finally starting to feel like the busy season again," said Cun Xiaoqin, who runs a travel agency and small hotel in Yunnan and has business in Dali.
Cun's business operated for fewer than three months combined last year. Until early May, she was struggling to survive and considering a career change if things did not improve in July and August, which is typically the busiest season of the year.
Now, she is working overtime and said she "hopes this feeling could last just a bit longer".
Online travel agency Qunar.com reported a 60 per cent surge in searches for flight tickets within half an hour of the asterisk system being dropped on Wednesday afternoon, while searches for hotels doubled, and searches for train tickets were up by 150 per cent.
On Trip.com, another online travel agency, searches for popular travel destinations soared by more than 300 per cent.
Travel agents in Xinjiang, Chongqing, Xiamen, Yunnan said tourist numbers have been increasing.
"There's an obvious positive change in the market, the number of consultations surged, especially from [clients in] Shanghai and Beijing, there is a huge number of consultations about high-end products," said Liu Jianbin, CEO of Shangchuanba, a premium cruise service agency.
The gradual resumption of cruise services on the Yangtze River has attracted an influx of clients, while removal of the asterisk mark on the travel history records has accelerated the boom, he said.
Still, Liu and others in the industry say hurdles remain and recovery is far from pre-pandemic levels.
"[Despite the easing rules], it seems that many places will continue to impose extra layers of restrictions, the ultimate solution is to completely abolish the travel history records," he said.
Compared to the past few months, tourist numbers have improved slightly in Guangxi province, an autonomous region in China's southwest famous for its picturesque mountain terrain and vibrant indigenous culture, according to Li Qianjian, a Guangxi-based operations associate with travel agency Dianfeng Zhiye, or Davos Intelligence.
But he said, "Many companies are letting people go or slashing pay because they are out of money."
Although state-backed firms were faring better, some smaller private companies might not be around to see the industry's full recovery, he added.
Beijing is refusing to budge from its zero-Covid policy, with President Xi Jinping reaffirming on Wednesday the country's hardline approach would continue even though it might hurt the economy.
The policy, which relies on lockdowns, mass testing and quarantine in government facilities to contain the virus, has hit the travel industry particularly hard.
Trips taken by domestic tourists in the first quarter fell by 18.9 per cent from a year earlier to 830 million, according to Fastdata, a think tank and online data provider.
More than 92.3 per cent of the travel agencies in China suffered losses last year, as did more than 80 per cent of tourist sites and more than 70 per cent of hotels and inns, Fastdata said.