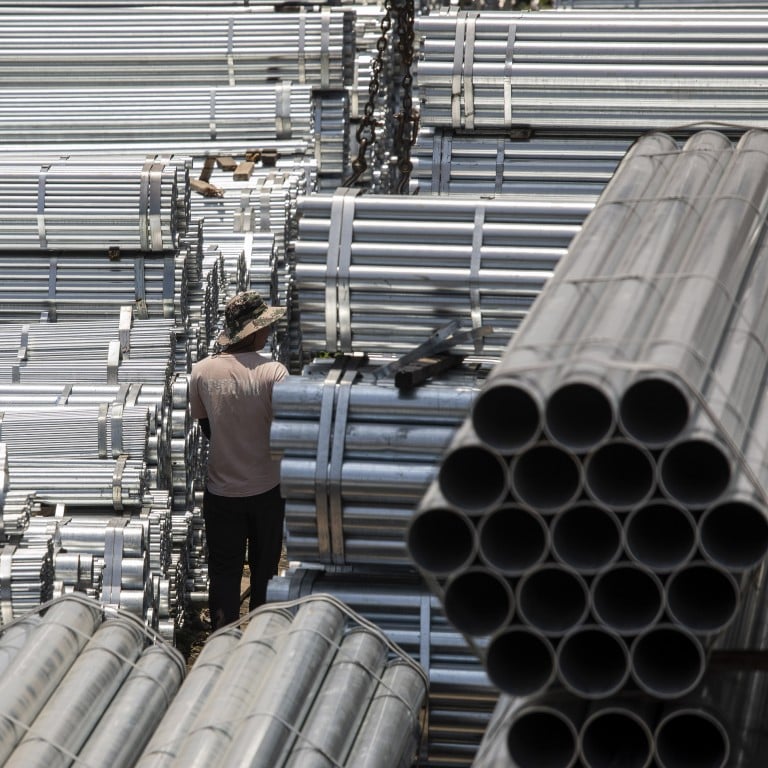 China's GDP target ever more distant, with second quarter growth tipped for 2-year low
China's economy is forecast to grow by 1.4 per cent year on year in the April-June period, its slowest quarterly expansion since the first three months of 2020
Even a rebound in the second half of 2022 might not be enough for China to hit its annual growth target, as Beijing clings to zero Covid and rivalry with the West heats up
China's economy is expected to post its lowest quarterly growth rate in more than two years next week, as it counts the cost of lockdowns and other hardline coronavirus control measures imposed during its "darkest hours" of April and May.
Gross domestic product (GDP) is forecast to grow by 1.4 per cent from a year ago in the April-June period, according to Chinese data provider Wind.
Though not as bad as the
6.8 per cent contraction
in the first three months of 2020, during the initial outbreak of the pandemic, it would mark the second slowest quarterly GDP expansion since 1992, when the data set first became available.
Premier Li Keqiang
has admitted that China may miss the government's economic growth target of "
around 5.5 per cent
" this year and that a realistic goal for the second quarter is simply to achieve positive growth.
While concern about a recession grows in the United States and Europe, China has shown signs its slowdown may have bottomed out after the government eased some pandemic restrictions and rolled out support for the economy.
But even a rebound in the second half of 2022 might not be enough for China to hit the annual growth target, economists say, as Beijing is unwilling to drop its zero-Covid policy and rivalry with the West is heating up.
Analysts estimate GDP could expand sequentially in the final two quarters of 2022, but year-round growth is likely to be around 4.2 per cent, according to Wind.
Coronavirus restrictions are viewed as the biggest wild card for the world's No 2 economy in the next six months.
A more science-based approach to virus control is the most important precondition for economic stability this year, said He Jun, a senior analyst with Anbound, a ­multinational ­independent think tank.
That would affect whether China could solicit more foreign investors, boost consumption and ensure normal production, he said.
"If we cannot look at the pandemic scientifically and continue to ignore economic development when formulating control policies … it will be difficult for us to guarantee our 'darkest hours' of April and May don't come again," he said.
"The whole world is recovering and reopening, China – as a member of the global village – should not become an 'outlier'. Otherwise, we will have 'self-isolated' from the world market."
"Let's not underestimate the risk after July," he said last week. "A new type of business cycle is emerging in China … which fluctuates between the imposition and lifting of lockdown measures.
The central government eased control measures for both inbound international travellers and domestic mobility in late June, but some local authorities have reimposed lockdowns this week in the Yangtze Delta to quash fresh outbreaks.
A certain degree of economic growth is critical for the creation of new jobs, which are in more demand than ever due to a record number of university students graduating this year. Employment is also crucial for social stability ahead of a major leadership reshuffle at the 20th National Congress later this year, said economists.
China needs a GDP growth rate of above 4.6 per cent this year to meet the demand for employment, according to a report from Beijing-based China Macroeconomy Forum last month.
The think-tank said China's current economic recovery faced bigger challenges than that of 2020, pointing out the growth rate had been merely 0.8 per cent over the past three months.
Potential risks include a resurgence of Covid-19 outbreaks, a global economic recession, spillover from a prolonged Russia-Ukraine conflict, a deteriorating property sector, a sharp fall in exports and credit risks at non-financial companies, the report said.
External circumstances are looking worse for the Chinese economy in the second half of the year, said Xu Hongcai, deputy director of the economic policy commission under the China Association of Policy Science.
Overseas demand for Chinese exports might decline and the US was doubling down on countering China's expanding global influence, including via the Indo-Pacific Economic Framework, he said.
Rising international energy prices – which have been amplified by Russia's invasion of Ukraine – could continue to weigh on small Chinese firms and put jobs at risk, given the country's high dependence on imported oil and gas, he said.
Months of Covid lockdowns in Shanghai and other major cities have led to repeated calls from foreign firms for Beijing to ease its zero-Covid stance and provide more clarity around its policymaking.
He, from Anbound, said stronger "hostility" from Western nations might fuel Chinese nationalism and push the economy in an even more inward-looking direction.
"[China] must persist in opening-up and carry out reforms … it is what the US wants most that China decouples and closes the door," he said.
Chinese authorities are also on alert for spillovers from US monetary policy.
An increasing number of economists are calling for more active fiscal stimulus.
"More treasury bonds could be issued, and the budget deficit [limit of around 2.8 per cent] is bound to be broken," said Xu.
Wang Yiming, an adviser to the People's Bank of China, has also suggested raising the deficit rate and issuing special treasury bonds to help expand government spending.
China's industrial output is expected to grow by 4.5 per cent year on year in June, accelerating from a 0.7 per cent rise in May, according to Wind.
Retail sales are estimated to fall by 2.2 per cent, though this would narrow the contraction from a month ago. Fixed-asset investment in the first half of the year is projected to slow down to 6.2 per cent.
"We are capable of coping with all kinds of unexpected changes to ensure stable, healthy and sustainable economic development," said the National Development of Reform Commission, the country's top economic planning agency, when being asked at the end of last month whether China could achieve its growth target.