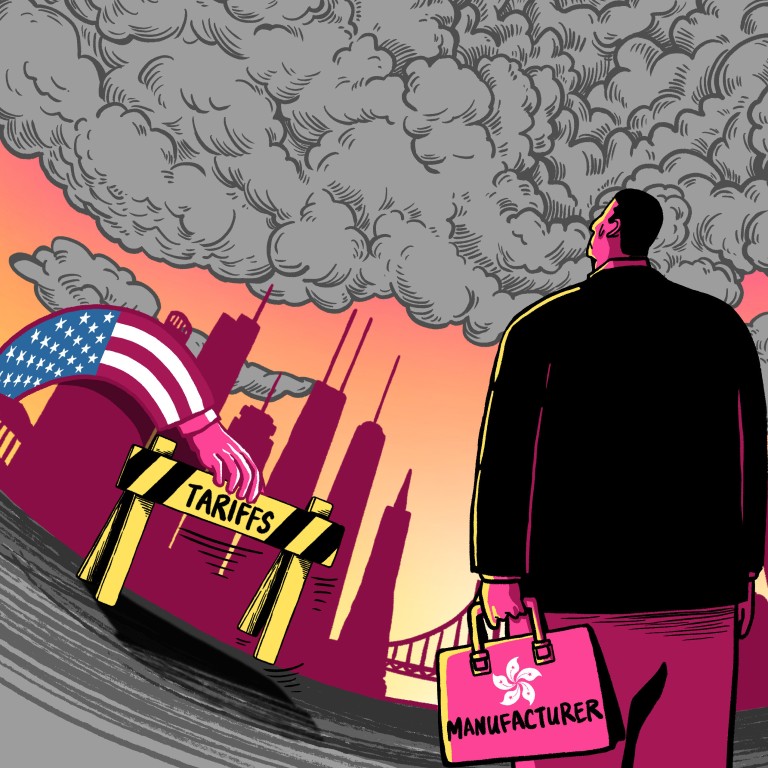 US-China trade: what a tariff removal would mean for Hong Kong firms that have invested overseas
Many factory owners have relocated some operations away from mainland China, including to Southeast Asia, as trade disputes with the United States took a toll
Even though President Joe Biden may end up lifting tariffs to curb inflation – possibly this week – there are concerns that such tariffs 'may come back anytime'
The possible removal of US import tariffs on goods from mainland China is expected to be a boon for business, but from the perspective of some Hong Kong manufacturers, geopolitical uncertainties are still clouding the outlook and having an outsized impact on plans.
Factory owners who used to operate exclusively on the mainland have been ramping up their presence in Southeast Asia, South Asia and even Europe since 2017 due to increasingly demanding requirements from their customers, according to the Federation of Hong Kong Industries, which represents about 2,000 members in the sector.
Through what is known as the "
China Plus One
" strategy – in which companies may shift some operations abroad while the mainland remains their main market – businesses have been able to better navigate the fraught business environment resulting from lingering Sino-US trade disputes.
This means that some Hong Kong manufacturers who are heavily invested in China also now rely on offshore manufacturing, at least to some degree.
The import tariffs on Chinese goods kicked off in 2018 during the former presidential administration of Donald Trump. US President Joe Biden has been mulling the possible removal of some tariffs on Chinese imports in a bid to help curb soaring inflation in America, and there are reports that a decision could come
as soon as this week
.
On Tuesday, Chinese Vice-Premier Liu He had a
"pragmatic and frank" exchange
with US Treasury Secretary Janet Yellen on economic and tariff issues, the official Xinhua News Agency reported.
"The possibility of eliminating import tariffs is a positive for Hong Kong manufacturers because it can increase our competitive edge [on pricing]," said Steve Chuang, executive deputy chairman at Federation of Hong Kong Industries, who is also the founder of Precision Enterprise, which focuses on electronic products.
Chuang runs not only two factories in Dongguan, Guangdong province – just across the border from Hong Kong – but also a production line in the Philippines. That overseas unit began operating in 2018 as a result of import tariffs, and it helps Chuang cater to his customers concentrated in the US and Europe.
But the competition and geopolitical feuding between the US and China continue, and import tariffs "may come back anytime", he said. Thus, manufacturers like him will be sticking to the China Plus One practice, even though there is a chance of tariffs being removed.
"Factories in Southeast Asia will be mainly used [by Hong Kong manufacturers] to serve those local markets," Chuang said, adding that goods produced in Southeast Asia could also be sold to the Chinese market without tariffs, under the world's largest free-trade pact – the
Regional Comprehensive Economic Partnership
.
Geoffrey Kao, executive director at Wah Ming Hong, which imports Swiss-made watches to China, said the elimination of US import tariffs could result in the return of about half of the orders that were lost as a result of the tariffs.
"There's an expectation that orders in mainland China will go up," said Kao, who is also executive vice-president of the Hong Kong Young Industrialists Council.
"And with the hope of China's domestic consumption returning to normal in the second half of the year, these [orders] could offset a bit of the inflation spillover effect from the American and European markets."
Chinese consumers have become
increasingly reluctant to spend money
on non-essential items, often out of fears that strict coronavirus curbs will continue to take a toll on employment and earnings.
As a result, many analysts have lowered their forecasts for China's annual gross domestic product this year. Meanwhile, global gross domestic product (GDP) is also expected to be weighed down.
Last week, Ludovic Subran, chief economist at Allianz Trade, revised down global GDP by 0.4 percentage points to 2.9 per cent this year amid "still-rising inflation", in its latest economic outlook report.
Terry Ting, managing director at the Wilson Group, which makes textile products, said coronavirus lockdowns on the mainland "did hurt the economy", but that these were "temporary" and Beijing has the policy tools to bolster its economy, whereas inflation in America and Europe is a deep-seated economic problem with no easy solutions.
Ting, whose clients include Nike, Adidas, Polo, Li Ning and Anta Sports, manages factories in Guangzhou city and Jiangxi province. In 2018, his company built a third factory in Vietnam.
"The overall orders will go up as the demand side is strengthened after tariffs are lifted," he added.
In the Allianz Trade report, Subran anticipated a return to normal mobility at a national level in China this month, barring any potential new large-scale coronavirus outbreaks and lockdowns similar to those that caught the country by surprise in the first few months of this year.
Dimerco, a Taipei-based third-party logistics provider that connects Asia's manufacturing hubs to North America and Europe, also said this summer could see a surge in freight shipments due to pent-up capacity caused by Shanghai's lockdown in April and May.
"For the rest of the year, [we heard from our clients that] the attitude is that of caution, because it takes time to reflect the overall confidence on China, such as foreign investment sentiment in the country and domestic consumption power," said Eric Zheng, Shenzhen branch manager at Dimerco.
Kao at Wah Ming Hong also said there "will be time to assess" China's economic recovery in the second half of the year, after central government authorities "learned from the Omicron experience and got to know how to handle the situation".
But Chuang from the Federation of Hong Kong Industries said the business environment "is still difficult", though China is expected to see positive economic growth in the second half, driven by domestic consumption.
"The [current] economic conditions in America and Europe imply a possible reduction of 20 per cent trade for Hong Kong manufacturers," he said.
According to Chuang, 56.4 per cent of 46,000 Hong Kong manufacturers with operations on the mainland have been affected by tariffs, such as by reducing or cancelling orders with clients in recent years.
"Import tariffs at 25 per cent mean a 5 to 20 per cent increase in retail prices," he said. "Tariff cuts can help a lot of end-users, because many daily products in the American market are made in China."
Twenty-three per cent of Hong Kong manufacturers opt for the China Plus One strategy, Chuang added, and about 80 per cent of that total have a factory in Southeast Asia or Africa. These factories also play into China's ambitious
Belt and Road Initiative
– the multibillion-dollar global infrastructure connectivity plan.
Vietnam's first-quarter exports reached US$88.58 billion, up by 12.9 per cent from a year prior, according to Vietnam's Ministry of Industry and Trade, and this has raised questions as to whether the country is stealing the "world's factory" title from China.
Chinese state media has said that 407.6 billion yuan (US$61 billion) worth of goods was exported from China's main export hub, Shenzhen, in the first three months of the year.
Ting, with Wilson Group, said his company's Vietnam factory has a maximum staffing capacity of 1,000, and that there has been an "ebb and flow" of orders between Southeast Asia and China over the past two years.
"When Vietnam underwent a massive lockdown … orders flooded back to China," he added. "Orders then moved back to Vietnam when Shanghai implemented a complete lockdown in April and May."
At the moment, Ting's factory in Vietnam has about 400 working staff, compared with a combined total of 2,500 at his Guangzhou and Jiangxi factories in China.
"The Ukraine war and economic figures in the US are all moving parts," he added. "If orders drop, some smaller factories will be acquired by big factories in Vietnam. Manufacturers are still observing, and we might see some huge changes this year."
Despite uncertainties ahead, Ting said his company will not close down operations in Vietnam, because "a lot of money was poured into building the factory".
A May report by Daxue Consulting, a market research and strategy consulting firm, said the China Plus One strategy has accelerated the trend of moving the Chinese labour force up the global value chain, with a shift toward more hi-tech manufacturing.
"The Omicron outbreak in China was a reminder for foreign companies to outsource their supply chain in lower-cost countries to benefit from less strict containment measures, cheaper workforces, and weaker currencies," the consulting firm said.
However, Chuang said this "lower-cost formula" applies only to labour-intensive industries, such as those in the clothing and textile sector.
Chuang's production line in the Philippines, which focuses on high-value technological products, dedicates a large portion of work toward research and development, with little manufacturing.
There is also a need to transport components and materials to Manila from China, he added. And this comes at a cost.
So, even though "the cost of labour in Southeast Asia is 40 per cent less than in China", that makes up only a small portion of the overall expenditures, and Chuang said it doesn't offset the other costs he must pay.
"Larger-scaled companies have the resources to adopt the China Plus One strategy, but smaller companies have no money to do so," he said.
"The Greater Bay Area can be a stepping stone for companies to tap into the Southeast Asian market, and RCEP can bridge them to some other markets in Asia, such as Japan and South Korea."