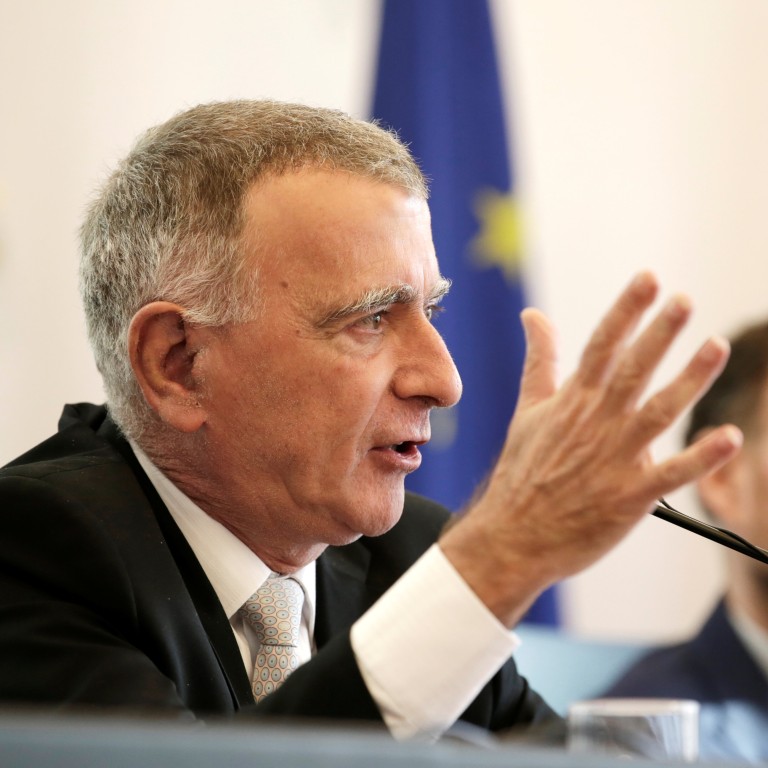 China, EU spar over way forward, as human rights, Russia and trade dominate farewell event for Brussels envoy
Departing European Union ambassador Nicolas Chapuis calls on China to resume dialogue on human rights and speak up over Russia's invasion of Ukraine
'Megaphone diplomacy' of little use in solving disputes, China's special envoy to Europe says in choosing to focus on areas for cooperation
Chinese and European diplomats sparred over ways to manage fraught bilateral relations, as they gathered at a farewell event for the outgoing European Union ambassador weeks ahead of a long-awaited, high-level trade dialogue.
China must resume dialogue on human rights and speak up over Russia's invasion of Ukraine, departing ambassador Nicolas Chapuis told guests at Friday's event at the bloc's embassy in Beijing.
Recalling his first visit to China in January 1979 and first diplomatic posting in Beijing the following year, Chapuis said bilateral relations had a lot of potential but the momentum had stalled.
"Trade is increasingly unbalanced and European investors' confidence is hurt by
repeated lockdowns
, supply chain disruptions, and restricted international mobility due to China's zero-Covid policy", said Chapuis, whose four-year mission to Beijing ends later this month.
Wu Hongbo, China's special representative to Europe, did not respond to Chapuis' calls on Ukraine and human rights.
Rather, he played up the prospects of cooperation on trade, biodiversity, climate change and coping with grain and energy crises, which would "inject more certainty and stability into a world in distress".
"Less reliance on China or even decoupling from China would not bring a solution to this problem," Wu said in response to Chapuis' concerns on the trade imbalance.
The Post reported earlier that Brussels proposed July 18 as one of the dates for the trade talks, which marked one of the few deliverables at the high-profile EU-China leaders' summit in April.
"China cannot pretend to be a great power but close its eyes or cover its ears when it comes to a conflict that obviously makes it uncomfortable," Borrell had said at the time.
Chapuis noted that the EU-China summit had resulted in "a worrying gap" over the Ukraine crisis and called for remedies to reclaim the potential in bilateral ties.
Beijing has refrained from publicly condemning Russia's invasion of Ukraine, blaming Western sanctions and the eastward expansion of the Nato security alliance for provoking Moscow.
"A demonstration of positive resolve to help the EU stop Russia's power politics would go a long way to build trust and alleviate the dangerous questioning of the rules-based international order that has benefited both the EU and China," Chapius said.
He also brought up China's rights record, saying: "I have a special thought for the Chinese human rights lawyers who have been prevented from exercising their noble cause for seven years as of tomorrow."
Retaliatory sanctions over human rights last year stalled an ambitious investment deal despite seven years of marathon negotiations.
Calling on the EU to take a "positive, rational and pragmatic" approach to China policy, Wu urged the bloc to respect China's core interests and refrain from interference in its internal affairs, so as to safeguard "the political cornerstones" of bilateral relations.
"Megaphone diplomacy or imposing sanctions are of no help in handling disagreements," Wu said in closing his speech at Friday's event.