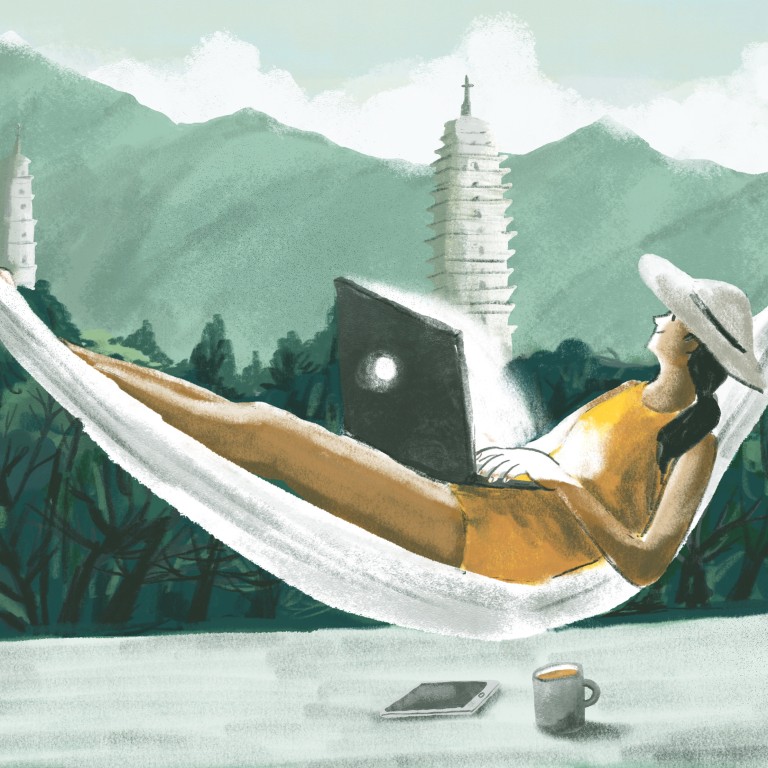 Chinese workers ditch cramped cubicles for remote locales, freedom – and just look at that view
Known as 'digital nomads', many were born out of China's strict pandemic measures – but families and friends are still trying to process this new way of life
China's remote-working trend is in its early stages, but even local governments and businesses are taking stock and looking to capitalise on development opportunities
Taking a break from her laptop to gaze upon the ancient forests outside her temporary workspace, Liu Nian momentarily loses herself in the surrounding mountain range – with birds chirping and sunbeams piercing through towering trees, accenting the nearby nunnery gardens dotted with brightly coloured hydrangeas and succulents.
Sure beats the average view from an office cubicle.
Feeling refreshed while teleworking at a hidden cafe at the idyllic Jizhao nunnery in southwest China's Yunnan province, the 31-year-old creative director dives back into an online discussion with her teammates scattered across the country.
Being able to do her job remotely allows Liu to work in all kinds of remarkable and unconventional places – on a moving bus traversing southern China, by a verdant tea plantation in Zhejiang province, on the Tibetan plateau overlooking a tranquil valley.
"When you walk out of the real office, you see that your office could be a wide range of places," she said.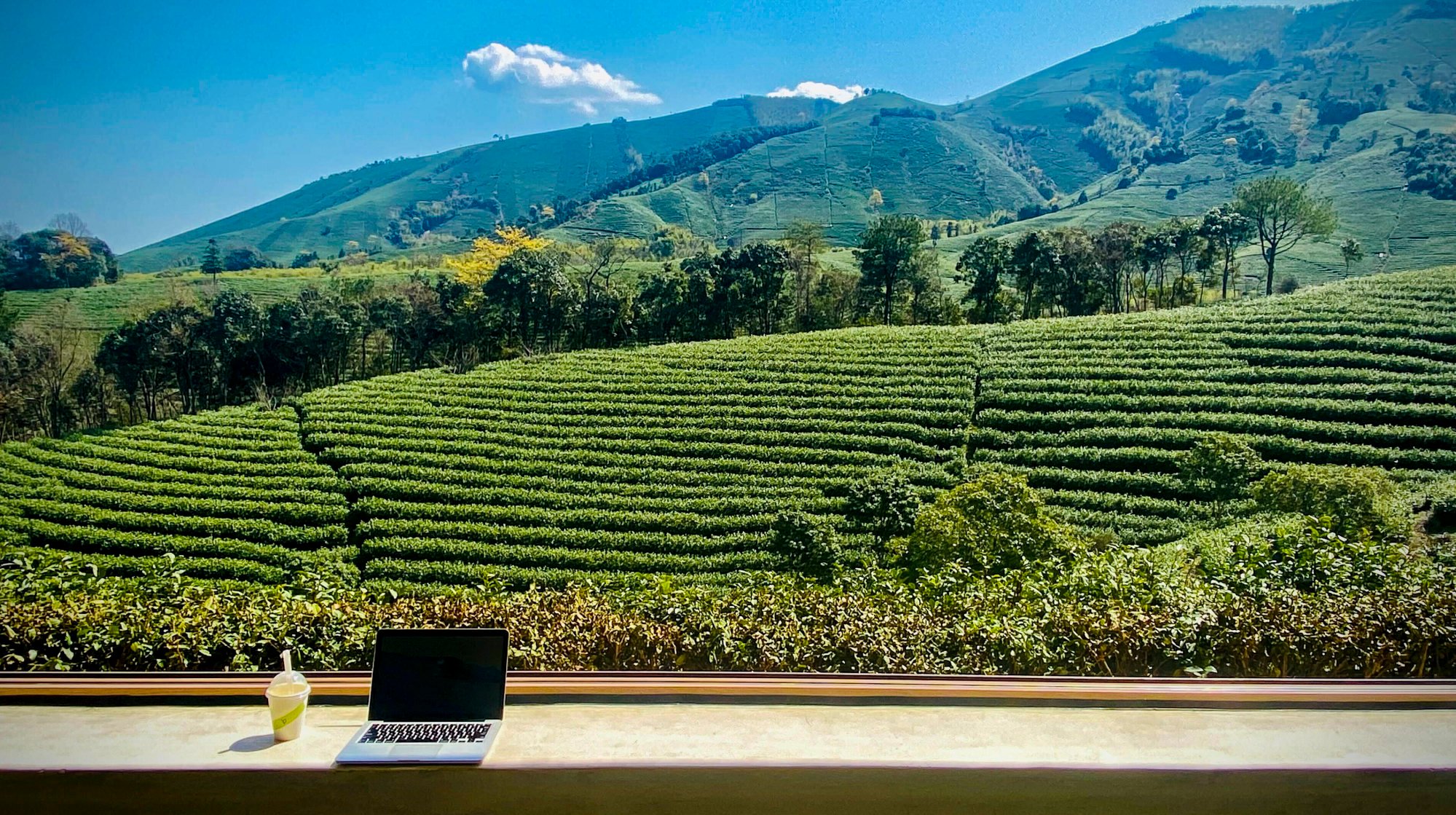 Like Liu, a rising number of young Chinese teleworkers have realised they can work from anywhere – as long as they have an internet connection and a charged laptop. It's a trend catalysed by the pandemic, during which countless workers have been forced to embrace
work-from-home arrangements
.
Practitioners of the worker-traveller lifestyle – aka digital nomads – tend to believe that the goal is not simply traversing the world or becoming wealthy, but rather pursuing freedom and a higher quality of life.
The first mention of this type of nomadic working lifestyle appears to date back to the book Digital Nomad, in 1997, when the internet started to gain serious momentum. But it wasn't until recent years that the trend really started to take off. More than 30 million people now identify as digital nomads, according to Statista, which specialises in market and consumer data.
Most digital nomads are from the United States, and as of March, they numbered about 15 million, or half of the global digital nomad community, according to the data service.
The group remains a relatively small community in China, but it's been growing rapidly as people re-evaluate their life choices and put greater emphasis on the freedom to work on their own terms amid the ever-looming threat of
strict lockdowns
seen since 2020. Before that, the concept was basically unheard of in China.
"There has been an exponential increase in the number of digital nomads, especially in the past two years," said Liu, who quit her job in 2020 and started her own graphic design studio.
She took on the digital-nomad lifestyle as the pandemic led her to the realisation that she didn't have to be confined to a cubicle in Beijing to do her job. And she wanted to share this mentality with others.
So, after moving to Dali – where the Jizhao nunnery is located – she started an organisation called the Dali Hub in 2020 with two like-minded friends. Its aim is to provide a space for digital nomads to work and socialise, and to make the practice better understood and acceptable to the public.
"In addition to growing members, the number of interested people inquiring about [our community] has jumped by dozens of times."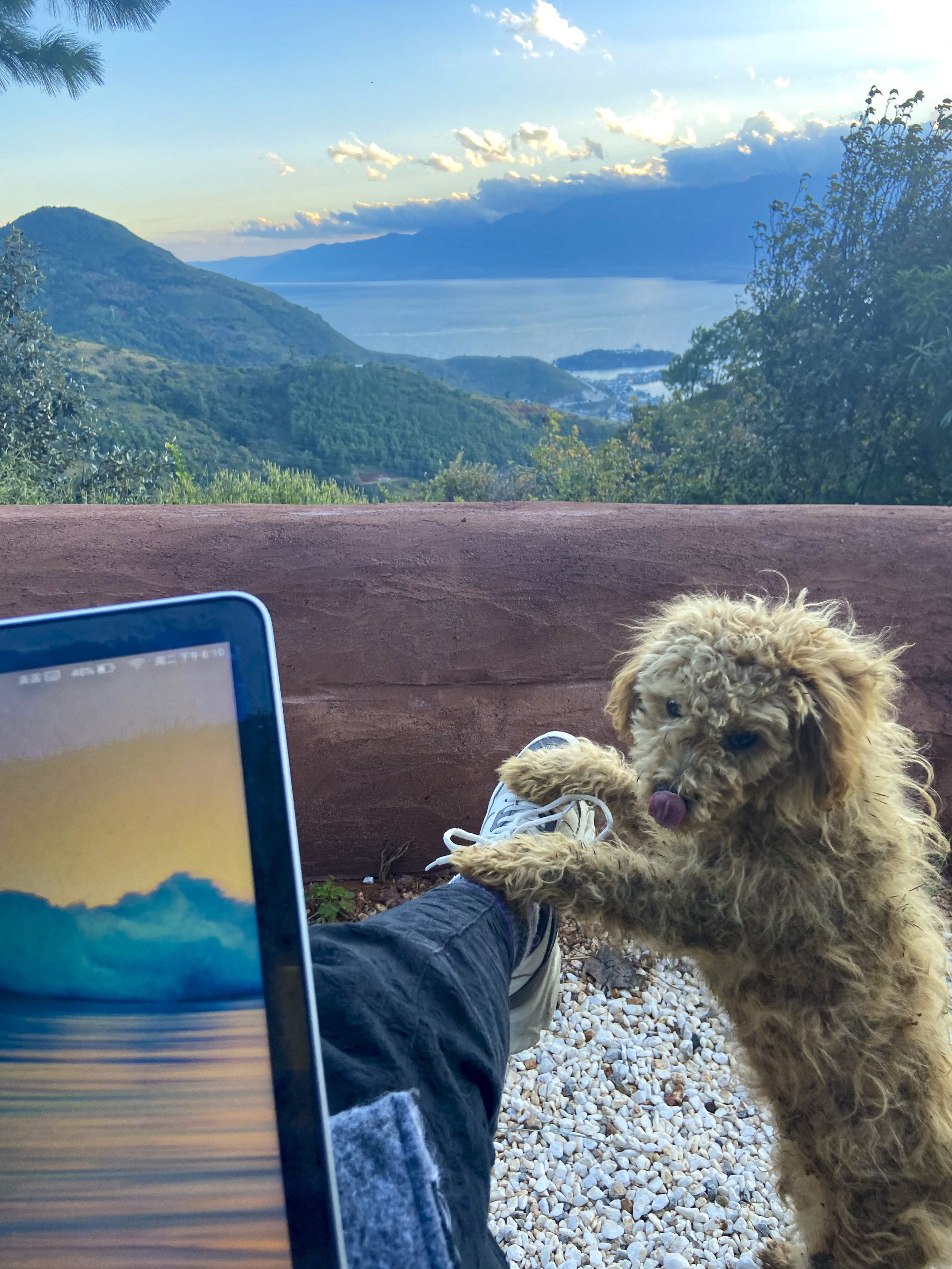 According to a white paper published earlier this year by Mafengwo, an online-travel-focused social platform, more than 60 per cent of Chinese people yearn to be digital nomads, able to work remotely while travelling around.
But while remote working has rapidly spread elsewhere, it remains relatively unconventional in the world's second-largest economy, according to a recent report by the Future Work Research Institute, a China-based think tank specialising in the nation's changing work environment.
It said that more than 34 per cent of workers around the world are now permanently remote. While in China, only 1 per cent of the 1.4 billion population are able to work remotely.
The report also noted how that appears to be changing, along with the rising ubiquity of high-speed 5G networks, cloud computing and other technological advances that are being widely implemented, as well as multinational corporations throwing out the old playbook on working arrangements and pioneering the permanent remove-work style in their mainland offices.
"The pandemic has completely thrown out my plans," said Daniel Ng, co-founder of the Dali Hub and an independent software developer, who became a full-time digital nomad before the pandemic.
In 2019, after quitting his job as a software engineer in Malaysia, Ng intended to spend up to five years migrating around the globe. But when the pandemic hit, he became stuck in Thailand, then was forced to make the difficult decision to return home.
"As the pandemic got worse and worse in China, I realised that having the freedom to choose where you live itself is such a luxury," Ng said.
Like his Dali Hub partner Liu, Ng is looking to make the digital-nomad lifestyle more commonplace and accessible.
"Being away from the industry environment, there is a lack of direction at work," Ng said. "This is why I started Dali Hub, which is a place for people to work and exchange industry information."
Even local governments and businesses in China are also taking stock of the nascent remote-working trend while looking to capitalise on development opportunities.
An official with a grass-roots government committee in Fengyangyi – an indigenous village in Dali that was once trodden by horse caravans on their winding tea routes, but which is now largely underdeveloped – said local leaders are hoping that a vibrant digital nomad community in town could lead to more sustainable resources.
The picturesque town of Dali has been precariously dependent on tourism. And like all tourism towns, it has taken a massive financial hit amid China's volatile coronavirus restrictions. An inflow of talent could bring new, sustainable economic opportunities.
But for the time being, the local people and government have little connection with the group of digitally savvy, migratory workers, whose potential economic benefits to the town are currently being largely untapped, the official said, speaking on condition of anonymity.
"We would like to bridge the connection between talent and the government," she said, adding that government-backed summits and conferences could help Dali attract more diverse industry chains.
Further supporting the effort to lure more professionals is An Jun, an architect who is collaborating closely with local authorities to boost infrastructure in Fengyangyi and help create a more sustainable ecosystem on top of the development of local tourism.
"The most valuable assets in Dali are the talents here bringing great vigour," An professed.
Authorities from Chongming Island, off the coast of Shanghai, have also expressed interest in following Dali's lead to lure talent.
Just an hour drive from China's wealthiest city, Chongming has been struggling to boost local tourism and bring in new blood to live and work, even though the island is so close to the city of 26 million people.
Zhang Yu worked in Shanghai for a decade before moving to Dali. Now he runs a few living spaces – known as Snowy House – in town that combine housing, cafes, events and gyms.
The Dali Hub regularly holds events at these locations while also helping bring in new clients and tenants.
But despite the influx of talent to Dali, which Zhang contends could rival that of an average district in Shanghai, he agreed that their full potential remains untapped in the town.
"These people are not effectively improving Dali's economy, nor any other aspects," he said, adding that he also had not yet heard of the government reaching out to this growing group of professionals. "There is a huge information gap; the government has no idea what these people are doing in Dali."
If the government could better communicate with, and tap into, this lucrative resource of talent, Dali has the potential to blossom into something much more sustainable, Zhang said.
Meanwhile, other small digital-nomad communities are gradually springing up across China. And there are growing numbers of online groups and youth communities, as well. They often comprise artists, indie developers, bloggers, entrepreneurs and tech industry workers.
In theory, these groups can generally work anywhere with an internet connection, but an impediment comes in the form of Chinese society not being fully ready to embrace the migratory lifestyle to the degree that it has in places such as the US.
"Most people prefer certainty and stability, but [digital nomads] represent an unstable and wandering lifestyle, which goes against the mainstream value system," said Liu from Dali, adding that even the closest family and friends of digital nomads often need time to understand and process this new way of living and working.
"The goal for us [running the community] is actually to help the public understand the so-called digital nomads. We are not not working, nor unemployed."
When the trend becomes more popular and accepted, supporting infrastructures and policies, such as social and medical insurance, will follow, she added.
A number of countries around the globe are rolling out supportive policies to lure business-leisure travellers in a bid to reinvigorate local tourism and consumption that have taken such a debilitating hit during the pandemic.
Indonesia, for instance, has floated the idea of issuing a special five-year visa for digital nomads who do not make domestic earnings, while also exempting them from paying local taxes.
Portugal and South Africa are also entertaining mulling
digital nomad visas
, but details are still being worked out.
Akina Shu, who is originally from Japan, began her digital-nomad lifestyle in Bali, Indonesia, and started wandering the world after she underwent two major surgeries, closely followed by her mother being diagnosed with cancer, and eventually succumbing to it.
"These experiences made me realise that life is really too short to regret, so I decided to leave my 9-5 work and applied for the world cruise called Peace Boat as an interpreter, which gives me a free ride to travel around the world," Shu said, listing Georgia, Turkey, Argentina, Chile and Asian countries among her visited destinations.
Now she can do her job at a poolside. Or by the ocean, with surfboards nearby.
Who needs a cubicle?