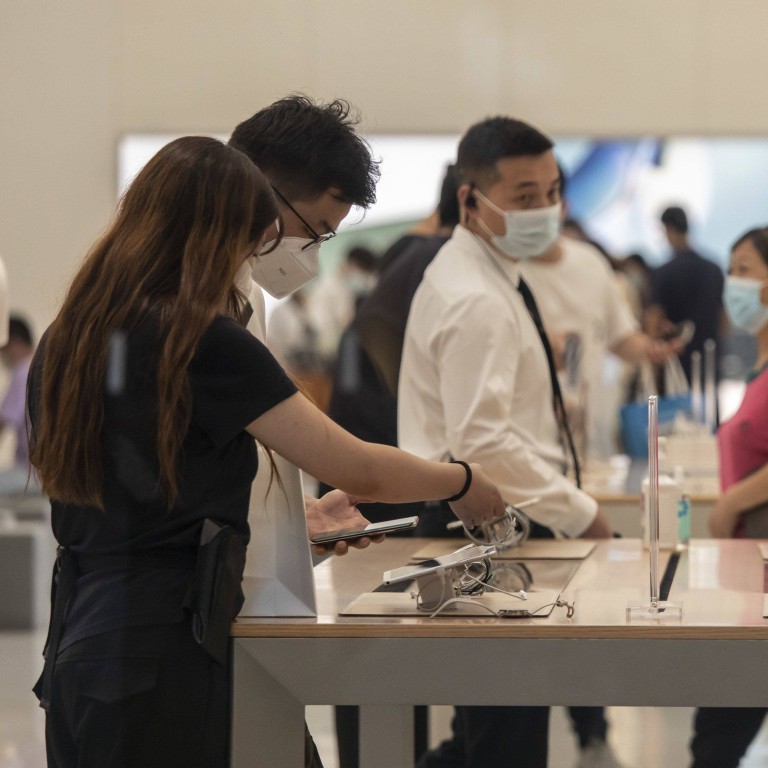 China trade, spending rebound dulled by zero-Covid uncertainty
Outlooks for Western economies are declining, lowering forecasts for Chinese exports
Consumers in China also becoming more risk averse, analysts say
China's trade and domestic consumption are unlikely to make a robust comeback in the second half as uncertainties including Beijing's zero-Covid policy persist for the world's second-biggest economy, experts say.
Pinpoint Asset Management president and chief economist Zhang Zhiwei said falling international demand will significantly slow China's exports as expectations for Western economies worsen.
"In the past month, investment banks around the world have downgraded their forecasts for economic growth in the United States and Europe, which will likely slow China's exports," Zhang said.
"In the first half of the year, China's main problem was
supply chain issues,
while in the second half it will likely become the issue of [decreasing] demand, and the increase in trade might not be strong enough to become the main engine of China's economic growth."
Analysts also argued that the uncertainties of Covid-19 measures will continue to loom over domestic consumption, which is still significantly weaker than pre-pandemic levels, despite some recovery.
"Consumption and the whole service sector are still constrained by Covid-19 [control] measures, and people's incomes are affected as well," Zhang said.
He added that people were becoming more risk averse and less willing to travel or go to crowded public places – changes in behaviour that will work against a consumption recovery.
Peng Peng, executive chairman of the Guangdong Society of Reform, a think tank connected to the provincial government, said the pandemic remained the biggest uncertainty, followed by the
Russia-Ukraine conflict
and US-China trade.
"It is hard to end the pandemic completely, so it will be hard to allow the borders to be completely open," Peng said.
However, both central and local governments are rolling out measures to stabilise the economy and encourage growth, including giving out
consumption vouchers
and ramping up infrastructure investment, which could have a positive recovery effect, according to observers.
Consumption is not likely to make a strong comeback in the second half the year, according to the authors of a report released last week by the Chinese Academy of Social Sciences' Institute of Economics.
The report said the unemployment rate was likely to remain high in the later half as the negative impact of Covid-19 persisted, putting pressure on domestic consumption demand and imports.
"With the uncertainties of Covid-19 and worries that income might drop in the future, consumers' desire to save could be fortified, while personal consumption was likely to become more cautious," it said.
There was little chance of a robust increase in domestic consumption demand, the report added.
Tough disease containment measures are continuing, with Haikou in the southern province of Hainan, and Lanzhou in Gansu province imposing citywide lockdowns.
Haikou started a week-long temporary lockdown on Saturday after detecting a handful of coronavirus cases, while Lanzhou will be sealed for a similar amount of time from Monday.
Nevertheless, China's policymakers have made it clear that zero-Covid is not enough – they also want growth.
Chinese data provider Wind is forecasting 1.4 per cent growth year on year for April-June, the lowest quarterly growth rate in more than two years, as the country counts the cost of lockdowns and other hardline coronavirus control measures imposed during its "darkest hours" of April and May.
Premier Li Keqiang has admitted that China might miss the government's economic growth
target of "around 5.5 per cent"
this year and that a realistic goal for the second quarter is simply to achieve positive growth.
"Rhetorically, policymakers are unlikely to drop the name of 'zero-Covid' any time soon. That said, they could still redefine 'zero-Covid' to make it less and less disruptive to the economy," Larry Hu, chief China economist at Macquarie Group, said last week.
"The recent cut of the quarantine days from 21 to 10 is just the beginning, in our view."