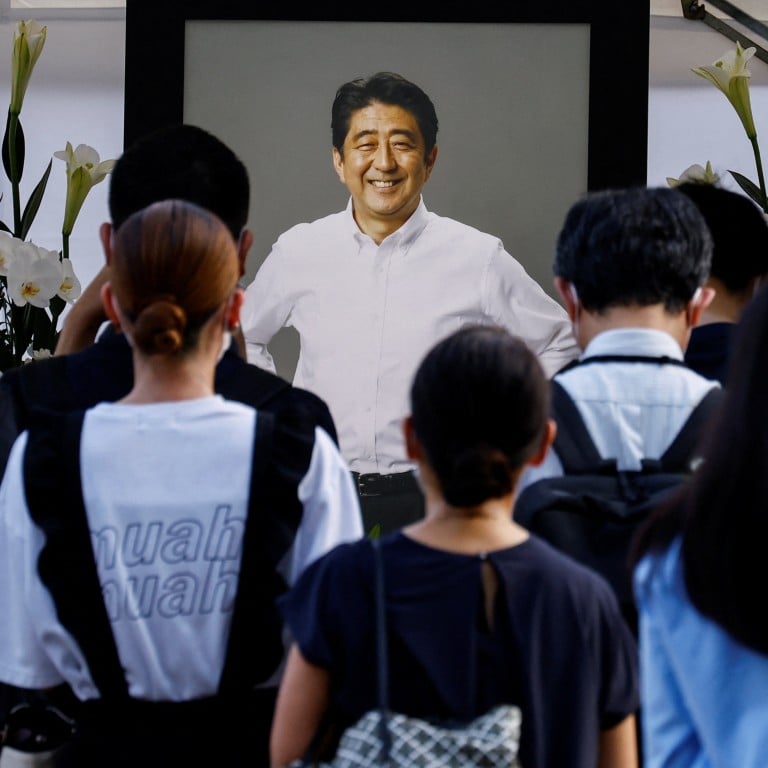 Shinzo Abe: Abenomics not seen as the answer for China's economic woes with reform favoured over stimulus
Shinzo Abe's three-pronged Abenomics approach has long been cited by Chinese policy advisers as a warning against unconventional policy loosening
Beijing has avoided all-out stimulus after efforts to avert the financial crisis in 2008 led to high local government debt, a rising household leverage ratio and a property bubble
China should concentrate on structural reform to unleash long-term growth potential, rather than resorting to the monetary stimulus favoured by the Abenomics approach adopted by the late former Japanese prime minister, analysts said.
Shinzo Abe's three-pronged approach has long been cited by Chinese policy advisers as a warning against unconventional policy loosening even before
Friday's assassination,
with the official Xinhua News Agency describing it as "ineffective, untrustworthy and a failure" in 2016.
Ultra-loose monetary policy, a flexible fiscal policy and structural reforms made up the core of the policy which was adopted in 2012 to "break down any and all walls looming ahead of the Japanese economy and map out a new trajectory for growth", after two decades of deflation and stagnation.
"It's overall positive because it indeed pulled Japan out of the deflation mud, and injected some vigour. But it didn't generate the desired results in structural adjustment," said Zhou Xuezhi, a researcher with the Chinese Academy of Social Sciences' Institute of World Economics and Politics.
"The expansionary monetary and fiscal policies generated limited effects in the long run. They just created conditions for structural reform, which is supposed to be the most important content," added Zhou, who received his doctoral degree in Japan.
The review of Abe's legacy now serves a chance for Beijing to examine its reform agenda, as the top leadership will be reshuffled later this year amid lingering calls for increased policy support to
save the coronavirus-hit economy
.
Beijing has warned against all-out stimulus after its policy package to avert the financial crisis in 2008 led to high local government debt, a rising household leverage ratio and a property bubble.
Japan has seen the size of its economy drop from US$6.27 trillion in 2012 to US$5.12 trillion in 2019 and US$4.94 trillion last year, according to the International Monetary Fund.
The fall is largely attributed to the depreciation of the Japanese yen, which weakened from 79.79 per US dollar in 2012 to 109.75 in 2021 amid a push to revive exports.
"Abenomics made sense as a strategy, but largely failed in implementation," said Matthew Goodman, a senior vice-president of economics at the Centre for Strategic and International Studies in Washington.
"Japan's economy still suffers from tepid growth, deflationary pressure and structural inefficiencies," he wrote in an article on the organisation's website.
But many Chinese analysts believe the current administration under Prime Minister Fumio Kishida will not abandon Abenomics immediately because it needs cheap funding and strong fiscal spending to increase demand to maintain its competitiveness despite a heavily ageing society and a weak Japanese yen.
Independent economist Hong Hao said Abe's strategy was a "half success" because it lifted Japan out of a stagnation with "extraordinary monetary policy" but the structural reform "seems to have gone nowhere".
"It's not to say Abenomics was in vain, it's just that some secular ill is beyond the scope of traditional economic policies," he said.
Japan should, according to Hong, be focused on the "fundamental challenge" of its ageing population problem which has long passed its tipping point.
Hong warned that demographics is now also the "gravest challenge" facing China.
China's population is also ageing, while
low fertility issues
have forced authorities to loosen birth policies and introduce a variety of incentives.
"Japan has tried but failed," he added. "There's a lot to be learned from the Japanese experience."
Parallels are often drawn between Abenomics and quantitative easing and modern monetary theory in the United States, but it is viewed as being unsuitable in China as it can lead to the decades-high inflation and recessions risks currently being felt by Western economies.
Premier Li Keqiang warned
against excess liquidity at the end of last month, although China's coronavirus controls could still have dragged down the economy in the second quarter, with gross domestic product data set to be released on Friday.
Former finance minister Lou Jiwei told the Caixin Summer Summit at the weekend that China may have to raise its budget deficit to counter the short-term uncertainty.
But he also said that Beijing should consider long-term measures, including the reform of both its rental policy and household registration mechanism to unleash domestic consumption potential.
Cai Fang, a policy adviser at the People's Bank of China, told the Caixin event that urbanisation should continue to lure more migrant workers and narrow the urban-rural gap to increase productivity.
"China should learn its lesson and concentrate on sharpening the market economy mechanism and technological innovation," added Zhou from the Chinese Academy of Social Sciences.
"These are the fundamental drivers of our long-term development."