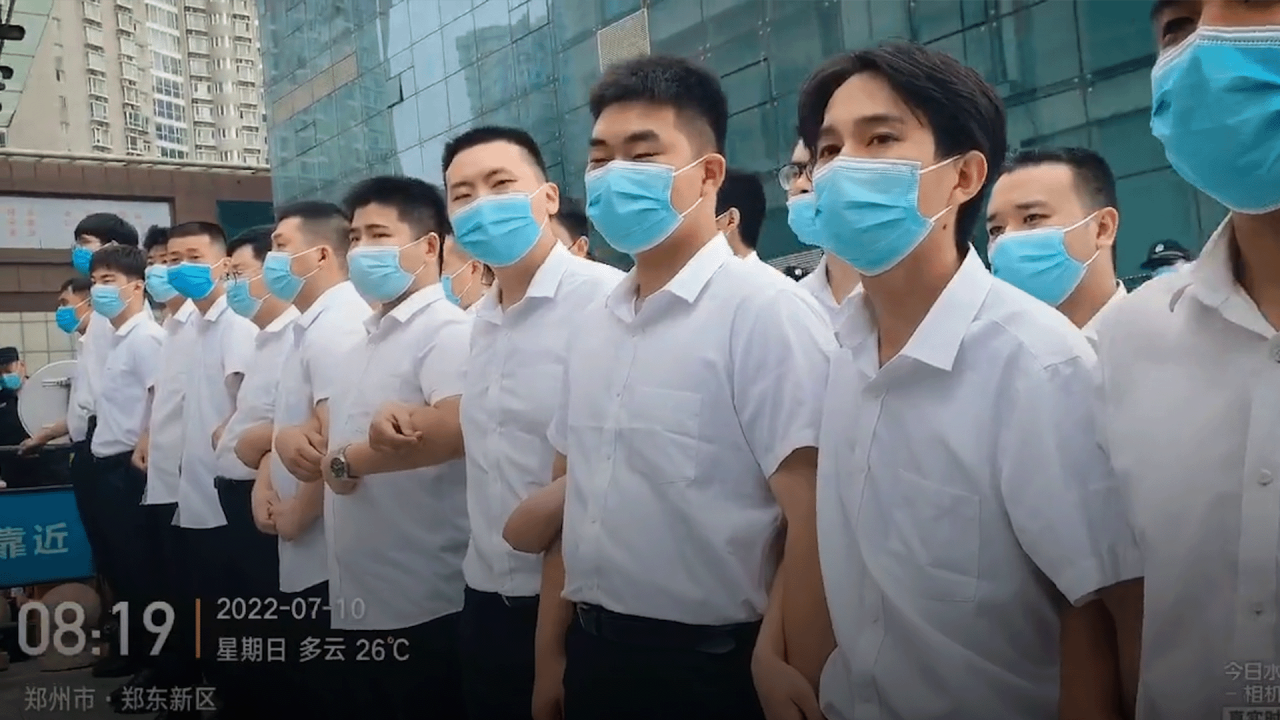 04:47
Victims of one of China's worst financial scandals attacked by unidentified men in white at protest
Victims of one of China's worst financial scandals attacked by unidentified men in white at protest
China's banking-crisis victims promised money, but outcry as 'it doesn't solve underlying problem'
Authorities in Henan and Anhui provinces say some victims of financial scandal will be able to access money this week following violence at weekend
Some protesters are said to remain in police custody, while others say distrust of the Henan government is rife and transparency remains poor
Chinese authorities will start repaying some victims of one of the nation's biggest ever financial scandals later this week after hundreds of savers took to the streets at the weekend in protest, but the move has still been met with disappointment and calls for more transparency.
Individuals with deposits of up to 50,000 yuan (US$7,450) with Yuzhou Xinminsheng Village Bank, Shangcai Huimin County Bank, Zhecheng Huanghuai Community Bank or New Oriental Country Bank of Kaifeng in Henan province will be repaid from Friday.
The same arrangement has been made for Guzhen Xinhuaihe Village Bank in Anhui province, but accounts that are suspected to have involved illegal activities, or which received high interest from other channels, will not receive the repayment.
Arrangements for the remaining savers have yet to be announced, according to two statements from branches of the China Banking and Insurance Regulatory Commission (CBIRC) in Henan and Anhui provinces on Monday.
"It doesn't solve the underlying problem," said a saver surnamed Hang, who has a total of 860,000 yuan (US$128,000) in savings with three of the four rural banks in Henan province with her parents.
"It looks like Henan really has no money. If the central government does not bail it out, it is us – the depositors – who will suffer."
Sunday morning's protest featured hundreds of depositors who had gathered in front of the Zhengzhou sub-branch of the People's Bank of China.
Videos and images showed protesters surrounded by police and attacked by a swarm of unidentified men in white shirts.
Another depositor, surnamed Wang, said on Tuesday that most protesters had already been sent back home, and that the situation in Zhengzhou had been relatively peaceful.
Wang had been taken on a bus to a school with other protesters on Sunday, where their information was registered and they were tested for coronavirus before being sent back to their hometowns.
"There are still a few people who were held by Zhengzhou police and could not be reached," he said.
Wang, who has 300,000 yuan in savings with the rural banks, said he had not been approached or given any update about his frozen deposits having only read the latest official notice online.
"At this point, most people do not trust the Henan government," Wang said, adding that there was still no indication of when or if customers with more than 50,000 yuan worth of deposits would be compensated.
Deposits at the five banks have been frozen since April 18, and the subsequent fallout has posed a risk to social stability and public order.
Most savers are likely to have more than 50,000 yuan of deposits at the banks, Hang said, adding that she still believes she will be able to get all of her savings back even if "it will take a long time".
Over the years, in an attempt to attract funds from outside their limited home bases, China's rural banks have partnered with non-proprietary online platforms, often offering returns that are slightly higher than similar deposit products from larger banks.
Another saver surnamed Zhang, who lives in the eastern province of Jiangsu, deposited 50,000 yuan in December 2020 for a term of five years at 4.5 per cent interest.
"But the fact remains that I am now unsure if I will get this interest. The official advance of the 50,000 principal is like a favour to me," she said.
Fellow saver Shi, who deposited 665,000 yuan with two of the banks, expects regulators conducting the investigation to increase transparency to ensure equal treatment.
"Whether the deposit is above or below 50,000 yuan, we hope that the officials will show the repayment process and the progress of the investigation in an open and transparent manner so that we can recover our own deposits step by step and gradually feel at ease," Shi said.
"After all, the people just went there with the most basic demand of 'I want to withdraw my deposit'."
The Xuchang Public Security Bureau in Henan on Sunday said it had
arrested members of a "criminal gang"
accused of taking over local banks and making illegal transfers through fictitious loans.
A suspect, Lu Yi, was said by police to have used the Henan Xincaifu Group to effectively control the rural banks, however, his whereabouts remain unknown.
In recent years, Chinese regulators have moved to rein in the small bank sector, which has grown rapidly from a few players in the 1990s to around 4,000 banks.
A key problem is the opacity of small banks' shareholding structure, which allows some shareholders to amass substantial stakes in the banks without regulatory approval, while also using lenders to secure loans.
A typical deposit product offered by the four rural banks in Henan through third-party platforms, such as Duxiaoman Financial, offers interest of between 4.1 to 4.5 per cent a year that can be rolled over for up to five years, according to receipts provided by depositors, although these have since been withdrawn. Bank of China, one of China's Big Four state-owned lenders, currently offers just 2.75 per cent a year on a five-year deposit product.
The ongoing cash crisis at the small rural banks also comes amid growing recession risks facing China's economy, which has been hammered by the country's worst Covid-19 outbreaks in more than two years.
Enodo Economics, a macroeconomic and political forecasting company in London, said Beijing has a "powerful array of hardware and software to maintain order" and will be able to keep the bank runs under control for now.
"In the long run, given [President Xi Jinping's] continued dependence on jacking up economic growth by using debt to finance infrastructure and related projects, China will become even more heavily indebted, and more banks could face traditional runs if a large enough incident sparks widespread worry," the research firm said.