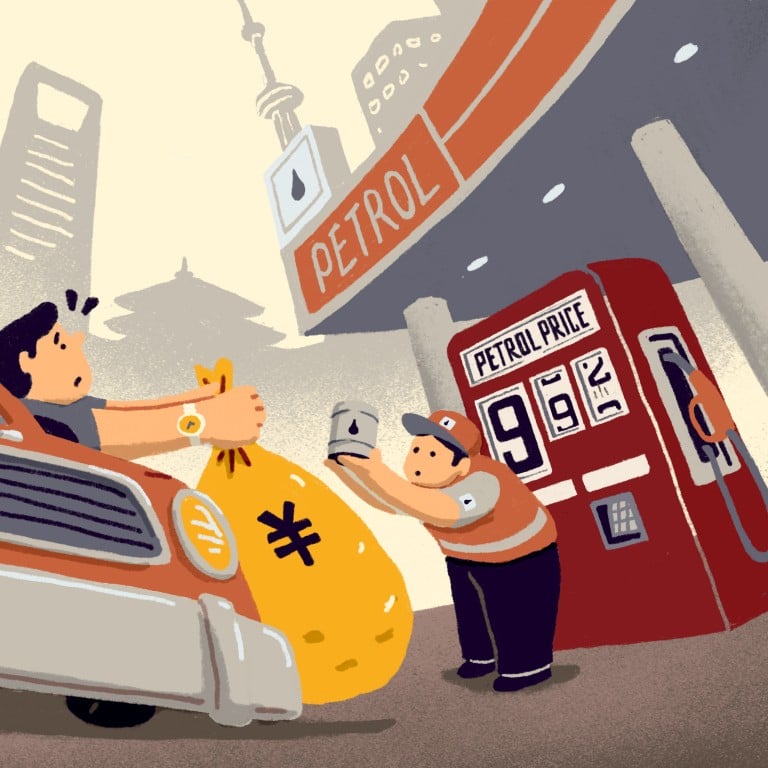 Oil price rise offers China chance to upgrade new energy strategy as petrol price squeezes economy
China has increased petrol prices 10 times this year due to rising cost of crude oil, indirectly filtering into daily lives and forcing authorities to rethink energy strategies
China has been encouraged to focus on electric vehicles and new energy, although its relationship with Russia has raised concerns amid rising geopolitical tensions
With China increasing petrol prices 10 times so far this year, Beijing resident Luo Yan ditched her car in favour of an electric scooter for short-distance travel on weekends.
Spending around 150 yuan (US$22) more to fill a tank with petrol compared with six months earlier would not have been a major issue for the event planner in years past, but it has become a burden as business prospects have dimmed under the strain of the coronavirus-ravaged economy.
"If we can't earn more, we need to cut the budget," said Luo after petrol prices in Beijing rose from 7.59 yuan per litre in December to 9.95 by mid-July.
Under China's pricing mechanism, which was put in place in 2013, international crude oil prices are reviewed every 10 working days, with adjustments made to domestic petrol prices to cope with significant changes – as long as the crude oil price remains between US$40-US$130 per barrel.
In total, so far this year, while increasing the price of petrol on 10 occasions, authorities have also lowered the price twice in April and June.
Car owners, the remaining taxi drivers who have not switched to electric cars and long-distance truck drivers in China are now directly feeling a similar crunch seen in the United States and Europe when the oil crisis broke out in the 1970s, and indirect impact has also filtered into their daily lives.
One of the more obvious consequences is people such as Luo being less willing to drive their cars, but the more impactful upshots include rising costs, imported inflation, industry changes and geopolitical tensions.
Many trucking firms have been
forced out of business
as the incomes they can earn from transporting cargo can no longer cover their operating expenses, partly due to the rising cost of fuel.
"Freight income has dropped from over 10 yuan per kilometre in 2016 to around 6 or 7 yuan since 2018, while the fuel and toll fees have kept soaring," said truck driver Zhang Liang, who was forced to close his own logistics company.
Firms could previously earn around 21,000 yuan (US$3,100) for a round trip of some 3,000km between Shenzhen and Shanghai, but after paying 9,000 yuan for fuel, 6,000 yuan for tolls and 5,000 yuan for two drivers, they are left with just 1,000 yuan profit, said Zhang.
But due to shrinking demand, the fee has recently dropped to around 19,500 yuan to further squeeze profits.
"Many drivers were isolated in the first half of the year and earned only a third or half of the normal incomes," added Zhang, who made six solo long-distance trips last month.
"So now, even though there are safety risks, many truck owners let drivers drive solo long distances, without replacement drivers."
Firms are also rewarding drivers with a 4 yuan bonus for every litre of fuel they can save, and some experienced drivers can conserve 150 to 200 litres of fuel, according to Zhang, "but I can't. It's not safe".
Chinese policymakers are being forced to rethink energy strategies, economic structure and relations with major powers as they assess how long the international price increase will last and how much extra it will end up costing them.
Some advisers have argued Beijing must be more proactive and grasp the opportunity to accelerate its much needed economic restructuring, including consumption and innovation driven growth, increased use of energy saving technologies and a push for electric vehicles and new energy.
"It has provided a comprehensive opportunity for China's structural transformation," Liu Yuanchun, president of the Shanghai University of Finance and Economics, said at the end of June.
"The price hike of energy and basic products will greatly push forward China's new energy strategy and new strategic industrial system, promoting the economic upgrade."
There have been four major oil price increases in the last 50 years, with three caused by wars in the Middle East, and the other by rising demand in East Asia at the start of the new millennium.
International crude oil prices have been
extremely volatile in recent years
having plunged to US$13 per barrel in April 2020 as demand plummeted in the early days of the coronavirus before spiking to close to US$140 per barrel in early March in the wake of Russia's invasion of Ukraine.
Russia, which provides one-eighth of the global supplies, will be blocked from shipping crude oil to the European Union from early December, with a block on petroleum products following from February.
China is the world's largest buyer of crude oil, with an import volume of 513 million metric tonnes last year, and it has been hit hard with the average monthly price rising by 62.2 per cent from a year earlier to US$768.9 per metric ton, or US$105 per barrel, in May.
And no part of the Chinese economy is safe, from chemicals to transport and fertiliser, with factories forced to charge
6.1 per cent more for their products in June
than a year earlier according to the producer price index, although this is down from a record 13.5 per cent increase in October.
But despite the threat of imported inflation pushing up domestic production costs, leading to increases in the prices of domestically produced goods, China has yet to feel the full impact.
"Oil shocks on the Chinese economy are much smaller than those on Western countries. It is even incomparable to last year's energy crunch caused by the coal shortage," said Tian Miao, a senior analyst with Everbright Securities International.
China's consumer price index stood at 2.1 per cent in May, much lower than a four-decade high of 8.6 per cent in the US and 8.1 per cent in the Eurozone. It did rise slightly to 2.5 per cent in June, although this is still below the government target of 3 per cent.
Tian attributed the resilience to the efforts made to increase coal production to offset the high cost of oil.
"The government has many tools at hand [to counter oil price increases]," she added.
China is looking to learn lessons from
last year's nationwide energy crunch
, which was caused in part by local government efforts to meet decarbonisation targets by reducing coal capacity.
Coal accounts for 70 per cent of China's energy mix, making it as important as oil and gas in the European Union and the US.
Petrol price adjustments will be frozen and more relief packages could be deployed if the price of crude oil reaches US$130 per barrel or drops below US$40, according to a joint circular released by the National Development and Reform Commission (NDRC) and the Ministry of Finance at the end of June.
The two agencies will also provide subsidies for refiners for two months if international prices jump above the ceiling.
Analysts, however, raised more concerns from a geopolitical perspective as Beijing's growing energy trade provides a lifeline to the embattled Putin administration and annoys the US and its allies.
Energy accounted for more than a third of China's bilateral trade with Russia by value last year, with 79 million metric tonnes of Russian crude oil making up 15 per cent of Chinese imports.
In early February, China and Russia pledged to elevate bilateral trade to US$200 billion by 2024 from US$146.9 billion last year
after signing several energy deals
as President Xi Jinping met with Russian counterpart Vladimir Putin in Beijing.
And despite US National Security Adviser Jake Sullivan warning that Beijing would "absolutely" face consequences if it helped Moscow evade sweeping sanctions over the war in Ukraine, China imported 34 million metric tonnes of crude oil from Russia in the first five months of the year – an increase of 2.8 per cent from a year earlier.
The value, though, was still lower than China paid for crude imports from Saudi Arabia –
its biggest crude oil supplier last year
– in May, even though the volume from Russia was around 600,000 tonnes higher due to steep discounts offered by suppliers facing Western sanctions over the invasion of Ukraine.
"China faces a situation that must be handled with caution," according to a report from Renmin University of China in mid-June. "It must ensure the safety of energy imports, and needs to avoid secondary sanctions."
Beijing has spent decades in search of stable and secure supplies worldwide, including in war-torn and unstable regions such as South Sudan, Venezuela and the Middle East.
Lin Boqiang, head of the China Institute for Studies in Energy Policy at Xiamen University, said that Russia's vast and secure supply switching to Asian markets means larger room for cooperation.
"We have a big market, while they have resources. The two countries were strongly complementary even before the Ukraine conflict," he said.
While warning that international oil prices could stay at a relatively high level for two to four years if Western countries continue to shun Russia oil and gas, Lin said China must speed up its new energy drive and expand international markets by selling new energy vehicles, renewable products, technologies and new energy standards overseas.
"Energy security must be elevated to a higher priority for the top leadership to make future planning," he added.
Many see a chance for quickened economic restructuring, including the development of energy-saving technologies, electric vehicles and renewable energy.
Beijing vowed in its 2021-25 development plan to curb energy-intensive projects and also to cut its energy intensity by 13.5 per cent.
Japanese energy-saving technology, which helped automotive giants Toyota and Honda to crack open the US and European markets, and the US shale gas and oil revolution, are frequently cited as examples to inspire adjustments in China.
"Japan's industrial structure underwent dramatic changes in 1970-85, successfully transforming to a technology-driven model from capital intensive one," China Merchants Securities analysts Zhang Xia and Cheng Xingyu said.
"To tackle oil price rise, Japan enhanced innovation of traditional industries, and guided the development of technology-intensive sectors such as electronics and machinery."
China's new energy vehicle
sales reached 3.52 million units last year, compared with 1.37 million units in 2021, with potential for more given the sector's traditional reliance on oil for petrol.
Ministry of Public Security data showed that China had 10 million new energy vehicles in total at the end of June compared to 310 million traditional cars out of 406 million total vehicles.
"This process must be accelerated, and only by reducing dependence on oil can we have more initiative. Therefore, in the long run, it is a strategy that we cannot hesitate to promote the acceleration of low-carbon transformation," said Zhou Dadi, former director of the NDRC's energy research institute.
For now, Luo Yan has her electric scooter and one eye on the price of petrol with a switch to a new energy vehicle unlikely for now.
"Sometimes, when I drive my car and press the accelerator, I can't help thinking about how much money I've spent," she added.
"Many things are beyond our control, so we need to make good preparations in advance."