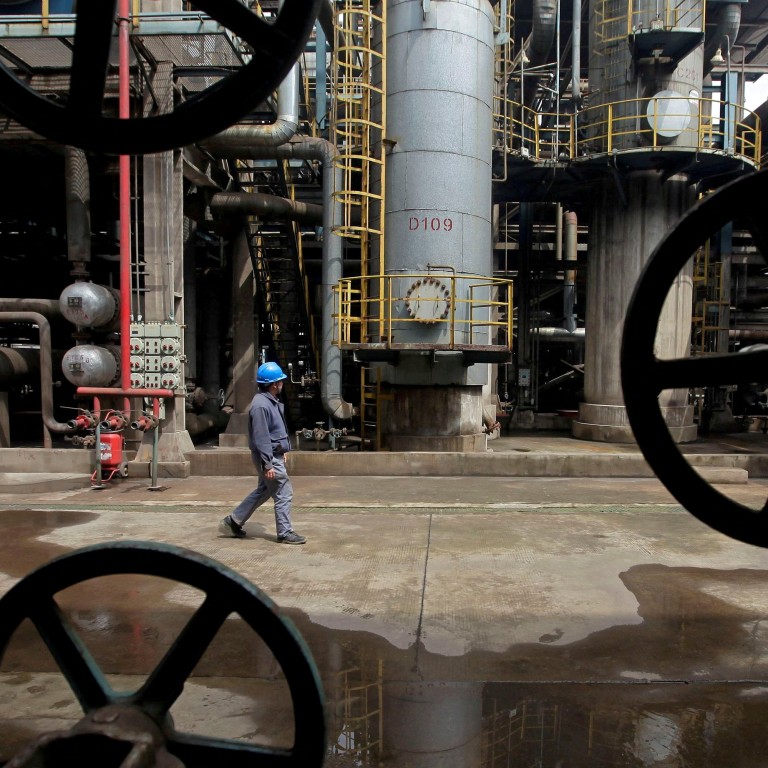 On Russian oil, China shuns US call to cap prices and urges dialogue in 'very complicated' issue
There had been no mention of an oil price cap in statements following high-level trade meeting between US and China, but the topic surfaced on Thursday
China and India are among the major buyers of Russian oil and have refrained from backing Western sanctions against Moscow
China has refrained from supporting the United States' call for a price cap on Russian oil while continuing to call for dialogue to address the "complicated issue".
Thursday's comments by the Ministry of Commerce came after US Treasury Secretary Janet Yellen said she had raised the possibility of setting a
cap on the price of Russian oil
during a
virtual meeting
with Chinese Vice-Premier Liu He last week.
Yellen said in an interview with The Wall Street Journal that the Chinese side had listened and was prepared to have further discussions with the US.
Without naming Russia, ministry spokeswoman Shu Jueting said on Thursday that the US side had "introduced its thoughts" on setting a price cap for oil "from a certain country", in the talks last week.
"On the Chinese side, we think the issue is very complicated. The precondition of addressing the issue is that all related parties should strive to facilitate dialogues for peace, to promote cooling down rather than heating up the Ukraine crisis," Shu said, adding that "this is in line with the interests of all sides".
"Currently, global oil prices remain elevated, becoming one of the major factors in the high inflation globally and raising great concerns in the international community," Shu said.
The US has been rallying support from countries to further restrict Moscow's energy revenue via the oil price caps, in addition to existing or planned Western restrictions. This would also, Yellen said, allow more oil to reach the global market.
But
China and India
are among the major buyers of Russian oil and have refrained from joining the Western sanctions against Moscow.
China's crude oil imports from Russia soared to a record
8.42 million tonnes in May
, a 29 per cent increase from April and 55 per cent greater than a year prior.
The statements issued by both sides on the call between Liu and Yellen last week – their first such talk since October – did not mention the issue.
China said the talks were pragmatic and frank and constructive, and that it had raised concerns on economic issues and Trump-era tariffs.
The Chinese statement also said both sides believed that the global economy "is facing severe challenges, and it is of great significance to strengthen the communication and coordination of China-US macro policies".
The administration of US President Joe Biden has been mulling whether and how much it feels comfortable lowering trade tariffs on some Chinese goods, as one of the options to tame soaring inflation in America.
US inflation surged to
9.1 per cent in June
, overshooting market estimates and setting a record for the highest US rate rise in four decades.
Biden has repeatedly blamed Russia's invasion of Ukraine, and Republicans, for the out-of-control inflation.
China has refrained from publicly condemning Russia, despite pressure from the US and the European Union, while also blaming Western sanctions and the eastward expansion of the Nato security alliance for provoking Moscow.
Beijing said it has maintained normal trade with both Russia and Ukraine, while analysts said Beijing is also being cautious in the face of potential consequences of sanctions.
China's imports from Russia surged by 56.3 per cent to US$9.7 billion in June, increasing for a fifth straight month since the invasion of Ukraine.
Exports to its northern neighbour declined for a fourth straight month after dropping by 17 per cent, to US$5 billion, according to calculations based on customs data.
This led to China's trade deficit with Russia expanding by nearly 22 times from a year earlier, to US$4.7 billion.