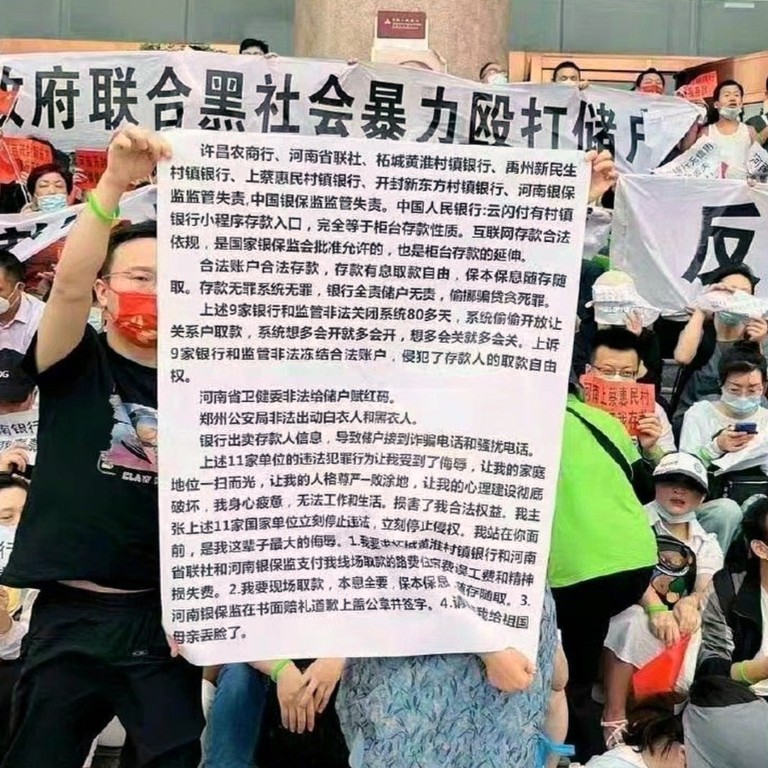 Explainer
5 unanswered questions about the Henan bank crisis
Customers took to the streets in protest after finding savings at four rural banks in Henan province and one in neighbouring Anhui had been frozen
President Xi Jinping has placed economic stability as a top priority and vowed to strengthen supervision within the state-dominated financial system
Rural savers have taken to the streets in Zhengzhou, the capital of China's central Henan province, after finding that their deposits at five banks have been
frozen since mid-April
.
But what are the other issues surrounding one of the nation's biggest financial scandals? Here we look at five unanswered questions as concerns mount over the small bank sector as well as social stability in China.
1. Is the cash held at the banks actually in the form of deposits?
In China, deposits up to 500,000 yuan (US$74,000) are guaranteed by the country's bank insurance scheme.
But in this case, it is unclear if the cash customers handed over was actually deposited with the banks.
China's small rural banks have often partnered with non-proprietary online platforms, offering returns that are slightly higher than similar deposit products from larger banks.
Duxiaoman Financial is one such third party distributor and the company has stated that it has never engaged in the sale of wealth management products with the banks, only offering traditional bank deposits.
In 2021, the People's Bank of China (PBOC) said that local banks should not attract deposits from across the country using internet platforms as the central bank sought to limit small-town lenders from attracting business away from their home markets.
According to receipts sent to the Post by savers with the five banks, the paperwork is marked as being deposits.
The savers claim that they sent the money from larger banks to the rural banks via online transfers.
However, there are concerns that if a police investigation finds "non-compliant" transactions, customers will lose all their money.
As part of an ongoing investigation, Henan police said that a criminal suspect, Lu Yi, had used the Henan Xincaifu Group to carry out the scandal, although his whereabouts remains unknown.
Deposits at Yuzhou Xinminsheng Village Bank, Shangcai Huimin County Bank, Zhecheng Huanghuai Community Bank and New Oriental Country Bank of Kaifeng in Henan province and Guzhen Xinhuaihe Village Bank in the neighbouring Anhui province have been affected.
2. Why are high interest rates offered?
China's national savings rate is among the highest in the world. This factor is often cited by some economists as a key reason consumption growth has remained relatively modest in recent years.
The PBOC previously set a cap on commercial banks' deposit rates, but this was removed by 2015, and banks could in theory set their own, giving smaller banks the chance to offer higher than average returns to attract savers from larger banks.
A typical deposit product offered by the four rural banks in Henan through third-party platforms, such as Duxiaoman Financial, provides interest of between 4.1 and 4.5 per cent a year that can be rolled over for up to five years, according to receipts provided by depositors, although they have since been withdrawn.
Since the start of the year, benchmark saving rates have been declining, with Bank of China, one of China's Big Four state-owned lenders, currently offering just 2.75 per cent a year on a five-year deposit product. A similar savings product by Beijing Shunyi Yinzuo Village Bank offers 3.2 per cent a year.
3. How risky are China's small rural banks?
In its fourth-quarter rating report for last year, the PBOC stated that 24 of the 4,398 banks that took part in the survey were rated as safe. The 24 large banks represented 70 per cent of all bank assets.
A total of 316 were rated as high risk, representing just 1 per cent of all banking assets.
This week, the head of the PBOC's Financial Stability Bureau confirmed that the rural banks in Henan are among those that have been rated as high risk.
The blurred nature of small banks' shareholding structure has plagued the sector over the years despite increased scrutiny from regulators.
The poor transparency of shareholder disclosure has allowed some to amass substantial stakes in the banks without regulatory approval, while also using lenders to secure loans.
In the case of Baoshang Bank, which went bankrupt in 2020, shareholders were found to have interfered with daily business operations and meddled with its risk controls, according to the PBOC.
Tomorrow Group subsequently were unable to repay the loans, according to the PBOC.
4. Will China's regulators bail out the banks in Henan and Anhui?
China's regulators have yet to formalise uniform standards to deal with banks that are in financial distress.
The measures were different for the cash-strapped Bank of Jinzhou, which received liquidity injections from three state-owned financial institutions.
It is clear that financial system stability remains the government's overriding priority and Beijing has a long track record of providing different types of extraordinary support to troubled financial institutions in the past two decades.
But in 2020, following the failure of Baoshang Bank, central bank governor Yi Gang said that the central bank would not bankroll government spending or bail out troubled companies backed by local authorities amid mounting political pressures to resolve fiscal and financial risks.
Rating agencies, including Moody's, have incorporated a moderate or lower level of support to small regional banks, a high level of support to large regional banks and a very high level of support to nationally franchised banks, taking into that the probability of government support to banks will eventually be more tiered.
5. Will there be more bank runs in China?
While rumours of small banks in financial trouble are not uncommon in China, the confidence in small and rural banks has definitely taken a hit.
On July 13, Hengfeng Bank released a statement on China's Twitter-like social media platform Weibo, denying rumours that it is facing bankruptcy.
"The Bank has taken legal measures to safeguard its legitimate rights and interests," the statement said.
Speculation of financial problems also emerged at the Bank of Nanjing after its president resigned.
On July 1, the bank released a statement saying its operations were normal and that the rumour was false. Local police also said one person had been punished for spreading misinformation about the bank.
"The fuse for contagion risk could be lit by an adverse turn in public perception rather than strengths or weakness in banking metrics," said US rating agency Standard & Poor's this week.
"In light of the small size of these private banks, the foul play involved, reputation damage suffered, and ordinary deposits becoming affected, a regulatory takeover could be on the table.
"Local government and state-owned enterprise are generally the first port of call in such rescues, with the central government providing backstops if needed."