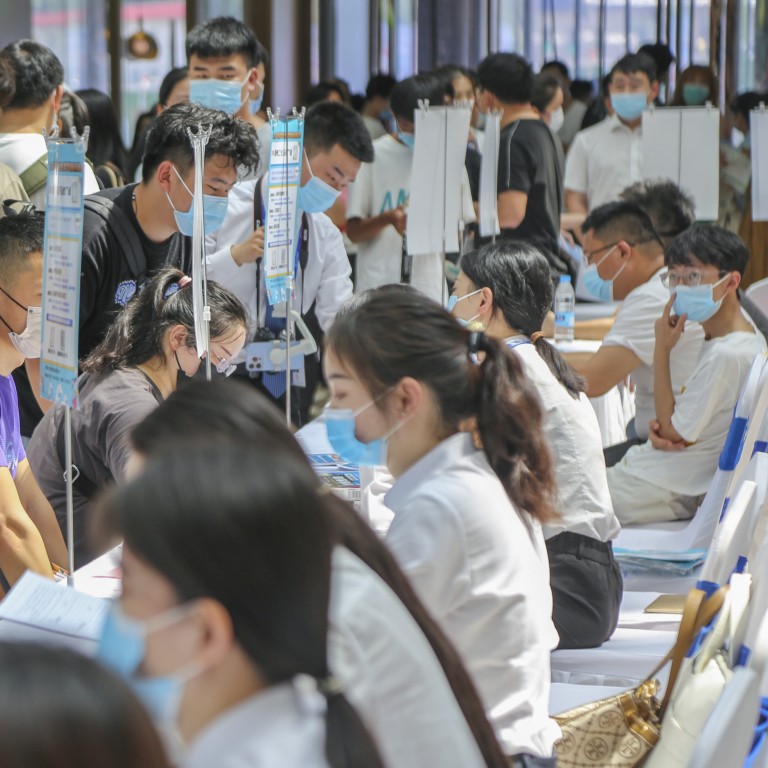 China jobs: youth unemployment hits record high in June – nearly 1 in 5 young people out of work
Young Chinese jobseekers aged 16-24 are faring worse than their peers in other major economies, and some analysts say the worst may be yet to come
China's broader urban unemployment rate eased slightly to 5.5 per cent in June, but youth unemployment soared to 19.3 per cent
The hits keep coming for China's disillusioned youth who increasingly cannot seem to catch a break when it comes to landing work in a job market that – at least for their demographic – keeps going from really bad to even worse.
Nearly one out of five young jobseekers were unemployed last month as China's youth unemployment rate hit an all-time high of 19.3 per cent in June, official figures show. It was a sharp rise from 18.4 per cent in May, and marked a year-on-year increase of 25 per cent.
The intensifying struggle among those aged 16-24 to carve out their own piece of China's economic pie came in the midst of the nation's economy growing by a mere
0.4 per cent in the second quarter
of 2022, year on year.
This was largely the result of Beijing's zero-Covid strategy, which forced large-scale lockdowns in Shanghai and other major cities – far from ideal conditions in which China's latest army of fresh college graduates were plunged into.
China's National Bureau of Statistics (NBS) has previously noted that new graduates generally push the unemployment rate upward come June and July each year, but the youth unemployment rate has seen a steady rise since October. And it has been breaking records since hitting 18.2 per cent in April – which had marked the highest point since China first started publishing the monthly data in 2018.
Adding a record
10.76 million college graduates
into an already tightening job market simply kept pushing the rate farther skyward. And data shows that young Chinese are faring worse in their job market than their peers in other major economies.
In June, the youth unemployment rate for the same age group in the United States was 8.1 per cent. In May, the European Union's youth unemployment rate was 13.3 per cent. And Japan's rate in May was 3.8 per cent.
NBS spokesman Fu Linghui said on Friday that Chinese youth indeed face accented employment pressure, which he said must be stabilised.
"Affected by the pandemic, companies' ability to absorb employment has declined, and young people's job-search channels have also been hampered under the constrained conditions," Fu said, adding that more policies will be implemented to improve their situation.
But some analysts suspect that the worst may be yet to come for young jobseekers in light of economic uncertainties and headwinds.
"I think the overall labour market conditions will remain subdued for some time," said Tommy Wu, lead China economist with Oxford Economics. "The youth unemployment rate could rise farther as young people will find it very difficult to get a job in such labour market conditions."
The broader job market, as assessed by China's surveyed urban unemployment rate, actually improved slightly in June, the NBS said. After rising to a nearly two-year high of 6.1 per cent in April, the rate dropped to 5.9 per cent in May and then to 5.5 per cent last month.
"The surveyed unemployment rate may improve somewhat through the second half but at a gradual pace," Wu said. "Employment related to infrastructure projects will likely increase, given the focus of policy stimulus in this area. But I think consumer services and private-sector activity more generally will likely be stagnating, so the overall employment prospects will remain concerning."
Fiercer competition and mass lay-offs at private firms have further added to the job-market woes. And industries that traditionally absorb a large number of new graduates – including internet firms, the finance industry, the real estate sector and the
private-tutoring industry
– have all suffered amid wide-ranging regulatory crackdowns.
Wang Yixin, executive director of public relations at online recruitment service provider Zhaopin, also noted how some fresh graduates are "unwilling to settle" in their job search.
She also expressed optimism for the job market in the coming months, saying it "will improve as economic growth recovers in the third and fourth quarters". But she also stressed the need for more support measures by the government, and said more must be done to help fresh graduates find a place in the job market.
Even after its two months of lockdowns ended as June began, Shanghai's urban unemployment rate of 7 per cent for the month remained significantly higher than the national average of 5.5 per cent. And the city's second-quarter unemployment rate of 12.5 per cent was vastly worse than the national average of 5.8 per cent.
"I think it will take a while for Shanghai's labour market to get back on track after the lockdowns in the second quarter, especially as fears of renewed lockdowns will continue to haunt residents and businesses in Shanghai," said Wu with Oxford Economics.
Looking to the year's second half, weak domestic consumption and service-sector activity amid zero-Covid will remain strong headwinds in China's labour market, according to Louis Kuijs, APAC chief economist at S&P Global Ratings.
"High-frequency data suggests that newly imposed restrictions in several cities are again weighing on momentum," he said. "Thus, it remains to be seen how much unemployment can fall in the coming months."