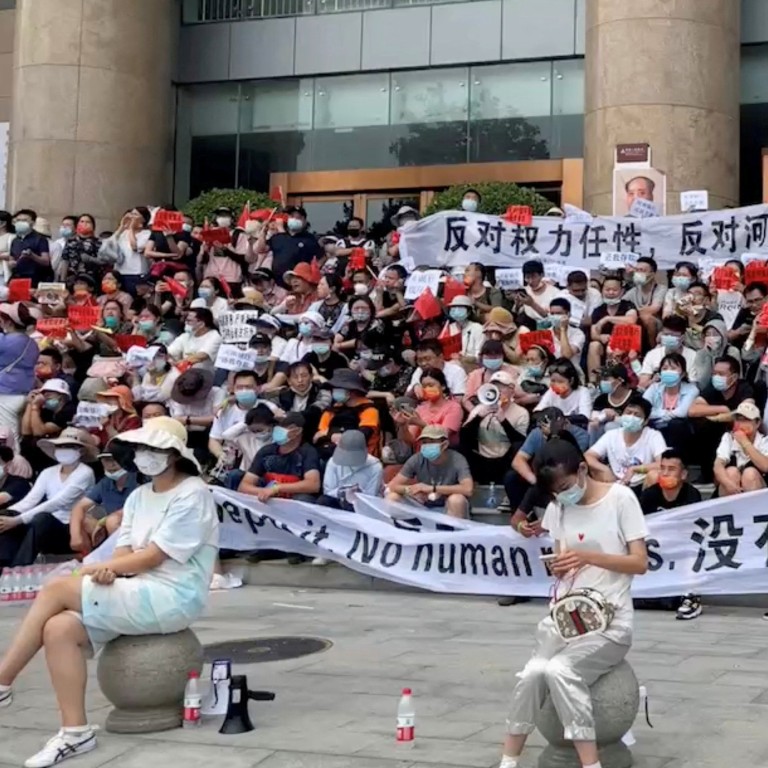 Henan bank crisis savers must 'wait patiently' for compensation amid systemic risk, social instability concerns
An unnamed official from China's banking regulator addressed problems facing China's financial sector during a wide-ranging interview
Disgruntled savers at five banks in Henan and Anhui provinces have been told they will receive their money, but the official did not provide a detailed timeline
Customers caught up in one of China's biggest banking scandals have been asked to "wait patiently" to receive their compensation amid growing concerns over systemic risks and social instability.
Deposits at four banks in Henan province and one in neighbouring Anhui have been frozen since mid-April, leading to protests from disgruntled customers.
Some savers with deposits of less than 50,000 yuan (US$7,400) received their money as promised on Friday, although others
encountered a string of problems
while trying to register for the repayment scheme due to an overloaded system.
"The action plan is to repay the principal of these customers in batches," an unnamed official from the China Banking and Insurance Regulatory Commission (CBIRC) told the state-owned China Banking and Insurance News in a rare, wide-ranging interview on Sunday.
But the official stressed that it would take time for authorities to collect customer information from such a large number of people and perform relevant checks because the original data had been removed.
The company covered up its illegal activities by tampering with business data, while it had also not paid interest, the CBIRC added.
In the interview, the CBIRC official denied the regulator had only offered compensation following the string of demonstrations, one which resulted in protesters being attacked earlier this month, saying that the crisis had been handled "in accordance with laws and regulations".
The CBIRC official also sought to address a range of problems facing China's financial sector, including overall risks in the small bank sector and a mortgage boycott affecting unfinished, pre-sold units that has spread to over 80 cities.
China's small banks are seen to be more vulnerable to cyclical growth, while defaults in the property market are expected to rise, fuelling speculations over the health of China's state-dominated banking sector.
Hengfeng Bank, Bank of Nanjing and Guangdong Huaxing Bank are among lenders that have already been forced to issue statements this month denying that they are in financial trouble.
"All the difficulties and problems will be properly solved," the CBIRC official said.
The CBIRC official, though, also said in the interview that financial risks in the small bank sector in the northeastern province of Liaoning had been "effectively curbed".
The regulator said that it would continue to promote mergers, reorganisation and stronger risk control to ensure that small and rural banks would continue to play an important part in supporting the economy in the northeast rust-belt.
In the first half of the year, the State Council approved a special purpose debt quota of 103 billion yuan (US$15.2 billion) to inject liquidity into small banks in Liaoning, Gansu, Henan and Dalian, the CBIRC official said.
"In the near future, it is necessary to approve some local special bond issuance plans. It is expected that by the end of August, the allocation of all 320 billion yuan will be completed," added the official.