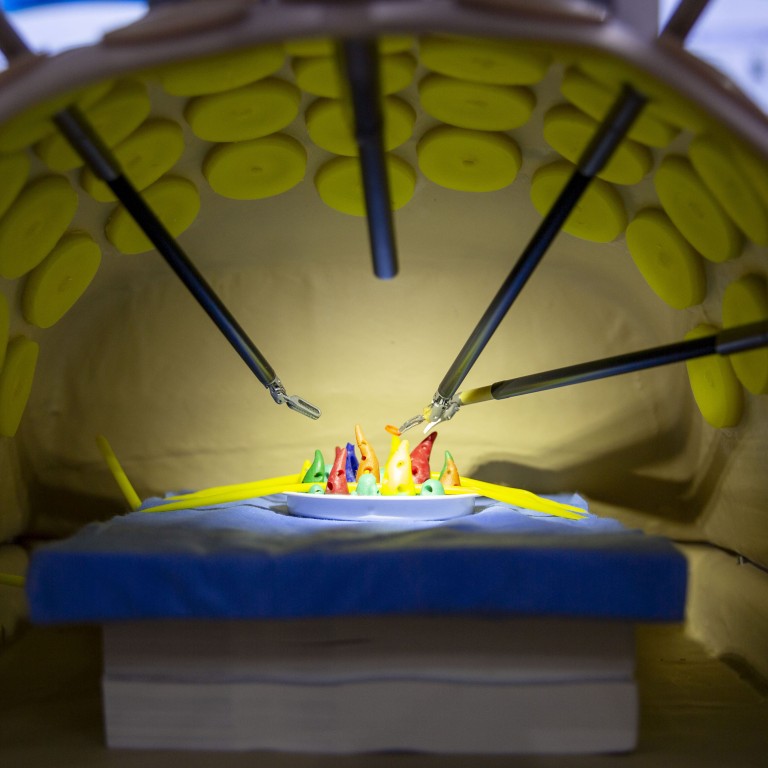 China, South Korea tech competition and US-led bloc have Seoul scrambling to prevent leaks but protect trade
South Korea's alignment with US-led economic bloc poses challenge for Seoul that experts say will necessitate adjustments 'in face of wider global competition'
More heavy-handed measures, such as a comprehensive bill, are necessary to help foster and protect South Korea's cutting-edge tech, intelligence service says
South Korea needs to fine-tune its strategies while further committing to the "closed system" of a US-led economic bloc, as the two countries are facing fundamentally different challenges, especially in the realm of science and technology, according to foreign policy experts in South Korea.
Achieving economic security has been at the forefront of South Korean President
Yoon Suk-yeol
's to-do list since beginning his term in May.
The concept has long been heavily emphasised by the United States. And for American allies, this often means reinforcing economic security against China amid intensifying competition between the world's two biggest economies.
In line with that goal, US Treasury Secretary Janet Yellen will visit South Korea on Tuesday as the last stop on her 11-day visit to the Indo-Pacific region, and she will speak with President Yoon to discuss matters of economic security.
"We cannot allow countries like China to use their market position in key raw materials, technologies or products to disrupt our economy and exercise unwanted geopolitical leverage," Yellen will say in a major policy speech at the facilities of LG Chem, South Korea's largest chemical company, according to excerpts of the speech that were released in advance by the US Treasury Department.
While President Yoon has played up the building of
reliable supply chains
as a major component in the nation's attempts to bolster economic security, leveraging and protecting its hi-tech sector has also been viewed as equally important.
Baek Seo-in, an associate research fellow at the Science and Technology Policy Institute in Seoul, said: "South Korea has been following the US' emphasis on critical and emerging technologies. The understanding is that we shouldn't just stop at fostering the development of such technologies, but we need to protect them in face of wider global competition.
"There is growing awareness within South Korea of such a need to protect technologies, and we are actually in the process of building a lot of protective safeguards. But what we really need to consider is whether there really is more to earn than to lose by building such a closed system."
The recent jabs by multiple stakeholders in South Korea on the matter reflect just how much importance is being placed on the need to safeguard critical technologies.
In recent weeks, US Congress has been considering
amendments
that would toughen punishments for those who knowingly leak technologies deemed essential to the country.
The Yoon administration reportedly intends to pass a special act by the end of the year, with plans to revamp its list of so-called essential strategic technologies that are produced domestically.
The list consists of core technologies that are deemed by the Korean government to be especially critical for the country's future competitiveness, and to which the government has vowed full support in terms of development and protection.
The current list, compiled by the previous administration in 2021, consists of 10 technologies, including artificial intelligence, cybersecurity and semiconductors.
Even-heavier-handed measures were suggested last month by the Korean National Intelligence Service at the 12th International Intellectual Property Protection Conference in Seoul.
The country's intelligence service said that a comprehensive bill – akin to the ones passed in the US and Japan – is necessary to strengthen the country's economic security, including "fostering and protecting cutting-edge technology".
The American Senate passed the US Innovation and Competition Act in June 2021, followed by the House also passing the
America Competes Act
. Both of these seek to strengthen and safeguard American research and innovation in the context of China's rise.
America's closest allies quickly followed suit. In May 2022, Japan passed a comprehensive economic security bill that experts say is characterised by its clear aim of protectionism against China and safeguarding its sensitive technology and critical infrastructure.
South Korean foreign policy experts say they expect similar policy moves to eventually come in full swing. All of this may be necessary to a certain extent as the world is gearing up for intense competition for technological sovereignty and is forming of economic security blocs.
Nonetheless, South Korea should not simply mimic the comprehensive measures the US and its allies have taken, they say.
"Of course, there is a need for South Korea to be a little more protection-centric in general, because of international trends such as technological competition, geopolitics, the forming of blocs, and decoupling," Baek said.
Still, protectionism in terms of technology makes more sense for countries like the US that already have a lot of advanced technologies, and not necessarily for a country like South Korea, he added.
"Even with a protectionist system, excellent resources and talents from around the world will keep entering the US. Such an effortless inflow of high-quality resources is not something that South Korea can expect in the same manner," Baek said. "For South Korea, we have a huge need to source different technologies from other countries through international and industrial cooperation, which I believe we already lack. Building too many safeguards can further hinder this."
Another expert at the Korean Institute for International Economic Policy (KIEP) emphasised that, going forward, the country will have to find a balance between its inherent need to attract foreign investment and the need to strengthen foreign-investment-review systems to protect sensitive technologies from being acquired through mergers and acquisitions (M&As).
"Countries such as Korea have a strong need to attract a lot of foreign investment, and free trade is very important for it because foreign trade takes up a large share of the country's total economy," said Yeon Won-ho, the head of the economic-security team at the KIEP.
This becomes a dilemma, because while China has been aggressively conducting M&As with technology companies worldwide in recent years, a number of countries have been strengthening their foreign-investment-screening processes.
"From China's perspective, as foreign-investment screening has already been strengthened in the United States, Europe and Japan, there is a high chance that their attempt to conduct M&As in those countries will be blocked through the review processes. This makes South Korea an easy target, as it is relatively easier to do M&As here," Yeon said.
He said that, although there have been measures taken in South Korea to address this, such as via the National Advanced Strategic Industry Act passed earlier this year, the measures have been insufficient.
"In the case of the National Advanced Strategic Industry Act enacted at the beginning of this year, there were sections that attempted to strengthen foreign-investment screening. I believe this was far from enough, because the bill only presents certain awareness that such a problem exists. I am highly doubtful that it will be operated in a practical, effective, clear and transparent manner," Yeon said.
"What's highly essential in the case of Korea is a clear goal and procedure specified in the bill so that we can directly tackle the problem – preventing technology leakage without impeding free trade."
Additional reporting by Reuters