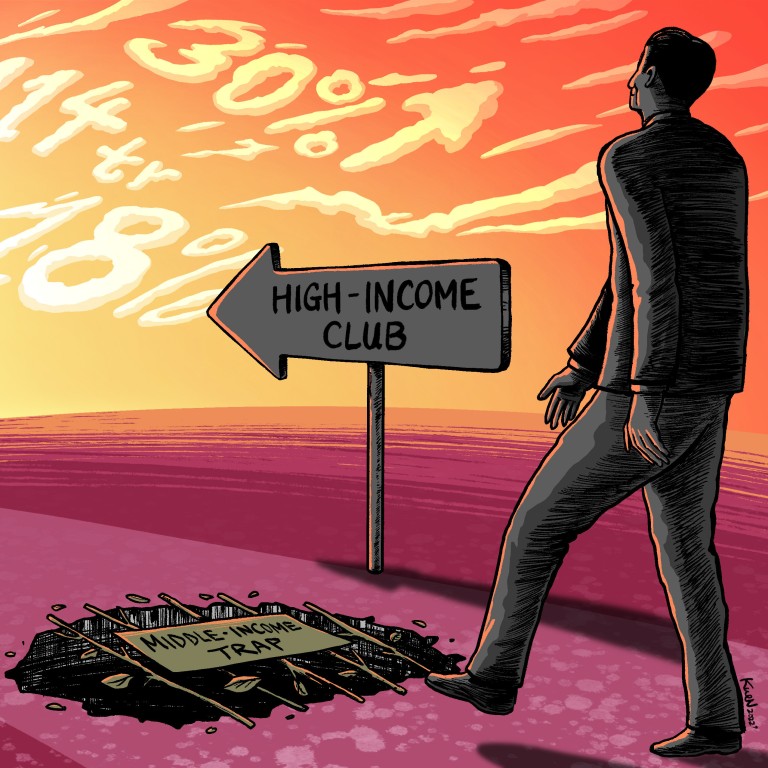 China on cusp of joining high-income club, but slowdown raises spectre of middle-income trap
Beijing officials trumpet dazzling economic figures to make case the country can escape middle-income trap
However, some inconvenient statistics point to a worrying trend for the world's second-largest economy
Ahead of this year's 20th National Congress of the Communist Party of China, we take a look at how the country is responding to three potential traps highlighted by President Xi Jinping in the past decade. In the third of
a three-part series,
we examine the middle-income trap and the hurdles China's economy must clear to escape it.
Chinese officials like to use numbers to describe the country's economic miracle.
So that is what Han Wenxiu, a senior official with the Central Financial and Economic Affairs Commission, did when he summarised almost a decade of achievements under President Xi Jinping in mid-May.
He threw out a string of dazzling figures at a news briefing: the world's No 2 economy, with gross domestic product (GDP) of 114 trillion yuan (US$17 trillion) last year, accounting for 18 per cent of global GDP – up from 11.4 per cent in 2012 – and contributing 30 per cent of global GDP growth in that time.
"We are close to the threshold of high-income countries," Han said.
Statistically, China already stands at the doorstep of the high-income club, defined by the World Bank as those with gross national income per capita above US$12,695 in 2021. China's was US$12,551 last year.
But the economic impact of Covid-19 lockdowns, imposed due to the spread of the Omicron variant, has fuelled speculation about a less rosy scenario – the middle-income trap. The term was coined by then World Bank economists Indermit Gill and Homi Kharas in 2007 to describe failed transitions to a high-income economy due to rising costs and declining competitiveness.
Latin America and the Middle East provide empirical evidence supporting the trap hypothesis, and only a dozen of the more than 100 middle-income economies in the 1960s had become high-income ones by 2008.
"For China, the middle-income trap must definitely be avoided," Xi told business leaders at the Apec meeting in Beijing in November 2014.
"The key is when to pass it and how to move forward better after that. We are confident to find a balance between reform, development and stability."
All those factors, analysts have warned, already pose a severe challenge to the government's projected development path, threaten the ruling Communist Party's narrative of the Great Rejuvenation of the Chinese Nation, and ratchet up speculation in the lead-up to a Politburo reshuffle later this year.
"Despite slow growth, China will be able to qualify for high-income country status by the end of this year," said Houze Song, a researcher with the Chicago-based Paulson Institute. "But the outlook for China's per capita income growth is not encouraging over the medium term.
"China may need to reach 35 per cent of US GDP per capita [from the current roughly 18 per cent] to surpass the US [as the world's biggest economy]. It definitely makes it harder to achieve."
As early as 2008, Liu He, who is now a vice-premier and Xi's right-hand man on the economy, touched on the trap hypothesis in his reflections on the failure of some Latin American countries to ascend and China's next stage of growth.
The risk of becoming trapped was also used to push the reform of non-productive sectors. The Development Research Centre of the State Council, a key government think-tank, collaborated on the China 2030 report with the World Bank that said the key to avoiding the trap was keeping total-factor productivity growth near its past high rates through policies and reforms to further improve economic efficiency.
In a speech in April 2015, then finance minister Lou Jiwei said China had a more than 50 per cent chance of being stuck at the middle-income level over the following five to 10 years, citing the economic impact of the country's rapidly ageing population.
"This is an area where the international experience on development and the difficulty that countries faced have resonated in China and made the policymakers very receptive and very eager to make sure that China learns the lessons," said Louis Kuijs, chief Asia economist at S&P Global Ratings.
The middle-income trap was among a raft of terms China borrowed to discuss domestic development issues as Beijing crossed uncharted waters.
"When you look specifically at the middle income [trap], I think it's really about technological progress, productivity growth and technology," Kuijs said.
"We have to see to what extent the US is successful in suppressing China's technological advancement," Kuijs said. "I wouldn't say it is over, but it has definitely become more challenging for China."
Xi appears to have first mentioned the trap hypothesis at the annual economic work conference in December 2013, just over a year after he became general secretary of the Communist Party of China. He has since mentioned it on at least eight other occasions, including in meetings with business leaders at Asia-Pacific Economic Cooperation forum or Group of 20 events, and closed-door conferences with economic cadres, financial officials and provincial leaders.
"I have said many times that we must pay attention to escaping the Thucydides Trap and the middle-income trap," he told economic and financial cadres in December 2015. "The first one is at the political level, which is to properly handle relations with major powers such as the United States. The latter is at the economic level, which is to improve the quality and efficiency of our economic development."
The government's decision to change China's mode of economic development, which was Beijing's answer to the trap warning, heralded a series of policy adjustments, including the release of the New Normal Theory, which emphasised the pursuit of quality GDP growth as opposed to focusing on quantity, writing the middle-income trap into the 2016-2020 national development plan, supply-side structural reforms, expansion of the middle-income population and a campaign aimed at reducing economic risks.
Bala Ramasamy, an economics professor at the China-Europe International Business School in Shanghai, said national per capita GDP failed to give a good depiction of real conditions because China is very different from one province to another.
In a 2020 research paper titled "The trapped dragon: A province-by-province analysis of the middle-income trap in China", he and co-authors identified 10 northern provinces and autonomous regions as being trapped: Shanxi, Inner Mongolia, Liaoning, Jilin, Shaanxi, Qinghai, Xinjiang, Heilongjiang, Gansu and Hebei.
"Overemphasis on one sector, lack of human capital and lower productivity are three main reasons for some of the provinces being trapped," Ramasamy said.
"Every time they have a crisis, there will be investment in infrastructure," he said. "I'm not against that. That is to bring the economy out of the crisis. My worry is when we are going to emphasise too much on infrastructure, we forget some long-term fundamental problems."
However, Ramasamy admitted that it will take time for China to improve its human capital and level of innovation. "These are not overnight policies," he said.
Michael Pettis, a professor of finance at Peking University, argued that international comparisons do not apply to China because there are "bad growth" elements in the national GDP – referring to low-efficiency and low-return investment by government and state-owned enterprises – and a low share for Chinese households in national income distribution.
"When you look around China, it's not a high-income country. It doesn't matter what the World Bank says … Shanghai is high-income. Beijing is high-income, but most of China is quite low-income," he said. "So what I would argue is that the GDP data in China overstates compared to other countries because of all of the non-productive investment."
On the surface, China's per capita GDP jumped to US$10,435 in 2020 – from US$1,053 in 2001 and US$156 in 1978 – to roughly the level of Malaysia and Bulgaria but below the world average of US$10,916. It has a long way to go to catch up to the level of US$63,207 in the US, US$41,059 in the United Kingdom, US$40,193 in Japan and US$34,173 in the European Union.
Pettis said China's high-savings, high-investment growth model can no longer be sustained, and warned that the recent infrastructure push could push up the debt-to-GDP ratio, a key macroeconomic risk parameter, this year.
"It would stop for the same reason it stopped in Brazil in 1970s and in Japan 1990s," he said, calling for greater rebalancing efforts because failing to do so will eventually lead to falling efficiency and returns and unsustainable high-debt growth.
"I think this year is the last year [for the existing growth model]. I think this is the shift because there have been two really big sources of bad growth in China: property and infrastructure."
Chinese authorities have signalled their confidence in escaping the trap, with the 2035 Development Vision saying the country can double its GDP by that year.
Liu wrote in November the key to the Chinese economy "successfully crossing the middle-income trap is whether it can achieve the leap from being factor input-driven to technological innovation-driven". He also singled out three success stories – South Korea, Singapore and Israel.
"All these countries occupy a key position in the global innovation and industrial chain," Liu said. "Improving total factor productivity, labour productivity, technological contribution rate, and human capital accumulation are all directly related to innovation."
Despite the shocks from its Covid-19 policies and international geopolitical uncertainty, Bert Hofman, director of the East Asian Institute at the National University Singapore, said he still believes China is an "unlikely candidate" to get stuck.
"China seems well positioned to avoid the middle-income trap," he said, citing government policies geared towards boosting productivity and innovation and the rising education level of the Chinese workforce.
Also, its high debt levels differ from those of Latin American countries in the 1980s because the debt is domestic rather than international, and a deleveraging campaign has already started to reduce vulnerabilities.
"They are unlikely to stop growth altogether, not least because China's policymakers have demonstrated the pragmatism needed to correct policies if they result in undesirable outcomes," Hofman said.
David Dollar, a senior fellow at the Brookings Institution, said China's pace of economic expansion will certainly be slowed by a shrinking labour force, low-efficiency financial system and tech decoupling, but that will not stop Beijing overtaking the US.
"China only has to grow at about 4 per cent [a year] in order to surpass the US as the largest economy by 2035. That seems likely," he said.