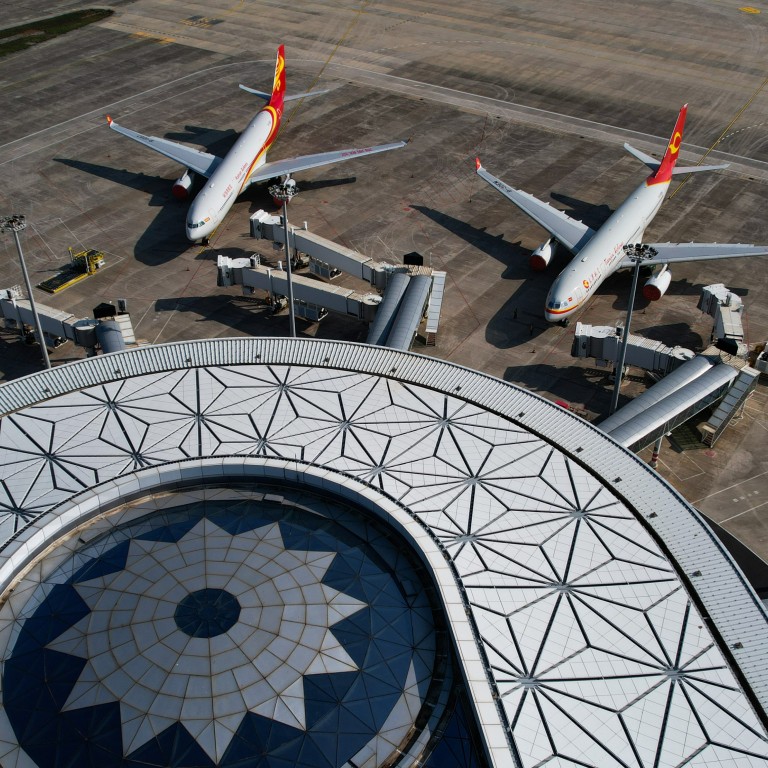 China travellers reconsider flights as high oil prices see fuel surcharge surge tenfold
Some fuel surcharges on domestic flights in China are now nearly as much as the base fare of the flight itself
High-speed-rail trips appear to be increasing in popularity as China's budget travellers look to save money, but flights are still preferred for long-haul trips
With the rising cost of oil pushing up fuel surcharges on China's domestic flights tenfold in the span of just five months, some budget travellers are deciding that flying is strictly for the birds.
In some cases, the unprecedented surcharges are nearly as much as the base fare of the flight itself, prompting people to seek out other modes of transport, such as high-speed rail.
Since July 5, the additional fuel charges for domestic flights up to 800km (500 miles) have reached 100 yuan (US$15) per passenger. And the surcharge for longer domestic flights reached 200 yuan.
As a result, there has been an outpouring of complaints by travellers such as Peng Sien, a recent university graduate who purchased a ticket for a 900km flight from Chengdu, Sichuan province, to Changsha, Hunan province, for an internship.
It was not until after she had completed the booking that she noticed surcharges cost her an additional 250 yuan on top of the 259-yuan base fare.
In addition to the 200-yuan fuel surcharge tacked onto her long flight, the excess fees included a standard airport maintenance charge of 50 yuan.
"Even though I knew the charge was legal, I still felt cheated," Peng said. "After all, there had never been such an expensive surcharge on previous fares."
After being waived on all domestic routes over the previous two years, the fuel surcharge was reinstated in February. It started at just 10-20 yuan but has increased at a record rate over the past five months, corresponding with the increasingly high price of international oil prices during the year's first half.
The fuel surcharge is directly linked to the price of jet fuel, according to China's National Development and Reform Commission and the Civil Aviation Administration (CAA).
Their regulations say that when the cost of purchasing jet fuel for domestic use in aviation is lower than the benchmark oil price, the fuel surcharge will be discontinued. And conversely, when higher fuel prices cut into airline profits, they can recoup some of their losses by charging more.
A July 10 report by Sinolink Securities showed that the ex-factory price of domestic jet fuel was 9,775 yuan per tonne this month, up 119 per cent year on year.
The report also noted how the cost of fuel accounts for a significant proportion of airlines' operating costs, and maintaining profitability would be a problem if they do not pass some of the extra cost onto customers.
In the first six months of 2022, fuel costs for China's civil airlines saw a year-on-year increase of 22.2 billion yuan due to the sharp rise in international oil prices, and the full-year increase could reach 86 billion yuan, according to CAA director Song Zhiyong, who spoke last week at the national civil aviation midyear work conference.
Analysing the outlook, Bai Wenxi, chief economist at The Interpublic Group of Companies (China), was quoted by The Time Weekly financial media group as saying that oil prices look to remain high in the year's second half, and that surcharges will likely remain at their current level, so airlines will not be compelled to reduce airfares.
As a result, Li Zishuo is among the frequent travellers re-evaluating their plans. The Hebei-based bank employee has long preferred to travel by plane because economy-class fares were usually cheaper than high-speed rail tickets. He goes on business trips a few times a year and also frequently visits his girlfriend in Guangdong, which is about a 1,600km flight.
But now, with airfare surcharges reaching "unheard of" levels, tacking on hundreds of yuan worth of additional fees per trip, Li has been forced to make more frugal travel choices.
"I now have to do more comparisons before choosing my means of transport," Li said.
Meanwhile, summer holidays are also being affected. A family of four from Tianjin with twin daughters will be taking a trip to Hangzhou next week – roughly a 1,100km trip – but they will be travelling by high-speed train instead of flying as they originally intended.
The mother, Huang Ruiwen, noted that the difference in the base price of a train ticket versus a plane ticket was negligible, but the extra surcharges have made flying unaffordable.
"I would prefer to spend three more hours on the trip than the extra 1,000 yuan we would have spent [to fly] a family of four," Huang said.
However, for many people who need to travel long distances, the speed of flying and the convenience of being able to check their luggage remains the preferred means of transport, despite the higher prices.
To return home to Harbin, Heilongjiang province, for the summer holiday, a third-year university student named Zhang Rui chose to make the nearly 2,800km journey from Guangzhou by plane, despite it being a bit more expensive than a high-speed rail ticket.
Zhang said that air travel is still more convenient for long-distance travellers like her who need to bring heavy luggage, though the price of the air ticket with additional fuel charges was higher than that of the high-speed rail ticket.
"Although fuel costs do make airfares more expensive than I'd expected, I'd rather spend an extra 100 yuan to fly home in five hours than spend 29 hours on the high-speed train," she said.