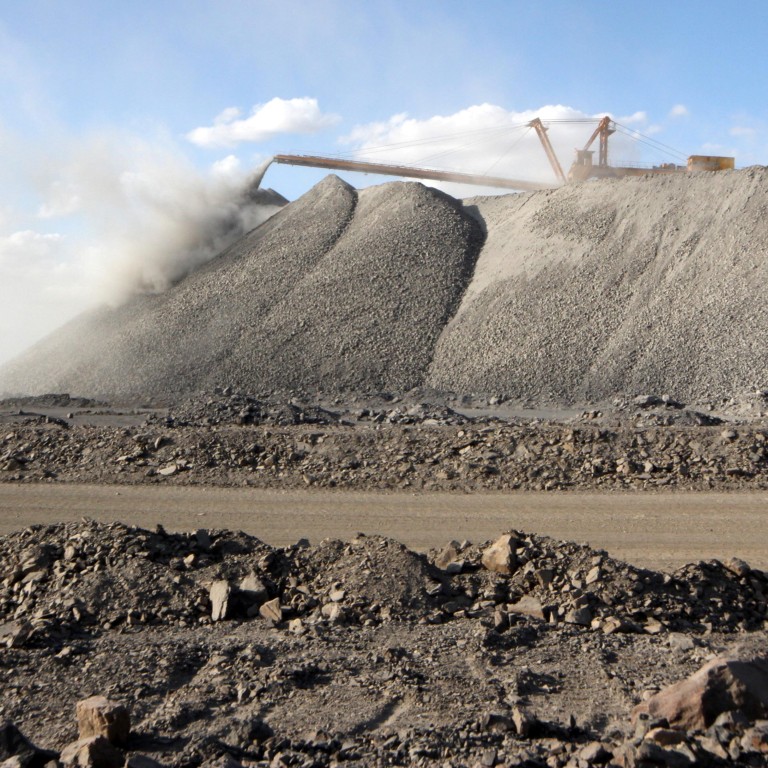 How China's rare earth dominance spurs US and its allies to diversify supply chain of critical minerals
United States is taking a harder line in effort to end 'undue dependence' on essential resources from China, including solar panels and rare earth minerals
But the erosion of China's market share, while likely inevitable, is expected to take a long time even as geopolitical tensions with West remain strained
As China strives to hang onto its pole position in the rare earth sector, deteriorating relations with Western countries may speed up their diversification efforts, but analysts say it may be difficult to break free of the stranglehold that China has on the supply chain for critical minerals.
This week, US Treasury Secretary Janet Yellen said that the United States wants to end its "undue dependence" on
rare earths
, solar panels and other key goods from China, to prevent Beijing from wielding such resources as a trade weapon by cutting off supplies, as it has done to other countries.
"We cannot allow countries like China to use their market position in key raw materials, technologies or products to disrupt our economy or exercise unwanted geopolitical leverage," Yellen said on Wednesday, adding that the US will work with allies through "friend-shoring" to strengthen economic and supply-chain resilience.
Analysts said that there is a growing trend of the US and its allies to cut dependence on China, especially in rare earths, which are used to make components in a wide range of products, including smartphones, electric vehicles and precision-guided weapons.
"Western allies are the main driving force in decoupling from China, rather than China looking to detach from the West," said David Merriman, research director in rare earths at consultancy Wood Mackenzie.
"The West remains a key market for Chinese rare earth products, with many economic benefits to China maintaining this relationship, while the Western perspective seeks to reduce supply-dependency, particularly amid worsening geopolitical relations."
China has the world's largest reserves of rare earths, with its 44 million tonnes in 2021 making up over 36 per cent of global stockpiles, according to data from the US Geological Survey. And 78 per cent of the US' rare earth imports were from China, the government agency said.
Last year, China's State Council approved the merger of three state firms to form the
China Rare Earth Group
– a move seen by industry analysts as a significant step toward bolstering the country's production dominance.
The Biden administration in February
announced actions
taken by the federal government and private industry in the country to boost the supply chain for rare earths and other critical minerals, in a bid to reduce reliance on China.
The measures included a US$35 million contract from the US Department of Defence to MP Materials to process heavy rare earth elements at the company's California production site – the first processing and separation facility of its kind in the US.
"Will it be successful? That's another question," said Kristin Vekasi, an associate professor and expert in international affairs at the University of Maine, who has conducted research on the global political economy of rare earths.
"Economic security, supply chain security and resilience … there are different industries that different governments are focused on, but minerals are in every single one. It's a broad focus. There have been efforts to do this before, but they have never been so concerted, and never been done in a multilateral fashion."
Vekasi said that Japan has had "some success" in diversifying from China following a trade dispute in 2010.
The two countries got into a territorial dispute in 2011 over a group of islands in the East China Sea, known as the Senkaku Islands in Japan and the Diaoyu Islands in China, and Tokyo alleged that Beijing held back shipments of rare earths as punishment.
Then in 2012, Japan along with the European Union and US asked the World Trade Organization (WTO) to settle the dispute.
The WTO later ruled against China, and Beijing subsequently dropped export controls of the minerals but replaced them with a system of production quotas that continued to limit supply and typically kept prices low and steady, according to Vekasi's testimony to the US-China Economic and Security Review Commission last month.
However, as a number of nations are determined to diversifying their supply chains by investing in other countries
such as Australia
, which has significant mineral reserves, China's market share may eventually decline over the long term.
"I think the decrease of market share is probably inevitable," Vekasi said. "But that's also because the market is getting bigger … everyone will be producing more, so China's percentage will become smaller."
China is also spending big to upgrade and grow its rare earth supply chain. In May, the local government of Inner Mongolia, where the world's largest rare earth mine is located in the Bayan Obo mining district, said it had spent 12.9 billion yuan (US$1.9 billion), a record high investment amount for the region, in 41 new rare earth magnets projects since October 2021.
Some of these new plants are already in production, with the rest expected to be completed this year. The goal is to grow the value of its rare earth industry from more than 350 billion yuan in 2021 to 1 trillion yuan by 2025, according to Inner Mongolia authorities.
China's strategy is to maintain the supply of rare earths in a "controlled" manner and retain a tight grip on prices, given the minerals' strategic importance to the country, according to research by Bohai Securities published last month.
While China steps up to keep its lead in the rare earth market, analysts are sceptical of whether the US-led effort to rally its allies to diversify from China will bear fruit.
Japan's diversification strategy included new economic partnership agreements, joint ventures, mining exploration and rare earth processing plants throughout Asia, the Americas and Australia, according to Vekasi, who said the US could consider emulating Japan's model.
But it has also taken Japan over a decade to reduce its reliance on China, and not all of its hefty investments were successful.
From 2008 to 2018, the share of Japanese rare earth imports from China fell from 91.3 per cent to 58 per cent, according to data compiled by the Centre for Strategic and International Studies in the US.
Merriman said that it is unlikely China's dominant position in the rare earth industry will be toppled without significant shifts in the investment strategies of Western governments.
"We do expect that China's market share will be eroded, however, to a point where other regions such as Europe and North America feel more comfortable with the level of dependence on Chinese production," he said.
"In the US, it will be a process of starting small and building the supporting industries, however, so the process will take a long time before bearing any sizeable fruit."
Additional reporting by Reuters