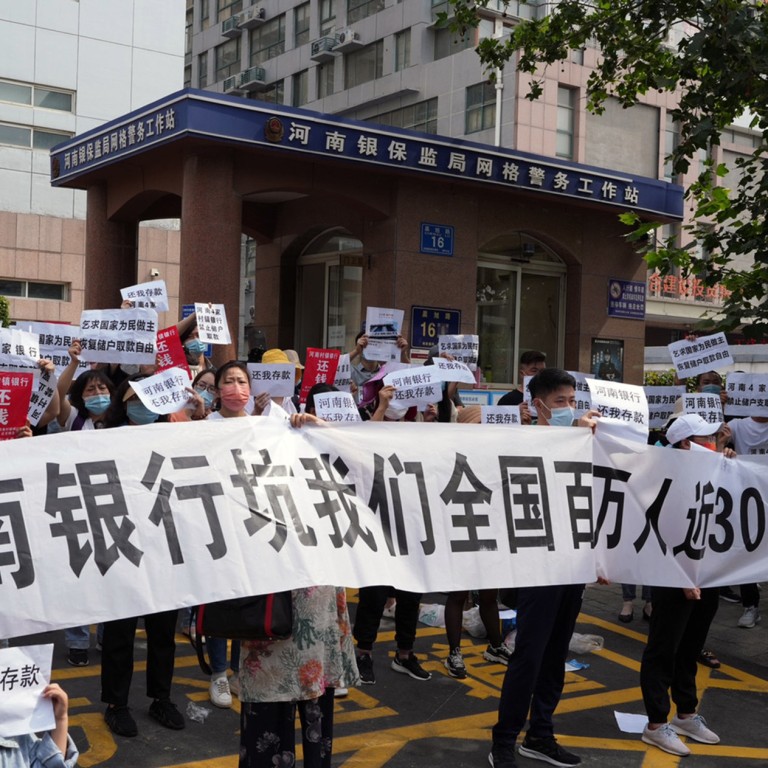 China's banking crisis draws fresh scrutiny as economic slowdown highlights emerging risks
China's banking regulator is pressing ahead with 'risk disposal' at small- and medium-sized banks to protect public savings
A rural banking scandal, which has drawn rare protests, has highlighted latent financial risk facing China's slowing economy
China's banking regulator vowed on Thursday to crack down on criminal activity among small lenders, in a fresh pledge to address a rural bank crisis that has drawn rare protests and triggered concerns about financial stability ahead of the 20th party congress.
China's small- and medium-sized banks account for nearly a third of total banking assets in the world's No. 2 economy, but have over time built up substantial risks, according to the China Banking and Insurance Regulatory Commission (CBIRC).
In an effort to deal with the problem, the commission is carrying out a regulatory clamp down on equity and connected transactions, with a focus on shareholders and executives who have swindled money from small banks, CBIRC spokesman Qi Xiang said.
Regulators are also encouraging small banks to take on capital, including from overseas, to improve their capital volume and quality.
Qi said the overall operation of China's small- and medium-sized banks was stable, but the regulator would press ahead with "risk disposal" to protect public savings.
Deposits at four rural banks in Henan province and one in neighbouring Anhui have been frozen since mid-April, leading to
protests from disgruntled customers
. The value of frozen funds is estimated at 40 billion yuan (US$5.9 billion), with some depositors fearful they have lost their life savings.
Authorities have accused a private financial group of misleading members of the public with promises of high-return wealth management products.
Local regulators in both provinces began repaying customers with deposits of up to 50,000 yuan at the end of last week, with Henan saying it was largely finished on Thursday.
Earlier in the day, the two provinces announced they would start repaying individuals with deposits up to 100,000 yuan from next Monday.
"The relevant work is making steady progress," said Qi.
Qi said Henan and Anhui were registering customer information via a newly built system because of the large number of people involved, the heavy workload and cross checking required with background data.
Liu Zhongrui, an official with the statistics and risk monitoring department at the banking regulator, said financial risks were emerging with China's economic downturn.
"Due to the complicated situation at home and abroad, downward economic pressure has gradually been reflected in the financial sector," he said. "Some new problems have become intertwined with old ones.
"High-risk 'shadow banking' may also make a comeback under the banner of so-called 'innovation'," he added, referring to off-balance sheet lending.
The central government has warned about the re-emergence of financial and economic risks as the economy slows, while taking steps to ensure stability ahead of the party congress later this year, in which President Xi Jinping is expected to be sworn in for a historic third term.
The Henan branch of the finance ministry said in an online article on Tuesday it will focus on risk prevention in the property and energy sectors, corporate bond defaults, dangers at small- and medium-sized banks, as well as ensuring employment.
It vowed to improve risk management and prevent financial problems from spreading to other regions.