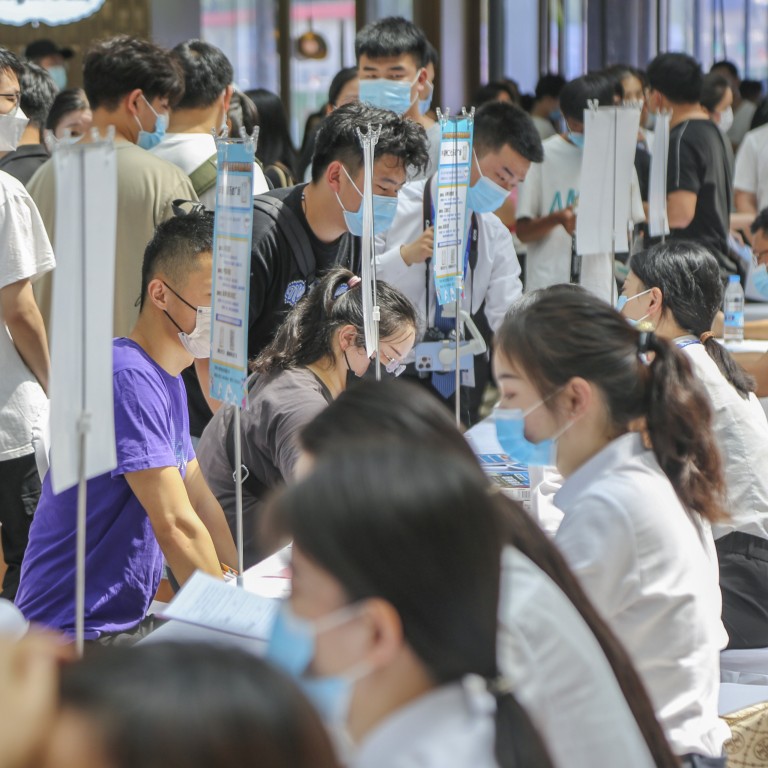 China's Gen Z, millennials prefer to save not spend as Covid-19 increases 'sense of preparedness'
Survey finds that 40 per cent young people in China save every month, with just under a third saving over 50 per cent of their monthly salaries
Coronavirus-induced economic downturn has clouded their outlook, with a record high level of youth unemployment also increasing the desire to save rather than spend
Driven by a growing sense of unease and uncertainty, some young people in China are saving over 50 per cent of their monthly salaries to "prevent emergencies", including unemployment and illness.
The coronavirus-induced economic downturn has clouded their outlook for future income and careers, tilting the balance from consumption to savings, according to a survey released this week.
Only 6.9 per cent of the 2,200 people aged below 40 across China polled by online tech news platform youth36Kr said they do not save, while 40 per cent save on a monthly basis.
"The percentage will increase as my income increases," said Li Mingyang, a trainee at a securities firm in Shenzhen, who saves 30 per cent of his monthly salary.
Li, who graduated this year with a master's degree in finance, keeps a small part of his savings in his bank account and uses the rest to buy gold and life insurance products in the hope of receiving higher returns.
"The coronavirus has really increased my sense of preparedness. I have to save money to prevent emergencies, such as unemployment and illness. Also, I have to save up to buy a car and a house," he added.
Within the group of respondents who said they save each month, 29.5 per cent deposit between 30-50 per cent of their monthly incomes, 27.1 per between 10-30 per cent, while 27.4 per cent said they save more than 50 per cent, according to the report which was released on Tuesday.
Nearly 87 per cent of the people surveyed fall into the
millennial and Generation Z bracket
born between 1981 and 2012, which was supposed to make up a large part of China's so-called generation of consumers, but many are now choosing to buy less and save more.
"I started to feel uneasy in March, some of my friends and colleagues suddenly lost their jobs and their incomes were cut off overnight," said Jenny Luo, a 25-year-old saleswoman in Guangzhou.
"That makes me become cautious about the risk of losing my job as well and I have started being more frugal."
Almost one out of five young jobseekers
in China were unemployed last month as the unemployment rate for those aged 16-24 hit an all-time high of 19.3 per cent in June after a record 10.76 million college graduates entered an already tightening job market this year.
Luo said she and her friends liked to order takeaway milk tea every other day, but have now reduced their consumption to just once a week.
This trend has forced leading chains within China's multibillion-dollar drinks segment to slash their prices from around 30 yuan (US$4.4) to between 9-19 yuan.
According to the latest quarterly survey by China's central bank, a record 58.3 per cent said that they preferred to save more money in the second quarter, when the economy
grew by only 0.4 per cent year on year.
"Watching the money in my account grow a little bit more makes me feel like I have more security for my future," said recent graduate Zhang Luting, who works as a translator for an non-governmental organisation in Hong Kong.
Zhang saves nearly 40 per cent of her monthly salary despite the high cost of living alone in the city.
The youth36kr report said 17 per cent of respondents rated their financial situation as very bad, with 47.5 per cent having just enough money to live on.
Just over 10 per cent said that their savings could last a month if they suddenly found themselves unemployed, while 22.4 per cent could survive for six months and 18.1 per cent for between six and 12 months.
But while savings have increased, only 17.9 per cent of the people surveyed by the central bank in the second quarter said they would like to "increase investment", down 3.7 percentage points from the previous quarter.
"The biggest source to increase my savings is to reduce consumption. I don't foresee any possibility to increase my income," said an administrative assistant in her 20s in Guangzhou who asked not to be identified.
Ji Xu, a 24-year-old bank employee in Tianjin, is able to save 50 per cent of his monthly salary to buy financial products as he currently lives with his parents who have bought him a house.
"Aside from my daily socialising expenses, I save my salary and manage my money for future contingencies. After all, who doesn't want to have as much money as possible?" Ji said.