Bonds
Get more with myNEWS
A personalised news feed of stories that matter to you
Learn more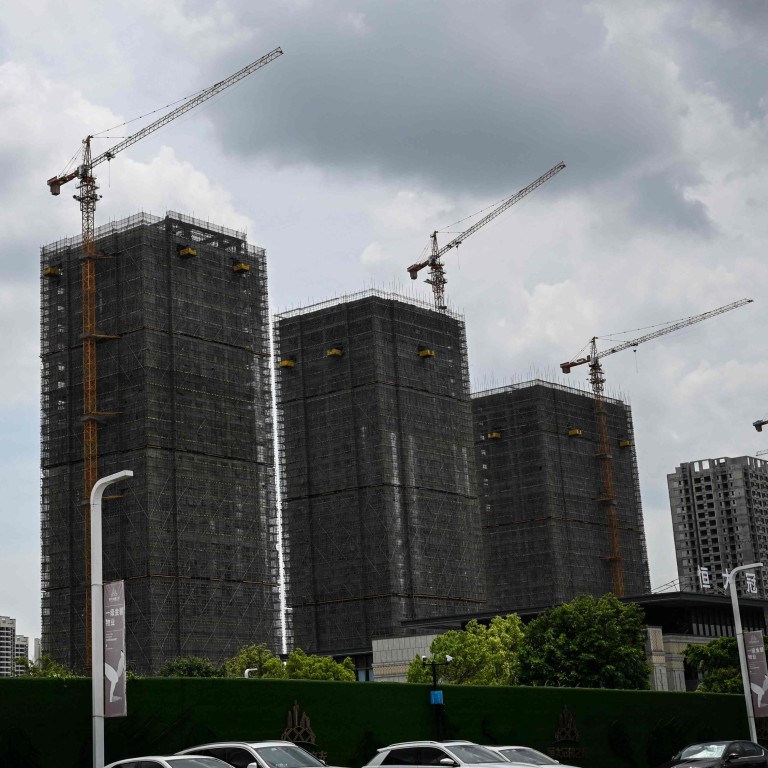 China debt: battling zero-Covid and a property market slump, local governments ask Beijing to lift bond quota
Beijing turned down the request from Hebei, Hainan and Liaoning, saying their current quotas were sufficient and regional debt limits were declining
Local government revenue from land sales has tumbled this year due to a property market slump, while Covid-19 containment has added to pressure
Beijing has turned down requests from three local governments to lift their debt quotas, amid rising economic pressure and financial risk driven by a slump in the property sector and zero-Covid measures.
The Ministry of Finance told deputies from the National People's Congress (NPC) in Hebei, Hainan and Liaoning that their current quotas were sufficient, and had taken into account respective economic conditions and development needs.
In response to the request from Hebei, a province just north of the capital Beijing, the finance ministry said the general debt limit is determined by the deficit ratio and each region's limit was "generally on the decline in 2022" .
The ministry reminded the local governments they had also been allocated special purpose bonds for infrastructure spending, while saying Beijing will continue to assess the quota based on development needs and debt risks.
Local governments had used 3.41 trillion yuan (US$464 billion) of the special purpose bond quota by the end of June. The quota was set at 3.65 trillion yuan for 2022, the same amount as last year.
While it is not uncommon for local authorities to request more debt quota, many regions are facing growing financial strain, which raises questions about their ability to repay it.
Economic pressure has been ratcheted up by a
downturn in the property market
and China's strict coronavirus containment policy, which mandates lockdowns, mass screening and quarantines.
In March, the central government budgeted for a 2.8 per cent fiscal deficit, less than last year's 3.2 per cent. So far this year, Beijing has kept a tight grip on the growth of local government borrowing in a bid to prevent a debt crisis.
China's gross domestic product fell short of expectations in the second quarter,
rising by just 0.4 per cent
compared to a year earlier due to disruptions caused by Beijing's zero-Covid policy. Beijing has set a target growth rate of "around 5.5 per cent" for 2022.
"Covid is a key driver of higher recent borrowing and deteriorating repayment metrics. Governments expanded borrowing and spending in 2020 to help the country fight the economic shock caused by Covid-19," said US rating agency Standard & Poor's in a report earlier this month.
"As a result interest burdens rose. As budgets now slim down, the interest ratios have become more pronounced."
Despite local governments easing buying curbs, cutting lending rates and partially relaxing ownership rules, the property market remains weak.
Revenue from local government land sales plunged sharply by 65 per cent in June from 40.4 per cent in May, significantly constraining local government functions and infrastructure investment, according to a note by Nomura last week.
Larry Hu, chief China economist at Macquarie Group, said the central government could choose to bring forward next year's bond quota to this year or approve a new bond quota if policymakers want to avoid a policy cliff later in the year.
To achieve economic recovery in the second half, policymakers will also have to steady the property sector "as soon as possible", said Hu.
"The latest data show that property investment fell by 5.4 per cent year on year in the first half of this year. In the past, China never ever had a single year with negative growth in property investment," Hu said on Thursday.
A
mortgage boycott
by homebuyers that started this month has exacerbated the property market crisis. According to real-time updates on software development platform Github under the "WeNeedHome" project, there were mortgage boycotts in more than 300 projects in 113 cities.
The homebuyers have collectively refused to make mortgage payments for unfinished, pre-sold units unless construction resumes after a growing number of projects have stalled due to a cash crunch among the country's developers. Some local governments may be forced to step in to prevent a complete meltdown.
Henan Asset Management and government-backed developer Zhengzhou Real Estate Group will jointly set up a fund for the real estate sector, the provincial asset manager said on Tuesday, without providing further details.
"The number [of boycotts] is still growing, the impact is still difficult to estimate, and no effective measures have been taken to solve this thorny problem quickly," said EH Consulting on Wednesday.
"If it continues to spread and cannot be resolved quickly and effectively, starting from the impact of consumer confidence, the overall market confidence will suffer a severe setback, the sales recovery will be prolonged, and the negative impact on investment and economic growth will be even more severe," EH Consulting said.
The 25-member Politburo, the centre of power within the Communist Party headed by President Xi Jinping, is expected to meet this month and Hu said stabilising home prices could be high on the agenda.
"Moreover, the recent mortgage boycotts show that the property woes could lead to social instability. To be sure, it's not very likely for the Politburo meeting to directly address the issue, as it will be left to local government to fix," Hu said.
"In other words, the completion of delayed projects will be mainly fixed at the micro level. But at the macro level, policymakers have to stabilise home prices, which have been falling for 10 months already since last September."