India
Get more with myNEWS
A personalised news feed of stories that matter to you
Learn more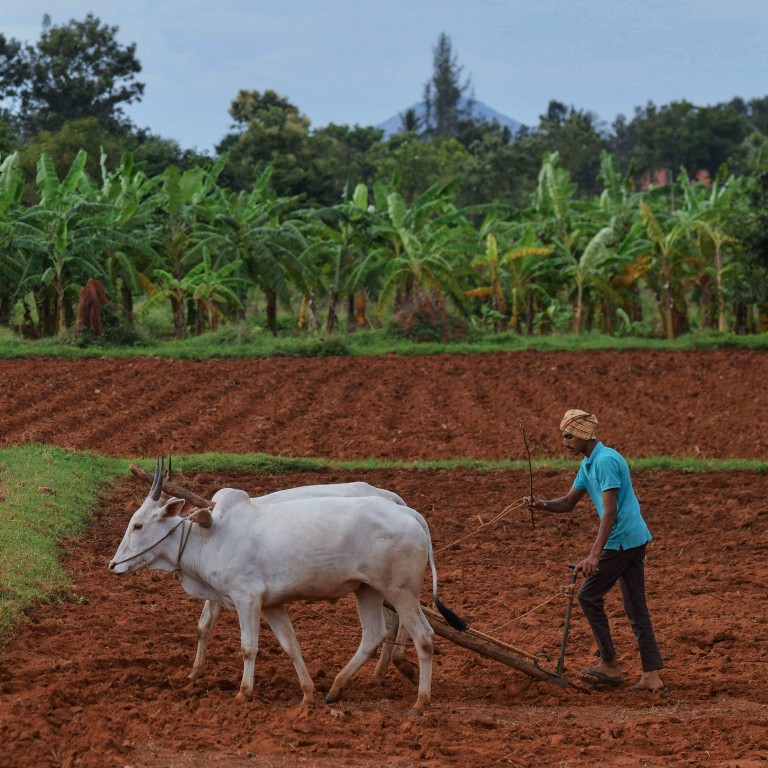 Can India follow China's path to labour-intensive manufacturing as population rises but jobs dwindle?
Poised to overtake China as the world's biggest country by population, India is facing an economic emergency as rising unemployment leaves more than half of its people jobless
Calls are rising among experts in India to increase investment in labour-intensive manufacturing, which could bring 'unparalleled job opportunities'
Less than one year from now, India's population could overtake that of China and claim its centuries-held distinction as the world's most populous country, according to the United Nations' latest projections.
Yet, jobs are declining across India at a rapid rate, setting off alarms about what the future might hold if unemployment continues to rise.
In June,
employment fell
in India by 13 million, from about 404 million in May to 391 million, reaching the lowest level since last July, according to data from the Centre for Monitoring Indian Economy, a private business information company.
And over the decade spanning 2011-21, the labour force participation rate of India's working-age population (15-64) fell from 53 to 46 per cent, according to
data compiled
by the World Bank.
Economists attribute the decline in Indian jobs to multiple factors. Chief among them is the nation's stagnant manufacturing sector that has historically been more capital intensive than labour intensive, and thus incapable of providing mass employment, as highlighted by Santosh Mehrotra, an influential human-development economist and author of several books on the Indian economy.
In 2021, the sector contributed only 14 per cent to India's gross value added (GVA) – the value generated by units involved in the production of goods and services. That marked decline from 16 per cent in 2011.
A more staggering statistic is that the manufacturing workforce drastically declined from 51 million workers in 2017 to 27.3 million in 2021, according to the Centre for Monitoring Indian Economy.
"Never in India's history had there been an absolute fall in manufacturing employment, but the government succeeded in doing that," Mehrotra said.
Much of the lost manufacturing workforce was reabsorbed in the agriculture sector, which added
11 million jobs
in the past three years. But Mehrotra said that this took place at a time when labour needed to shift from agriculture to industry so that productivity and wages could both increase.
In the face of rising unemployment, calls have grown in India to increase investment in labour-intensive manufacturing, which includes industries such as those producing apparel, leather and furniture.
This was especially reflected in India's
2019-20 Economic Survey
, which called for a "China-like labour-intensive export trajectory" that could help create "unparalleled job opportunities" for a burgeoning youth population.
Why the fall in labour-intensive manufacturing?
India's annual gross domestic product (GDP) growth is largely led by its service sector, which contributed 53 per cent to India's GVA during the 12-month period that ended in January, according to the India Brand Equity Foundation affiliated with the Ministry of Commerce and Industry.
"The services-led growth in India has not been very labour intensive [either]," said Pravakar Sahoo, an economics professor with the Institute of Economic Growth at Delhi University. "It does not absorb the kind of labour force that is entering the market- a labour force with limited skills and education."
Harvard Kennedy School research shows how China
established its economic prowess
by manufacturing labour-intensive goods such as textiles, apparel, footwear and household goods. This was also a path well-trod by other developing economies such as Singapore and South Korea in the 1970s and '80s. In China, it provided jobs for young people at a time when college attainment remained low.
But as China's global market share in labour-intensive products began declining in the 2010s, the vacated space has been increasingly being filled by India's competitors such as Bangladesh and Vietnam.
Sahoo said that if Bangladesh can propel job growth via ready-made garment manufacturing, "why can't we focus on five labour-intensive sectors across India in a way that captures not only the country, but also the world market?"
Half of all manufacturing jobs in India are in the five labour-intensive sectors. These comprise garments and apparel; textiles; food processing; leather and footwear; and wooden furniture, according to a
2020 report
by economist Mehrotra.
"National Statistics Office data shows that the loss in manufacturing happened precisely in these sectors, which is the reason why manufacturing jobs fell even before Covid-19," Mehrotra said. "This is part of a long-standing problem, which is that 1991 was the last time that India adopted a so-called industrial policy statement."
But he noted that even those 1991 reforms did not actually come with an industrial strategy to propel growth and create jobs.
Absence of national industrial policy takes hold
A so-called Make in India government initiative – the country's ambitious manufacturing plan that was launched in 2014 with an original goal of creating 100 million jobs and increasing the GDP share of manufacturing to 25 per cent by 2022 – has largely been deemed a failure, and has subsequently been extended until 2025.
"'Make in India' is not an industrial policy, it had just two components: improving the ease of doing business, and easing the terms and conditions on which FDI could come in," Mehrotra said, referring to foreign direct investment.
Much of this increased FDI went into the service sector, according to a
2020 academic paper
by Rahul Nath Choudhary, a research fellow with the Indian Council of World Affairs. His research on the failure of Make In India highlighted several structural bottlenecks that continue to plague manufacturing.
These include cumbersome land-acquisition laws; complicated and highly restrictive labour laws across states; a logistics cost that is 14 per cent of the GDP, as compared with less than 10 per cent in developed nations; and a vast pool of unskilled labour.
Nonetheless, India emerged as second-most attractive manufacturing destination last year, according to Cushman & Wakefield's 2021 Global Manufacturing Risk Index, due to having an established base in sectors such as pharmaceuticals and engineering, which remain critical elements in the US-China trade war.
However, Mehrotra suggests taking such achievements with a grain of salt, and he said the increase in manufacturing FDI does not highlight how much of it resulted from "mergers and acquisitions".
"If foreign firms are buying out Indian firms but not creating new facilities, then how can manufacturing jobs grow," Mehrotra questioned.
Even India's recent
Production Linked Incentive scheme
, which pays domestic and global large-scale manufacturers in 13 different sectors for meeting output targets, is unlikely to create a significant number of jobs, Mehrotra said.
"The focus is on capital-intensive sectors. The problem of Indian manufacturing is still going to continue, which is that most of it is capital intensive."
Only two of the 13 sectors that will receive incentives are labour intensive: textiles and food processing.
"Industrial policy, which was known to be successful in East Asia and China, was not necessarily vertical – it wasn't targeted at particular enterprises," Mehrotra said. "It was horizontal; it benefited the entire manufacturing ecosystem."
What can be done?
They call for the government to focus on export specialisation in "network products" such as computers, vehicles and electronic equipment, where the production process is globally fragmented, as China did.
By importing components and assembling them in India, experts argue, jobs could be created at a large scale while integrating India into global value chains. The long-term goal would be manufacturing these components in the country itself, or upgrading the global value chains.
Additionally, India needs long-term, consistent packages for the five labour-intensive industries that employ most of the manufacturing workforce, Mehrotra argued.
India also needs to provide support to micro, small and medium-sized enterprises (MSMEs), says Madhu Bhalla, a former professor of Chinese studies at Delhi University.
"MSMEs provide 70 per cent of employment in the informal sector, and they have little banking, financial or infrastructure support," she said.
In a 2020 paper published in The Indian Journal of Labour Economics, Mehrotra noted how MSME clusters were located across the country, but policy support for them was extremely fragmented in the absence of a cohesive industrial strategy, and this served to highlight China's success in such cluster-led development.
The paper also noted how financial incentives were being given only to micro and small enterprises, and this disincentivised firms to grow in size, hindering productivity.
But to raise cluster productivity in Indian towns and villages, both Mehrotra and Bhalla said vocational skills need to be imparted across the country, too.
"We really have to look at how the educational system functions from the bottom up," Bhalla said, pointing to a need for greater emphasis to be placed on cultivating skills that are more relevant in local job markets.
According to the United Nations' Human Development Report 2020, which covered the 2015-19 period, only 21.2 per cent of India's workforce had formal skills training. This put the country at 129th among 162 surveyed nations.
India's government has indeed implemented various skill-development programmes across the country in recent years, but Mehrotra and Bhalla both contend that these were designed to fail.
"The whole skill-development programme is supply driven – government financed and government managed," Mehrotra said. "And no country has had a successful skill programme without a demand-driven approach where employers and industries are at the cutting edge of it.
"The government's policies have been consistently catastrophic. That is a tragedy."