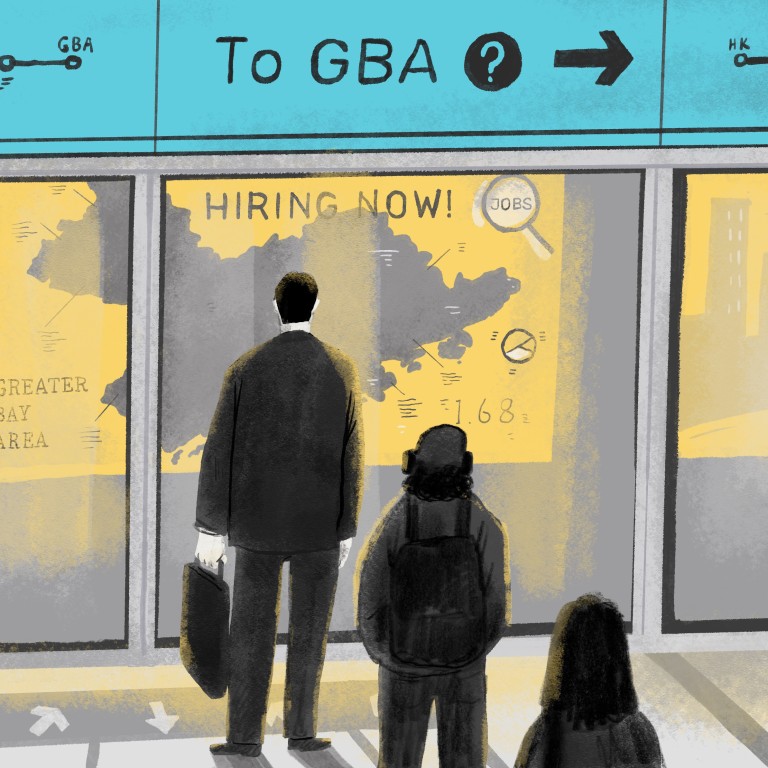 China wants Hong Kong to integrate with the Greater Bay Area, but can it convince young talent and employers it's a good idea?
Employment exchanges between Hong Kong and the Greater Bay Area are not living up to potential, despite Beijing's grand plan to create a southern economic hub
Hongkongers are put off jobs in the region due to lower wages, while mainland employers are reluctant to hire from the city because of the expense and hassle
Two years ago, in a speech celebrating Shenzhen's 40th anniversary as a special economic zone, President Xi Jinping called on more young Hongkongers to work, study and live in mainland China.
The exchange of talent and know-how was crucial to fostering
"integrated development" of the Greater Bay Area
, he said, referring to Beijing's plan to turn nine cities in Guangdong province, Hong Kong and Macau – an area spanning 56,000 sq km – into an economic powerhouse by 2035.
Creating a vast commercial hub, taking in Shenzhen's tech prowess and Hong Kong's financial services, has eye-watering economic potential.
But behind the high-level rhetoric, companies and jobseekers say there is a long way to go before employment exchanges reach their full potential.
Many Hongkongers are put off by lower wages in the mainland, while employers in southern China are reluctant to hire from the special administrative region because of the expense and hassle.
Both sides say different attitudes between Hongkongers and mainlanders also pose a challenge.
"I am worried about friction at work," said Li Zhiguang, the founder of Guangzhou-based Looksee, which makes men's fast-fashion products. She added young people in Hong Kong and the mainland have "many conceptual conflicts".
"Moreover, my products are mainly based on the domestic market where Hong Kong people do not have an obvious [skills] advantage in terms of supply chain, marketing and design."
Cecilia Chan and Tony Chan, computer science majors at the Chinese University of Hong Kong who are interning over summer at the Shenzhen Research Institute, said a lot of Hongkongers had never been to the mainland, so working there was not a practical option.
The area, which has a population of more than 80 million people and 11 cities, accounts for about one-tenth of the country's economic output.
Its gross domestic product was US$1.68 trillion in late 2021, compared to US$1.99 trillion in the Tokyo Bay Area, US$1.86 trillion in the New York Metro Area and US$995 billion in the San Francisco Bay Area, according to Hong Kong-based accounting firm CWCC.
Chinese policymakers are well aware that unlocking the staggering economic potential of the Greater Bay means policy alignment across 11 cities. But successfully pulling it off is another story.
Aside from cultural differences, economic integration is constrained by separate legal and tax systems, currencies and institutional arrangements under the "one country, two systems".
For Kobe Chan, a 29-year-old Hongkonger who studied in the United Kingdom and is now a project officer at AIT Shenzhen, a biotech company, navigating the different systems has proven a headache.
"For instance, the medical and engineering structures aren't the same between the two places," he said. "It's not convenient to non-locals because the residence permit for Hong Kong, Macau and Taiwan is not the same as the ordinary mainland ID card. Sometimes I can't login for certain transport or medical services."
That incompatibility is off putting for employers, too.
Jane Zheng, a Shenzhen-based headhunting consultant, said one of her clients recently turned down a Hong Kong applicant for a quality manager role at a foreign-funded infant food company to avoid "extra work".
"This Hong Kong jobseeker was actually a good match for this position in both English ability and professional experience," she said. "[But] the company's human resources finally chose a mainland jobseeker because of the additional work needed for hiring a Hong Kong employee, such as taking care of her tax, social security and work visa."
Zheng said China's economic downturn will provide employers with more options, because jobseekers will lower their salary expectations and it will become more difficult for Hongkongers to find well-paying jobs.
Beijing's zero-Covid strategy – which forced large-scale lockdowns in Shanghai and other major cities – fiercer competition and mass lay-offs at private firms have added to job-market woes.
Many Hongkongers want to stay in the city because the starting salary is usually about HK$20,000 (US$2,548) per month for computer science graduates, compared to a few thousand yuan in the mainland, according to Cecilia Chan and Tony Chan. Others preferred China's tech hubs like Shenzhen because there were more opportunities, said the pair, who are unrelated.
For companies across the border, Hongkongers' higher pay demands often meant employing them was not worth it.
Li, from Looksee, said one recent applicant from Hong Kong asked for 20,000 yuan per month as a personal assistant, which was twice her budget.
"Her overall quality and communication skills are good, but not outstanding and impressive [when] compared to other jobseekers," she said.
Li does not pay attention to any of the preferential policies or incentives in the Greater Bay Area for hiring Hongkongers, because there are not many.
Marco Suen, who runs a family manufacturing business in Foshan in Guangdong province, said employing Hongkongers was too expensive and many did not not have experience working away from home.
"To bring in Hong Kong talent to work in the mainland, employers may need to offer better conditions, such as accommodation [and] benefits," he said. "It is actually a very big cost from the perspective of mainland enterprises."
Though the costs can quickly stack up, statistics show the potential to absorb more Hong Kong workers is there.
Twenty-five companies in the Greater Bay Area are included on the Fortune 500 list, growing from eight in 2017, according to information from the Guangdong Provincial Development and Reform Commission.
Of the region's 11 cities, Shenzhen, Guangzhou, Hong Kong, Foshan and Dongguan have gross domestic product worth trillions of dollars, official data showed.
Anthony Fung, director of the Hong Kong Institute of Asia-Pacific Studies at Chinese University of Hong Kong, said the Hong Kong government should be more proactive in engaging with mainland companies to explore employment opportunities.
"The city's government is inexperienced in cross-departmental coordination and handling broad issues like [national strategy]," he said. "There's much room for Hong Kong to improve."
Hong Kong began deepening cooperation with Guangdong and Macau in 2017. Since then, local authorities have worked on crossboundary transport projects such as the Guangzhou-Shenzhen-Hong Kong Express Rail Link, the Hong Kong-Zhuhai-Macau Bridge and the Liantang/Heung Yuen Wai Boundary Control Point.
Overall connection between Hong Kong and the mainland has improved between 1990 and 2019, according to Lingnan University's "Hong Kong – Chinese Mainland Economic Integration Index, which was released earlier this month.
Fung said Hong Kong has been "inward-looking" for a long time, but its citizens should be "aware of their strengths" to capitalise on Beijing's strategy for the Greater Bay Area.
"The question is: can Hong Kong catch up in the coming five years?" he said.
His comments were echoed by Peng Peng, executive chairman at the Guangdong Society of Reform, a Guangzhou-based think tank.
"Hong Kong has to be confident in its strengths, such as [its high] GDP per capita, internationalisation, market development and good understanding of market rules," he said.
"The city also has to embrace a 'healthy' mentality when facing huge economies like Guangzhou and Shenzhen. By playing along with the national strategy, Hong Kong can also adjust its role and relationship in the Pearl River Delta."
Both Fung and Peng suggested Hong Kong's school curriculum could focus more on understanding the Chinese market and landscape, as well as developing emerging industries.
The success of the megalopolis depends on how well Hong Kong can unlock its "functions" and "advantages", Peng said.
"If Hong Kong can master the trick of navigating its relationship with mainland China through the Greater Bay Area, it will help the city handle challenges and competition from Singapore," he said.
Chan, who leveraged family connections to help get his job at AIT Shenzhen, said there were only irregular and small-scale job fairs related to the Greater Bay Area in Hong Kong.
He pointed out competition for jobs in the Greater Bay Area was intense, which meant Hong Kong had to capitalise on its specialities.
"Foreign companies want to tap into the Greater Bay Area and they still have relative trust in the Hong Kong system," he said. "How Hong Kong plays an effective role in helping foreign companies come in and Chinese companies go out matters."