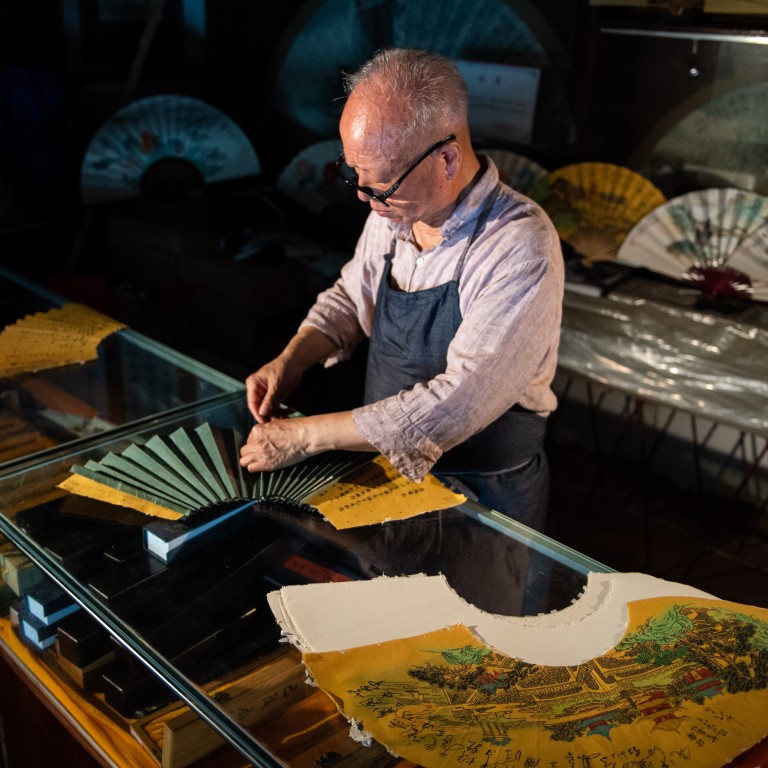 China may increase cultural imports as part of 28-point plan to boost its soft power overseas
Ambitious new guidelines suggest China could take steps toward relaxing some of its restrictive measures in heavily regulated cultural, sports and entertainment areas
Analysts call the initiative a 'top-level design' to boost China's cultural trade, and it comes at a time when geopolitical tensions are on the rise
China intends on supercharging its soft power to an "unprecedented" level with a detailed plan that aims to transform the nation into a cultural export powerhouse over the next three years.
By utilising a newly unveiled 28-point road map, Beijing will flex its soft power abroad by taking advantage of digital cultural platforms and
cultural industry leaders
with international influence, according to the guidelines that were jointly issued by 27 government bodies.
Authorities also pledged to explore the relaxing of restrictive measures on highly scrutinised related sectors, and to increase cultural imports to promote competition.
The guidelines, issued last week, underscore support for exports in a wide range of areas, including publications, esports, online games, films, television, animations, variety shows, performing arts services, traditional Chinese medicine and clothing.
"[We should] strengthen the international competitiveness of our cultural products and services … enhance the national cultural soft power and the influence of Chinese culture," the guidelines state.
In response to the announcement, the European Union Chamber of Commerce in China said on Tuesday that it welcomes "China's plans to further open up its cultural sector and increase imports of high-quality cultural products and services".
"Such products not only help add colour to people's lives, [they also] increase awareness and mutual understanding – something that is much needed at a time when geopolitical tensions are on the rise," it added.
China overtook the United States more than a decade ago to be the world's largest exporter of cultural goods but still ranks lower in cultural influence compared with the US and Asian neighbours Japan and South Korea.
The combined total value of China's cultural exports and imports last year exceeded US$200 billion for the first time, and this marked a year-on-year increase of 38.7 per cent, according to the Ministry of Commerce.
However, figures from the State Administration of Foreign Exchange indicate that, over the first five months of this year, China saw a US$283 million deficit in terms of only personal, cultural and recreational services – a much less broad area. But still, that deficit was said to be less than half as much as it was a year prior.
"[The relative deficit in cultural trade] puts China under great risks and challenges from the import of foreign ideologies and cultures," said Wang Wen, executive dean of the Chongyang Institute for Financial Studies at Renmin University.
He noted that China has invested considerable money over the past few years to bring its culture to the global stage, but the limited effects leave much to be desired.
The newly released guidelines are a "top-level design" to boost China's cultural soft power to an "unprecedented" high via trade and market-oriented measures – an effort to transform China into a surplus country in cultural trade, Wang added.
Chen Min, an analyst with Shanghai Securities, expects cultural international competitiveness to become a new priority for Beijing.
Chen said "digital cultural platforms" and "industry leaders" highlighted in the guidelines might point to popular social media services such as TikTok and Kwai, as well as content producers such as video game developer miHoYo.
Beijing has vowed to incubate a number of international high-profile brands in animation, film and television, publishing, performing arts and games.
But the cultural industry is among the most restricted and censored in China. Seven prohibited items in the culture, sports and entertainment sector are featured on the country's latest so-called negative list for foreign investment – more than in any other field.
No firms are allowed to engage in the import and export of specific cultural products without permission or designation, according to another negative list for market access. And content reviews are also a prerequisite for specific culture, sports and recreation businesses.
It serves as the largest stumbling block in China's soft-power push, that the country has not fully taken a market-based approach in adapting its thousands of years of cultural heritage into products and services, Wang added.
He said that China could learn from Hollywood in industrialising cultural products and exporting through production and value chains, which might not only present its own ideology and cultural characteristics, but also be profitable.
The European chamber said that, "for this opening to be meaningful, European cultural products and services will need to have the same level of access to China's market that Chinese ones have in Europe".
"It will also be important to understand how cultural products and services in the digital realm may be impacted by restrictions on the current data regulatory framework," the chamber added.
The latest guidelines also call on content creators to strengthen cooperation with foreign media platforms to widen the export channels in broadcast, film and television programmes, and to carry out international co-production.
Multiple Chinese dramas, such as
Empresses in the Palace
– one of the most successful series in China – have been available on Netflix, but their popularity is dwarfed by foreign competitors such as South Korea's
Squid Game
.
The overseas box office earnings for
2017's Wolf Warrior 2
, China's highest-grossing film ever, was only US$16 million – a fraction of the US$870 million domestic haul, according to ticketing portal Maoyan.
Wang Xiaohui, chief content officer at iQiyi, said last year that China was unlikely to duplicate the success of Squid Game due to content regulations.
"In terms of content production, we must follow the ideology and social trends, including the enthusiasm and unity of the Chinese people," he said, according to the digital information outlet TMTpost.
Chinese authorities have also announced plans to speed up the approval of online games, which have come under
heavy scrutiny by regulators
in recent years.
Games have been deemed vanguards of China's cultural export push, and leading titles include Genshin Impact, Honor of Kings and Naraka: Bladepoint.
The overseas sales revenue of Chinese-developed games reached US$8.989 billion in the first half of 2022, up 6.16 per cent from a year prior, with the US being the largest market, according to a report by the Game Publishing Committee of the China Audio-Video and Digital Publishing Association.
"However, due to the global economic slowdown and the intensified competition in overseas markets, the actual sales revenue growth of domestic games in overseas markets is slowing down," Zhang Yijun, director of the gaming committee, said last week.