Asean
Get more with myNEWS
A personalised news feed of stories that matter to you
Learn more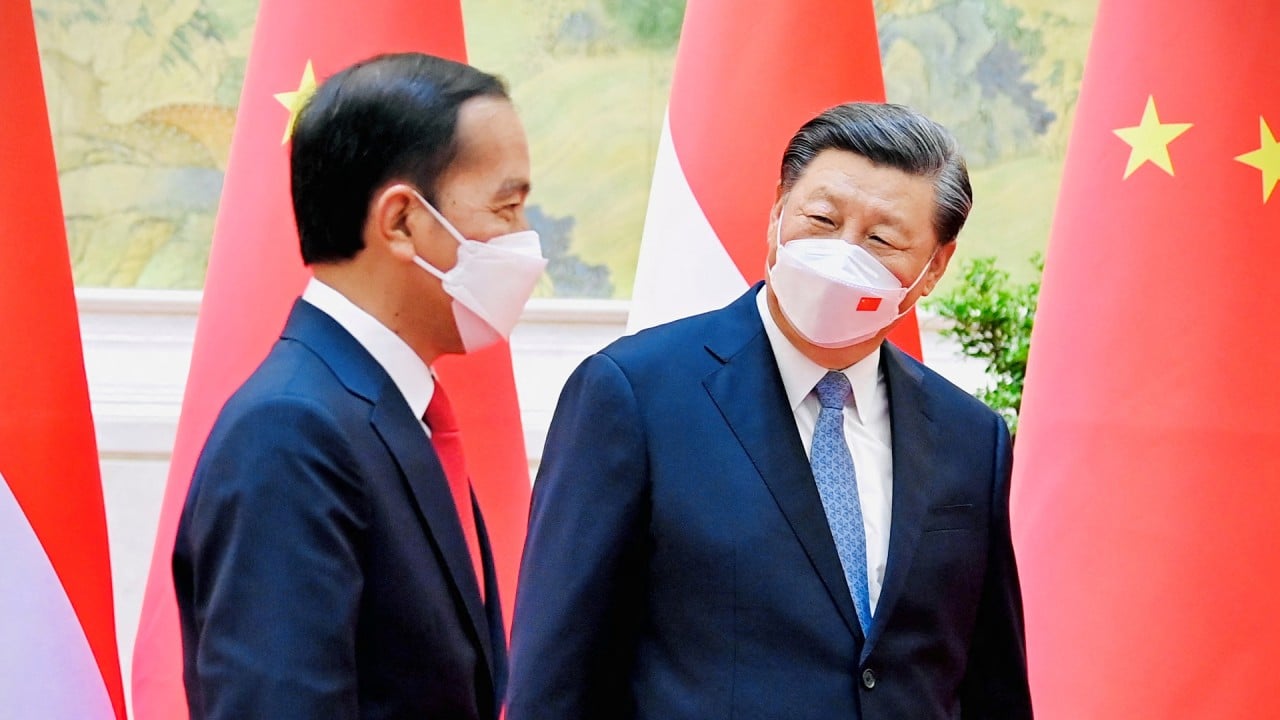 02:00
China, Indonesia vow stronger ties as President Joko Widodo tours East Asia
China, Indonesia vow stronger ties as President Joko Widodo tours East Asia
Explainer
China-Indonesia trade: how important is it, and what are the main exports?
In 2021, bilateral trade between Indonesia and China grew by 58.6 per cent from the previous year to US$124.4 billion
China has been the biggest export destination for Indonesia for the past six years, especially its mineral resources
Indonesian president
Joko Widodo
became the first foreign leader to hold a face-to-face meeting with President Xi Jinping since February on Tuesday.
China is Indonesia's biggest trade partner and a major source of foreign investment, while China relies on Southeast Asia's largest economy for mineral resources and sees it as a key partner in the Belt and Road Initiative, its globe-spanning trade and infrastructure project.
In 2021, bilateral trade grew by 58.6 per cent from the previous year to US$124.4 billion, with Chinese exports increasing by 48.1 per cent to US$60.7 billion and imports jumping by 70.1 per cent to US$63.8 billion, official Chinese data showed.
Mainland China was the third-largest foreign investor in Indonesia last year – after Singapore and Hong Kong – accounting for 10 per cent of total inward foreign direct investment, according to the country's Investment Coordinating Board.
What does China import from Indonesia?
China has been the biggest export destination for Indonesia for the past six years.
Mineral resources, metal ore and steel are the major commodities exported by Indonesia to China.
China imported 67 million tonnes of coal from Indonesia in the first half of 2022, worth US$7.96 billion, making it the top commodity import, Chinese customs data showed.
This was largely made up of lignite, or brown coal, used for power generation, although it is considered of poor quality due to its relatively low heat content.
China is increasingly reliant on Indonesian coal, especially after a trade dispute erupted with Australia in late 2020.
China also bought 2.3 million tonnes of ferronickel – an alloy of iron and nickel that is the main raw material in stainless steel – worth US$6 billion from Indonesia in the first half of this year, accounting for 91 per cent of its overall ferronickel imports.
Indonesia's animal and vegetable fats and oils were also in high demand too, with China importing US$2.4 billion worth in the first six months of the year.
What does Indonesia buy from China?
Indonesia bought 9.68 million Chinese smartphones from January to June, worth US$961 million.
What are the major Chinese investments in Indonesia?
Indonesia is China's second largest investment destination in the Association of Southeast Asian Nations (Asean) after Singapore.
In 2021, China's non-financial direct investment in Indonesia was US$1.86 billion, up 1.5 per cent year on year, according to China's Ministry of Foreign Affairs.
The main areas of Chinese investment in Indonesia are mining and metallurgy, agriculture, electricity, real estate, home appliances and electronics and digital economy.
Tsingshan Holding Group, one of the world's biggest nickel and stainless steel producers, has invested in a 2,000-hectare (5,000 acres) industrial estate in Morowali in Central Sulawesi province, which contains smelting plants and coal-fired power stations.
Elsewhere, a Beijing-backed high-speed railway project from Jakarta to Bandung has been dogged with problems since it began in 2017 and is facing a cost overrun of nearly US$2 billion. Its completion has been pushed back to 2023.
Despite the close economic ties, there is long-standing mistrust in Indonesia about Chinese investment and Chinese Indonesians have been subject to discrimination for decades.