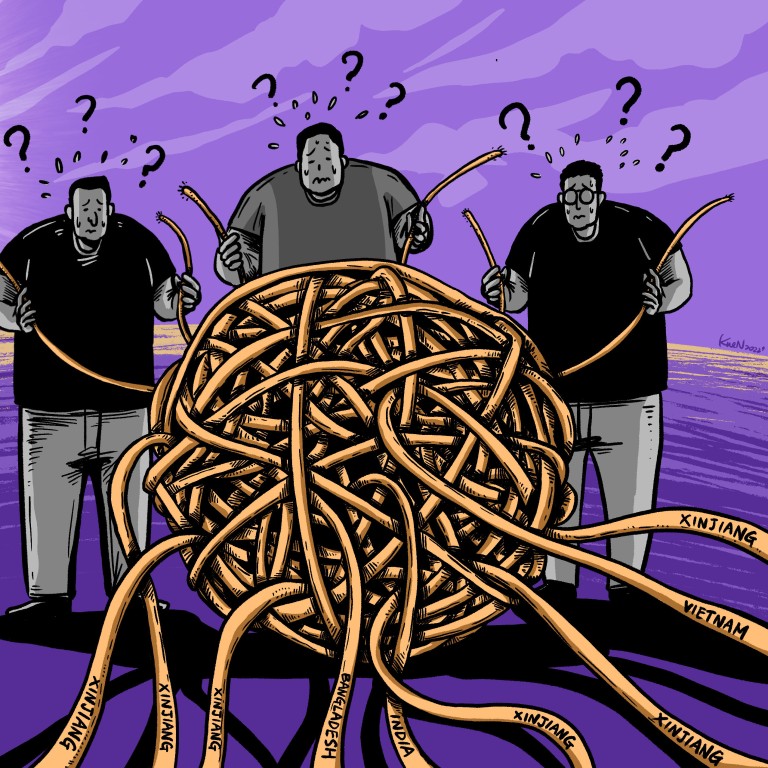 Beyond China: US' Xinjiang cotton ban has far-reaching implications, even for Asian alternatives
US boycott of Xinjiang cotton looks to reshape global textile supply chain by isolating China – the world's biggest textile producer, exporter and consumer
But global textile supply chain is so interwoven that suppliers in nations such as Vietnam and Bangladesh could face setbacks as they shift sourcing away from China
For garment manufacturers in South and Southeast Asia, a sweeping United States ban on all Xinjiang products – including cotton – may initially seem like a windfall, given its
smothering effect
on China's role as the world's top textile maker.
But the reality is far more complicated, as the global textile supply chain is so deeply intertwined that what looks to be a potential boon could instead be a crushing burden.
The concern came into the spotlight as the Bangladesh Garment Buying House Association (BGBA) asked its members last month to be cautious about sourcing raw materials imported from the Xinjiang Uygur autonomous region after Washington's Uygur Forced Labour Prevention Act came into effect.
Kazi Iftaquer Hossain, president of the non-profit BGBA, told the Post that although the act has not yet impacted the Bangladeshi garment industry, it may still face setbacks due to the US' import restrictions.
"So far as we know, Bangladesh garment exporters haven't encountered difficulties till now, but they send messages relevant to the current change of their policy," Hossain said. "Here, we exporters have to prove that no Xinjiang province materials – either wholly or partially – are used to manufacture our garments, so it's a real challenge."
Bangladesh imports about 40 per cent of cotton products from China, Hossain added when explaining how "it's difficult to change this major sourcing".
Taking advantage of the production-capacity shift in the labour-intensive industry away from China over the past few years, countries in South Asia have been steadily increasing their market shares in terms of textile exports to the US.
The US boycott of Xinjiang cotton has been another catalyst of the trend, and it may further fundamentally reshape the global textile supply chain by isolating China – the world's biggest textile producer, exporter and consumer.
According to data from the US Department of Commerce, the share of US cotton product imports from China was 21.5 per cent in the first five months of this year, down 3.7 percentage points from 2020. Meanwhile, the share of those from Bangladesh increased from 8.4 per cent in 2020 to 10.2 per cent, and those from India were up from 16.5 per cent to 19.2 per cent. Vietnam's share has remained at around 9 per cent in the past two and a half years.
But for countries such as Vietnam and Bangladesh, even though they have become increasingly competitive in terms of apparel makers sourcing Western markets, they still heavily rely on China for fabric and yarn, especially the high-end materials.
For some countries, fabric and yarn from China account for up to 70 per cent of their total imports, according to an analysis from Beijing Cotton Outlook Consulting this month.
"Most of the high-end yarns and fabrics are actually made from Xinjiang cotton, which is of good quality," the consulting company said.
As a result, campaign groups and some Western politicians have accused manufacturers of "cotton laundering" in places such as Vietnam and Bangladesh, for serving as intermediaries in cotton garment production.
"It is well known that the yarn used in Vietnam, which has a large textile industry, is often made with Chinese cotton, also coming from Xinjiang," said Anna Cavazzini, who is one of several European Parliament members pushing the legislative body to pass an import ban.
As a major global producer of cotton, Xinjiang's annual cotton output in 2021 was 5.27 million tonnes, accounting for 91 per cent of the nation's production, and around 20 per cent of the world's total output, according to the China Cotton Association and the National Bureau of Statistics.
The region, where China has been accused of using Uygur Muslims and other minority groups for forced labour, does not export much raw cotton or yarn. Instead, they are mostly consumed locally or sold to other provinces to be made into cloth, garments or other textile products for domestic and overseas markets. Last year, 67 per cent of cotton consumed across the country was from Xinjiang.
Beijing has vehemently denied that any human rights abuses are taking place in Xinjiang. A
document circulating
among UN diplomats also suggests that China has been lobbying behind the scenes at the United Nations' top human rights body to block the publication of a report on rights conditions in Xinjiang.
In the first half of 2022, Bangladesh was the biggest importer of cotton products from China, buying US$1.48 billion worth of goods. Most of the imports are various kinds of fabric, followed by yarn, customs data showed.
It was followed by Vietnam, which bought US$1.01 billion worth in the same period.
None of the Bangladeshi imports were directly from Xinjiang, but rather from coastal provinces such as Jiangsu, customs data showed.
Vietnam has bought US$582,000 worth of cotton products from Xinjiang this year, mostly in June.
Even though the act bans US imports of any products with input from Xinjiang, unless there is "clear and convincing" evidence that no forced labour was involved, lawyers say that the scrutinisation from US Customs is unlikely to expand to garment imports from a third country in the short term, due to capacity restraints.
According to a recent survey of 34 leading US fashion companies, conducted from April to June by Sheng Lu, an associate professor with the University of Delaware's Department of Fashion & Apparel Studies, in collaboration with the United States Fashion Industry Association, 86 per cent of respondents said they would decrease their cotton apparel sourcing from China, while more than 92 per cent did not plan to reduce apparel sourcing from Asian countries other than China because of the act.
Recent surveys of Chinese yarn and fabric factories, conducted by Beijing Cotton Outlook Consulting, showed that there have been requests for proof of compliance with the US act, from their south and southeast Asian clients. But the overall proportion is relatively low, and the requirements are not as strict as those for American or European imports.
A Chinese textile manufacturer who owns a factory in Vietnam said some downstream clients have required documents on the origin of products. And in such cases, manufacturers have to go through a lengthy due-diligence process.
"But [US customs] can't take it like a DNA test," he said on the condition of anonymity due to the sensitivity of the issue. "At the end of the day, it's about reading documents with enough proof that [Xinjiang cotton isn't used]."
He said it is hard to distinguish the cotton products entering Vietnam from different sources because they may have been mixed together while being transported at sea. Suppliers may do this so they can deceptively label Xinjiang cotton as coming from elsewhere, to circumvent the US law.
"I've never heard of the Vietnamese government taking action to [stop Xinjiang cotton going into Vietnam]," he added.
Still, as one-fifth of the world's cotton is at risk of being shunned by the global market, another major global cotton producer, India, could be poised to become the main alternative for downstream manufacturers.
"With the changing global perceptions [about China], there were expectations that India would be a preferred destination for [textile and yarn exports]," said Raja Shanmugam, managing director of Warsaw International – a textile manufacturer in the Indian city of Tirupur – and president of the Tirupur Exporters Association.
"Many brands want to make the shift from China to India due to the reports of forced labour among Uygurs, China's zero-Covid policy and other issues. This would be beneficial for countries like India to grow their export capacity," added Shanmugam, who is planning to expand production capacity.
But banning Xinjiang cotton also has downsides for the Indian textile industry, as Chinese textile producers are also importing large amounts of Indian cotton, pushing up the price of the commodity that has already been inflated by the Ukraine war, according to Sidharth Dhir, director at Bhagwati Cotton & Spinning Mills, which exports cotton yarns.
"Banning Chinese cotton has been bad for our business. Input costs have risen around 100 per cent," he said. This has also come as India's cotton harvest was damaged by excessive rain this year, and as exports of raw cotton have further created a shortfall in the domestic supply.
"We are actively trying to lobby the government to either ban exports of raw cotton or put anti-dumping measures in place, so that we are able to expand our value-added exports and create more jobs."
According to an internal report by China Centre for International Economic Exchanges in May last year, one of the objectives of the US' Xinjiang cotton ban is to build a new textile industry chain that excludes China.
But the report cast doubt on the feasibility of the plan, saying China's production capacity was "irreplaceable".
"China is the country with the most complete textile industry chain and the most complete categories [of products]. In terms of output, China's textile industry accounts for more than 50 per cent of the world's total. Even if half of China's textile industry share is transferred out of China, no other economy can take it," according to the Beijing-based think tank under the supervision of China's economic planner, the National Reform and Development Commission.
"The economic part of the Indo-Pacific Strategy is to form a new industrial chain and supply chain comprising the United States, Japan, India and Australia. The US is responsible for technology-intensive industries, and India is responsible for labour-intensive industries," the report said.
Initially including 13 Asia-Pacific nations that account for 40 per cent of the world's GDP – and crucially not China – the IPEF is not a traditional free-trade agreement but seeks to establish rules covering areas from supply-chain security to carbon emissions.
Zhong Zhengsheng, chief economist at Pingan Securities, said in a report last month that the dynamic of the US' friend-shoring strategy is changing, and the trend of Chinese products entering the US via a detour through Southeast Asia has shown signs of fading since the second half of 2021.
Starting in the early days of the
US-China trade war
in 2018, the proportion of US imports from countries such as Vietnam and Thailand increased significantly, while the share of these countries' imports from China also saw a significant jump, according to the report.
"The proportion of Vietnam, Thailand, India, et cetera, in US imports has continued to rise since the second half of 2021, while the proportion of these countries' imports from China has dropped significantly," Zhong said.
"This means that Southeast Asia, India and other countries have begun to expand their own production capacity, and signs of the relocation of some labour-intensive industries from China have become more prominent."