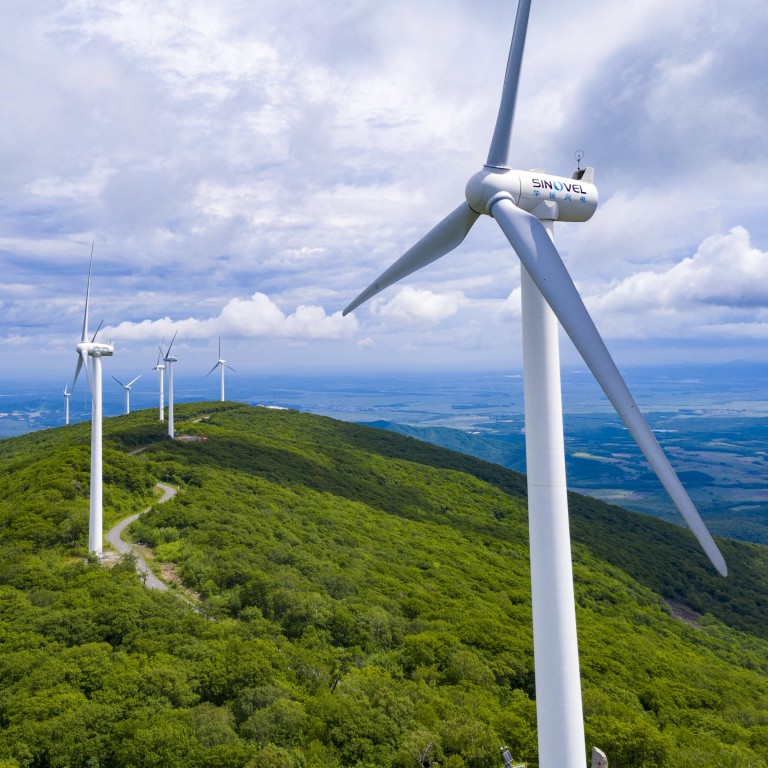 China 'confident' on 2030 climate goal as summer heatwaves worsen global energy crisis
Heatwaves across the world have seen China and a number of major economies in Europe put efforts to tackle climate change on the back burner
Despite commissioning new coal plants and mines, Beijing says it is committed to its renewable energy transition and peaking emissions before 2030
The global energy crisis will not stop China from peaking carbon emissions before 2030, the country's chief energy official said on Wednesday, amid growing concern that geopolitical conflict and heatwaves could undermine the global climate fight.
At the same time, Beijing committed to ensuring energy supply for the world's No 2 economy this year, despite market turmoil that has been amplified by Russia's invasion of Ukraine, vowing there will be no power outages as scorching summer temperatures
drives electricity demand to record levels
in parts of the country.
Global energy supply has been tight since last year and European nations, including Germany, the Netherlands, Austria and France have all announced plans to expand the use of coal. China, the world's largest coal consumer and biggest emitter of greenhouse gases, has also increased approvals for
new coal plants and mines
.
However, China remained committed to its transition from fossil fuels, said Zhang Jianhua, director of the National Energy Administration (NEA).
The share of non-fossil fuels in the country's total energy mix is expected to rise by 1 percentage point per year on average over the next eight years, from 16.6 per cent last year, said Zhang.
"We have the ability and confidence to reach the target of peaking carbon emissions before 2030," he said on Wednesday.
The war in Ukraine and subsequent Western sanctions on Russian energy exports have roiled global markets and driven up energy prices, which were already on an upwards trajectory. A summer heatwave in Europe has seen temperatures hit record highs and put further strain on electricity demand.
The result is that a number of major economies, desperate to secure power supply, have put efforts to tackle climate change on the back burner.
"The crisis in Ukraine reminds us that although the general trend of green and low-carbon transformation is irreversible, it will not be easy to achieve," said Li Chuangjun, head of the new energy and renewable energy department at the NEA.
Still, he said China will accelerate action on renewable energy and consolidate its position as the global leader in new energy investment.
Though committed to the green transition, Zhang said ensuring energy security meant that fossil fuels will continue to play a "fundamental role" in providing reliable supply. He added China could meet energy demand in the second half of the year.
China's natural gas reserves are expected to double from 2021 levels by the end of 2025, Zhang said, and the country would strengthen coordination with energy producing nations and other international partners to safeguard oil and gas import channels.
In volume terms, China's imports of coal, crude oil and natural gas declined by 17.5 per cent, 3.1 per cent and 10.0 per cent, respectively, from a year ago in the first half of the year, according to government data.
But the country's own output of coal, crude oil and natural gas rose 11.0 per cent, 4.0 per cent and 4.9 per cent, respectively, over the same period.
Speaking at the World Economic Forum last week, Chinese Premier Li Keqiang said ensuring stable energy supply is important for Beijing this year.
"In the near term, we still need to make the most of our own resource endowment and ensure that no power outages occur like last year," he told the Special Virtual Dialogue with Global Business Leaders.
"And when there is a necessity, we may also cut taxes in the energy sector."
China's inventory of thermal coal exceeded 170 million tonnes by the end of June, up 51.7 per cent from a year ago, leaving it well placed to meet surging demand from a prolonged summer heatwave, said the NEA.
"We will firmly hold the bottom line of no power cuts and resolutely ensure the residential use of electricity," He Yang, an official at the NEA told the press conference.