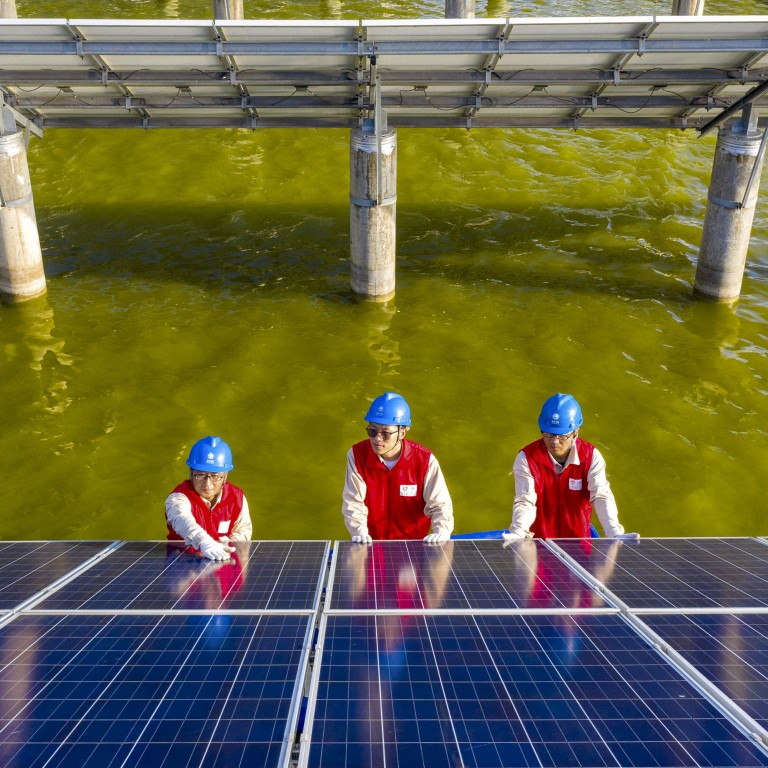 Chinese solar firms ramping up investment in Southeast Asia to evade US, European trade tensions
Southeast Asia has become one of the major offshoring destinations for Chinese solar manufacturers looking to evade trade action from Western nations
The US and Europe are trying to encourage solar supply chain diversification away from China, which dominates the industry at all stages of manufacturing
Chinese solar companies are increasingly establishing manufacturing bases in Southeast Asia and beyond in the face of rising geopolitical tension and in the pursuit of more competitive locations.
Southeast Asia has become one of the major offshoring destinations for Chinese solar companies since 2011, when the United States and Europe instigated anti-dumping and anti-subsidy probes against China, leading to hefty tariffs on solar imports from the country.
US trade actions since then, including bans on Xinjiang solar products linked to alleged forced labour, have increased pressure on Chinese firms and driven more to establish factories abroad.
Chinese investments in Malaysia and Vietnam have made the countries major exporters of photovoltaic products, accounting for around 10 per cent and 5 per cent respectively of their trade surpluses since 2017, according to a report published earlier this month by the International Energy Agency (IEA).
Li Xiande, chairman of JinkoSolar, one of the world's largest solar panel manufacturers, said the main reason his company had moved capacity abroad was in response to trade actions from the US, though industrial infrastructure, energy supply, human resources and logistics were important considerations too.
"The first factor to consider when offshoring manufacturing capacities would be geopolitics, as well as the changing currency exchange rates, which have both been turbulent around the globe lately – these are the biggest risks of overseas investment," he said during a solar supply chain forum last week.
In June, US President Joe Biden
removed tariffs on solar parts
from Cambodia, Malaysia, Thailand and Vietnam for two years to support the American solar industry and help meet the country's climate change needs.
Although China – the world's largest producer of solar power goods – was left out of the reprieve, it was good news for Chinese solar companies using Southeast Asia as an export base.
Zhuang Yan, president of Canadian Solar, a solar module manufacturer founded by Chinese but headquartered in Canada, said overseas investment and offshoring were important in the face of trade barriers.
"Setting up manufacturing plants abroad didn't come from [the pursuit of] opportunities, it is more of a strategy to deal with challenges to gain market access," he said during the solar supply chain forum last week.
The company has set up manufacturing plants in Southeast Asian nations Malaysia, Indonesia and Thailand, as well as the US, Brazil, Taiwan, China and Canada.
As rivalry between China and the US increases, more solar companies are looking to diversify supply chains.
China's share of global production in the five key stages of solar panel manufacturing – making of polysilicon, ingots, wafers, cells and modules – exceeds 80 per cent, according to the IEA.
And the world will almost completely rely on China for supply of key solar panel components through 2025, the report said.
This level of concentration indicates a significant vulnerability in the solar supply chain and more diversification is needed, the IEA said.
"Buyers are increasingly looking for geographic diversity in supply to mitigate not just geopolitical issues but also other types of risks such as Covid shutdowns, natural disasters, and shipping constraints, all of which we've seen recently," said Martin Meyers, director of market intelligence with the Clean Energy Associates.
In Europe, businesses and policymakers are taking steps to boost manufacturing capacity on the continent.
Europe's biggest solar panel manufacturer REC group, which is headquartered in Norway, is expanding production, while ​​Italy's biggest utility company Enel is scaling up its solar panel gigafactory in Sicily after it was awarded a grant by the European Commission.
Outside Europe, QCells, one of the world's largest and most recognised photovoltaic manufacturers, is doubling the production capacity of its factory in the US.
The onshoring trend in Europe and the US could be an opportunity for Chinese manufacturers to expand beyond China and Southeast Asia, Meyers said.
"Chinese manufacturers are world leaders in [photovoltaic] technology and manufacturing know-how, so they could also be logical players in a potential US manufacturing supply chain," he said. "But they won't invest unless they believe they can create and capture value.
"In our work with solar manufacturers in China and Southeast Asia, we're already seeing increased interest in setting up shop in new locations in response to the US government's policy shifts."
As part of broader efforts to boost supply chain resilience in the US, the government is taking steps to encourage solar manufacturing at home.
However, building a complete vertical industry chain will take more than a decade in the US, and will be more expensive than investing in Southeast Asia, said Zhuang. He added companies would be put off by uncertainty in the next 10 years and the input-output ratio would be too high for the investors to make a profit.
"By this calculation, when products made in the US get to the clients, the prices would be very high," he said.
"In the arm wrestling of building the manufacturing capacity, the US will realise at the end that many links in the industrial chain are not suited to be built in the US, and will need to find solutions in a third country.
"Therefore the decoupling between China and the United States will be a long process and won't happen any time soon."