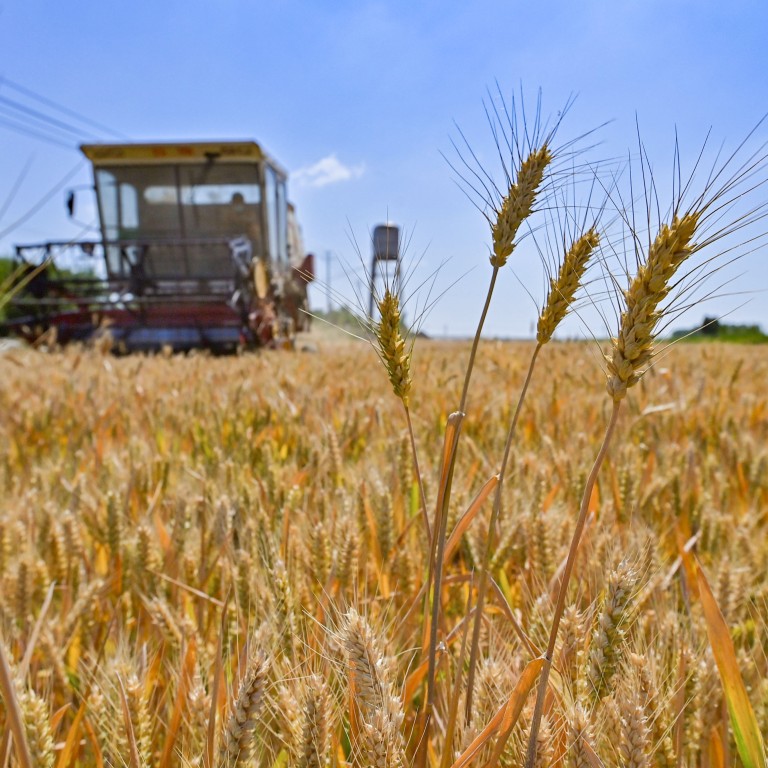 China food security: 'astonishing' food loss, wastefulness worsen grain situation, state media warns
Achieving just a 1 per cent increase in this year's summer wheat harvest highlights how hard it is for China to increase grain output
Beyond throwing away food in kitchens and restaurants, massive levels of waste occur in grain production, purchasing, storing and processing
China cannot afford to pull any punches in tackling its "astonishing" food loss and waste as the nation strives to ensure grain security in a time of bleak yield growth, a state media commentary said amid lingering concerns over the pressure facing the global agricultural system.
In the face of rising
food-security challenges
, realising just a 1 per cent rise in this summer's wheat harvest from last year's record-high level came at a massive cost to the central government, local governments and hundreds of millions of farmers, according to Thursday's commentary in the official
Economic Daily
newspaper.
"This also shows that it is becoming more and more difficult for our country to increase grain output," the piece warned while also saying that "reducing grain loss and waste is equivalent to increasing grain production".
President Xi Jinping declared war on food waste in
August 2020
as China battled floods and pandemic-induced supply problems. The nationwide initiative was known as the "clean plate campaign", and it raised the curtain on Beijing's push to achieve greater self-sufficiency in the drive to feed the nation's 1.4 billion people.
The official measure published two years ago also showed that China was losing more than 35 million tonnes of grain each year during storing, transportation and processing.
And an oft-repeated statistic, dating back to 2013 but frequently mentioned in state media and again in the clean plate campaign, is that about 200 billion yuan (US$29.6 billion) worth of food goes to waste on Chinese tables every year.
"The loss and waste in grain production, purchasing, storing, processing and consumption are still astonishing," warned the Economic Daily piece, which also spoke to the challenges presented by the nation's limited arable land and water resources.
The commentary came a week after the National Development of Reform Commission – the country's top economic planner – convened a meeting to advance a special operation against food waste in restaurants, schools, companies and households.
Apart from the operation, statistical monitoring and an investigation will take place to clearly pinpoint the magnitude of waste and loss in staple crops this year.
Overlapping factors, including the pandemic, extreme weather and Russia's invasion of Ukraine, are widely viewed as having combined to form a perfect storm of sorts in the global agricultural and food market.
And while international food prices have recently eased off their sharp rally, concerns persist over a looming global recession, and experts have warned that the strain on the food supply is far from over.
Premier Li Keqiang has said that ensuring a bumper harvest for the whole year is a priority in the second half of 2022, and doing so is crucial in helping the country keep inflation down.
"We will mainly rely on ourselves in meeting the grain demand of the 1.4 billion Chinese people," Li said during a
recent virtual dialogue
with global business leaders. "Except for a small amount of imports for structural adjustments, we will not buy massively from the global market."
The Economic Daily commentary also called on authorities to use legislation to force society to conserve grain.
After Xi launched his crackdown on food waste in 2020, Chinese lawmakers enacted a law against food wastefulness eight months later.
Reviewing a draft law on safeguarding grain security has also moved up Beijing's legislative agenda this year.