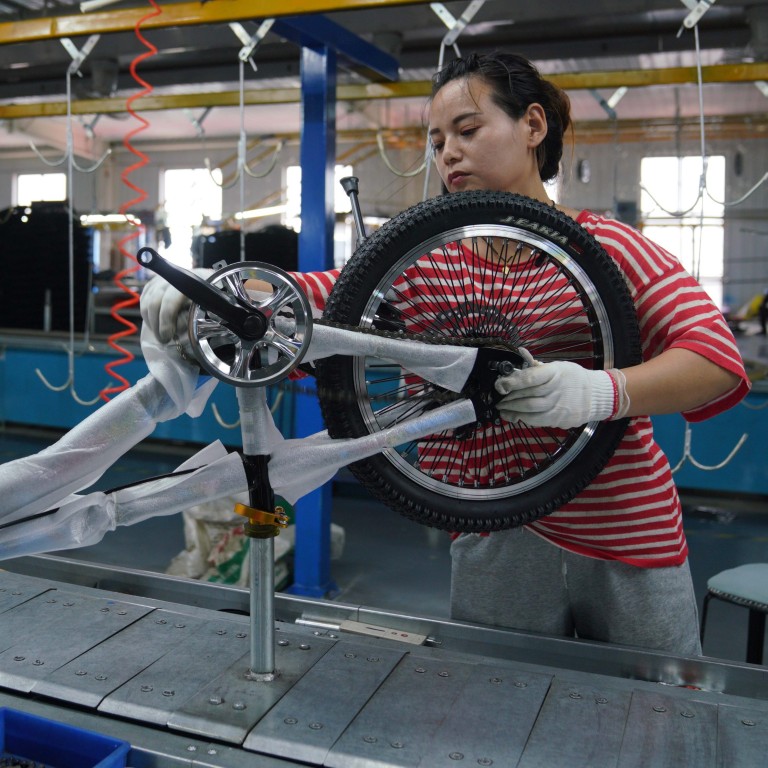 China's bicycle kingdom returns as fuel price, coronavirus bring two-wheelers back in vogue
Recent rise in fuel prices, coupled with coronavirus restrictions hindering commutes, plus increased government support, are proving to be a boon for bicycling
Proportion of people travelling by bicycle in central Beijing hit a near-decade high of 47.8 per cent last year, with some spending up to 100,000 yuan (US$14,800)
A contestant on a popular reality dating show in China soared to fame – or perhaps infamy – when she declared back
in 2010
that she "would
rather cry
in a
BMW than smile
on a
bicycle
".
It was a hot take on materialism that reverberated through the country. But more than a decade later, the statement appears to stand in sharp contrast to a growing trend seen on both social media and city streets, as the wheels of change are hearkening back to a bygone era when the nation was known as the "
Kingdom of Bicycles
".
"Fluttering hair, swooping poses, cheerful smiles and flashes of scenery beside you" – comments like these are rife on social media in the country as trendy users and influencers share and revel in their rekindled love affair with two-wheeled transport.
A search on the Little Red Book platform alone turns up more than a million related photos and videos by those who have embraced cycling as a means of socialising, entertainment and fitness.
In the 1970s, bicycles were considered an important item for newlyweds, as one of the three major symbols of family wealth, along with sewing machines and watches.
In the 1980s, bikes dominated city streets across the country, with hordes of riders commonly seen stopped at traffic lights during peak commuting hours, vastly outnumbering cars.
However, since the 1990s, China's economic prosperity and urbanisation push have resulted in hundreds of millions of people turning to motor vehicles as their primary mode of transport.
But in light of surging fuel prices, crippling coronavirus restrictions, and even an uptick in government support, interest in cycling has gradually come back into vogue.
Hui Xing, a 27-year-old teacher in Guangzhou, is looking to spend 5,000 yuan (US$740) on a bicycle for her daily commute after high oil prices pushed the cost of petrol up by around 30 per cent in the first half of the year.
"I used to go on bike excursions with my friends when I was at university," Hui recalled. "Now I'm ready to get back into the sport."
Capitalising on such interest, Little Red Book launched a "summer cycling discussion" in late June, with users from all over the country sharing their experiences, including bike recommendations, cycling vlogs and event promotions.
Hui, though, has found that getting back on a bike is harder than she expected, because all of her favourite ones – based on blogger recommendations for novice riders – have been sold out in shops.
The China Bicycle Association said last week that the number of people choosing to ride in Beijing has been increasing over the last five years as the city's cycling infrastructure has improved.
And last year, the proportion of people who chose to travel by bicycle in central Beijing hit a near-decade high of 47.8 per cent, according to the report.
"In megacities, commuting is a significant expense, but bicycles do not require a number plate and allow for more freedom to get around," said 25-year-old Louis Liu, who returned to his hometown of Nanchang in the eastern Jiangxi province after spending six months in Beijing working in the media industry.
"Cycling can also help avoid contact with other people," Liu added. That's because public transport and taxis require scanning QR codes for tracking close contacts of infection cases, but riding a bike can circumvent this problem.
The association's report also said that demand for cycling increased due to the temporary closure of some underground train stations in May amid Beijing's virus-prevention measures.
"Instead of paying a few yuan a day to ride a shared bike, I think it will be better to buy a bike of my own so that I can also go out for exercise with my friends on weekends," said technology company employee Liu Yue, who came to work in Beijing in May.
In early 2018, there were an estimated 23 million shared bicycles from 77 companies on China's roads, but after the low-cost bike-sharing craze took off in late 2014, it started to
fizzle out in recent years
.
The number of bike-sharing users in China did increase by 18 million last year from 2021 to 300 million, but the 6.38 per cent year-on-year increase was the lowest since 2017.
Zhong Shiyi, a 27-year-old technology company employee in Shenzhen, spent 2,000 yuan on his first bike this year, after having previously used the city's bike-sharing system for several years.
"A professional bicycle can give me what a shared bicycle cannot. There are differences in both speed and comfort," said Zhong, who is now considering buying a bike worth around 15,000 yuan. "I've always needed to exercise after work, but I was starting to get tired of weight training in the gym. The bicycle, on the other hand, can take me farther and make me feel the wind."
According to the "2021 China Sports Bike Survey Report" released by internet company MagicCycling, 27.9 per cent of cyclists had a budget of between 8,000 to 15,000 yuan in 2021, and 26.9 per cent were prepared to spend between 15,000 to 30,000 yuan.
"The top bike will cost 100,000 yuan or more. The speed, comfort of the bike, and the quality of wheels can tell the price point of a bicycle," said Bingbing, a 24-year-old in Guangzhou, who spent 30,000 yuan on her new bicycle but does not consider herself a "luxury buyer".
Beijing-based journalist Nandi Huang said that when she started to ride a bike in 2015 there was low social acceptance for spending a lot of money on a bike.
"But now, riding has become a popular choice in all age and gender groups," Huang said.
According to the China Bicycling Association, production in China last year rose by 1.5 per cent, year on year, to 76.4 million units. The revenue for the industry was 308.5 billion yuan (US$45.6 billion), with profits totalling 12.7 billion yuan.
China's bicycle exports also rose by 14.8 per cent to 69.232 million units last year, the association said.
Zhang Shigang took up cycling this summer after his daughter bought him a bike worth 10,000 yuan.
"The feeling of riding on a flat road in the early morning with a gentle breeze, looking at the scenery around you, without anxiety or fatigue, is truly addictive," Zhang said.
Kuang Xiaoming, who has been cycling for about a decade, opened the Patchwork Studio in Guangdong province last year with three friends to promote cycling culture.
"The reason for organising this activity is to bring together more people who enjoy cycling and to have more exchanges," Kuang said after their "ChillRide Style" cycling activity earlier this month.
"The overall feeling of the activity was that everyone was relaxed and happy. During the ride, the rules of everyday socialising were ignored – it was simply about enjoying the ride, the wind and the freedom, together."