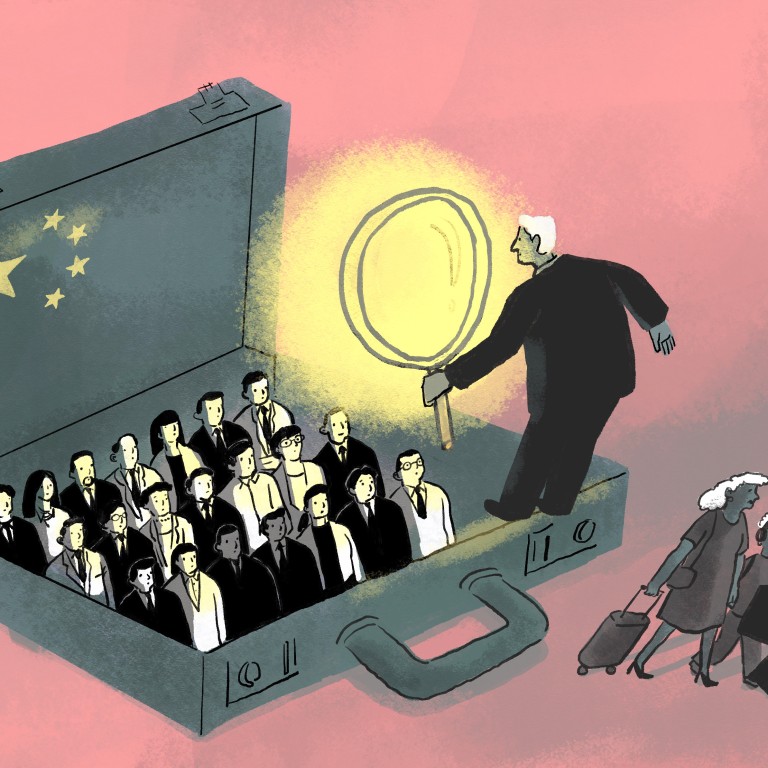 China's foreign businesses adapt by looking inward for talent as zero-Covid keeps expats away
Even in cities without major coronavirus lockdowns, including Hong Kong, 'trust issues' are rife among foreigners, and the main concern is often their children
Foreign business groups say firms want to maintain China presence, but diminished labour pool of outside talent is expected to continue until after 20th Party Congress
Foreign businesspeople, having struggled throughout the pandemic to cope with China's draconian lockdown measures, are holding out hope that leaders in Beijing will allow for more leeway to address the nation's economic hardships after this autumn's critically important
20th Party Congress
.
Doing so would serve to help bring more expatriates back to China, they say, according to representatives of foreign business chambers operating in the country.
And some also say Hong Kong should take the lead in relaxing its quarantine policy – shifting it away from
mandatory hotel quarantines
.
Such compulsory precautions remain a hindrance to some business operations in the international business hub where
94 per cent
of the population has received at least two vaccinations against the coronavirus.
Henry Cheung, chairman of the board of directors at the Finnish Chamber of Commerce in Hong Kong, said that forcing people to stay at a hotel "is a cost" for many companies, especially small and medium-sized ones, because they may be saddled with the bill.
"There's a tradition in Europe that staff take long holidays in July or August," added Cheung, who is also the managing director at Finnish engineering giant KONE Elevator (Hong Kong). "The quarantine measures [also] imply that they have to shorten their vacation, which is not something they want."
The feeling of "being locked up" at a quarantine hotel that they dislike is the primary reason cited by staff who "tentatively don't want to come back", according to Cheung, especially if they have not been infected with the coronavirus.
Meanwhile, business chamber representatives added that the widely reported departure of expatriates from mainland China and Hong Kong has been mainly based on "anecdotal examples", without official counting or formal numbers reflecting the so-called
exodus trend
that has dominated headlines in recent months.
Still, the mainland's stringent zero-Covid policy, not seen in the vast majority of the world, is undeniably keeping some foreigners away. But at the same time, they are still trying to maintain their business presence and operations in the country, according to the international business community.
And that same community now expects Hong Kong – long considered an essential bridge between mainland China and the rest of the world – to reinforce that designation by once again being an open city, as well as a pioneer in advancing policy changes for the whole country.
"The expat community is declining," said Johannes Hack, president of the German Chamber of Commerce Hong Kong. "For China, many people who choose to leave are in Shanghai. There's a trust issue, even though Shanghai relaxed its lockdown measures."
Hack added that "they can't tie a person to a chair" when dealing with the Omicron outbreak, and that there's "an anxiety issue" among foreigners, especially those with kids.
Officials in Shanghai rolled out a
testing blitz
in 13 of the city's 16 districts – affecting around 22 million people – in the middle of July. The financial centre, which had endured a bruising two-month lockdown during April and May, was not taking any chances amid the recent wave of infections, though the situation was less dire than it was in the spring.
Middle and senior management groups are among those deciding to leave or delay their return, according to business chambers, and one of their primary concerns is their children's education.
Meanwhile, luring outside talent to Hong Kong and mainland China has also become difficult. Hack explained how major German corporations with a Chinese presence must rely more heavily on local labour pools.
"In the past, it was a mix of expats and local talent," he added. "Now, there are more local talent, which is presumably what the Chinese government encourages."
But Hack, who is also the managing director at DZ Bank in Hong Kong, pointed out that "a mixed approach" of staff has its advantages for multinationals, because companies get more "cultural ambassadors", and "it's always good to have people moving around and being exposed to different situations".
During a virtual dialogue hosted by the World Economic Forum last month,
Premier Li Keqiang said
that China would not employ large-scale stimulus measures to hit its
economic growth targets
, but will adjust its coronavirus policy.
His comments to international business leaders came amid growing concerns about the economic toll of the nation's zero-Covid policy, with frustration mounting among foreign firms in China.
A July 20 report by Moody's Investors Services released said that China's large domestic market, supply-chain resilience, advanced infrastructure, rich labour supply and vibrant innovative ecosystems will still attract foreign direct investment (FDI) from multinational companies in the near term, despite disruptions and security concerns.
But the Ukraine war and potential secondary sanctions, as well as China's strict coronavirus restrictions and the US' import tariffs, will result in more corporations looking to shift investments elsewhere, the report added, with parts of Southeast Asia poised to benefit.
"More [multinationals] are adopting
'China [Plus One]' strategies
involving the construction of parallel or supplementary production capacity, reducing supply-chain security risk while maintaining their presence in China," said Lillian Li, vice-president and senior credit officer at Moody's.
China's Ministry of Commerce said on Friday that FDI rose by 17.4 per cent during the January-June period, year on year, to 723.31 billion yuan (US$107.21 billion). In US dollar terms, FDI in China increased by 21.8 per cent in the first six months of this year.
Despite the overall upward trend, investment from the United States slumped by 23.8 per cent in 2020, compared with 10 years earlier, and investment from the European Union fell by 11.8 per cent in 2020 from the previous year.
"Stabilising foreign investment is still faced with great challenges," said Chen Chunjiang, the ministry's director of foreign investment, pointing to the impacts of the pandemic, as well as uncertainties in the international environment.
However, he also said that multinational corporations have good prospects and chances for investment in China, and he said the commerce ministry will strengthen regular exchanges with foreign-invested enterprises and foreign business associations, and will respond to their appeals.
Nick Marro, lead for global trade at The Economist Intelligence Unit, said the FDI disclosure has become less transparent, and more detailed data for last year will not be released until the fourth quarter of this year, when the statistical yearbook for 2021 is published.
Hack from the German chamber said that foreign businesses remain hopeful that Beijing will reassess the entire situation later this year.
"It's understandable the Party Congress is an important political situation," he added. "[We] assume the Chinese government might want to look at the economy and zero-Covid afterwards, then reassess the policy for its own benefits."
TMF Group, an Amsterdam-headquartered consulting firm, said in its Global Business Complexity Index released on June 28 that China was the 14th most difficult country to operate in for this year, compared with 12th last year and sixth in 2020.
A report accompanying the index added that China's "legislation and practices tend to deviate from international standards", though technology plays a role in reducing that complexity while also helping to attract foreign direct investment.
Meanwhile, Western media has also quoted executives at foreign firms as saying that Russia's invasion of Ukraine, the mainland's interference in Hong Kong affairs, and the
situation in Taiwan
also have given rise to concerns about operating in China.
But Cheung from the Finnish chamber stressed that companies "don't get involved in politics" and "just talk about business", because Sino-Europe trade is large and China is one of the largest markets for multinationals.
China was indeed the largest partner for EU imports of goods last year, and was the third largest partner for EU exports, according to official EU trade figures.
Regarding Hong Kong, TMF's index showed that it remains "a simple jurisdiction for foreign companies", although China is taking more control legally and economically.
Businesses have adopted a "wait and see" approach to what lies ahead, TMF said in its statement, and this could serve to limit foreign investment and activity, at least for now.
Gabriel Mallet, president of the Swiss Chamber of Commerce in Hong Kong, said there is a "direct impact on business", as replacing departing talent is difficult in the current environment.
"A few smaller companies have left, big companies generally have not, but some of them moved out part of their operations," he added. "They don't always disclose the exact reasons why they are leaving, but in many cases it is because their staff is moving. The leave is people-driven more than business-driven."
Despite the difficulties they may be facing, business representatives at various chambers said that Hong Kong's role as a "connector" has never changed, given factors such as its proximity to mainland China, the city's rule of law, and the "
one country, two systems
" governing principle.
"Hong Kong should remain the place that's Chinese but not the same system [as on the mainland]," Hack said. "It separates in some ways from mainland China, such as laws and language skills."
Hack added that Hong Kong should eventually reverse its coronavirus-control policy in stages, and that this should be done sooner than on the mainland.
Hong Kong Secretary for Health Lo Chung-mau
said last month
that the city need not copy mainland China's tough Covid-19 policies, as Hong Kong enjoys wide latitude under the "one country, two systems" principle.
He forecast that quarantine-free arrivals, with conditions attached, could be allowed by November – in time for a global bankers summit.
Referring to the new health minister's comments, Mallet said: "The autonomy has been granted by Beijing to Hong Kong, and [the government] should maximise it".