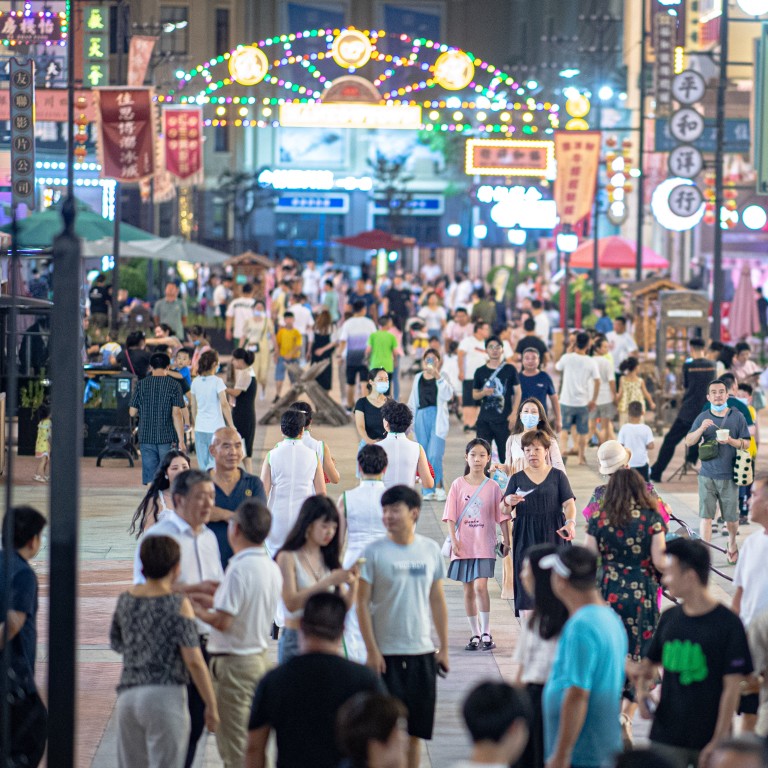 China looks to boost consumption with 'comprehensive measures' to help economic recovery
The State Council says it is looking to expand demand by boosting property and car sales, as well as subsidising green energy products
The service sector has been badly hit by the country's Covid policies, threatening to derail the annual growth target of 'around 5.5 per cent'
Beijing hopes to boost its economic recovery by rolling back restrictions on car and property sales and offering tax breaks and subsidies for environmentally friendly products to boost consumption.
The measures, announced at Friday's executive meeting of the State Council, China's cabinet, may reflect the reality that service sectors – such as catering, retail, tourism and transport – will continue to face pressure as a
result of the country's zero-Covid policies
in the second half of the year.
"We must take comprehensive measures to expand effective demand," Premier Li Keqiang told the meeting.
The comments echoed the quarterly economic conference of the
25-member Politburo the previous day,
which tried to strike a balance between growth, Covid control and security, and ordered all regions and leading party cadres to "strive for the best [economic] outcome".
The cabinet meeting, which emphasised the importance of policy enforcement, underscored the key role of effective investment in helping the economic recovery after the
second quarter growth rate of just 0.4 per cent
threatened to derail the full-year growth target of "around 5.5 per cent".
While trying not to have a big stimulus, the Chinese authorities have tried to use government spending and policy bank instruments to fund transport, energy, logistics, agriculture and new infrastructure. Funding, however, remains a big market concern as this year's local special-purpose bond quotas run out.
Consumption, which was barely mentioned in Thursday's Politburo statement, was positioned as a major economic growth driver, despite being hit hard by the pandemic. However, current economic, job and income uncertainties are a further threat to its recovery.
Consumption accounted for 65.4 per cent of last year's gross domestic product growth, compared with 13.7 per cent for investment and 20.9 per cent for net exports.
Last month retail sales, a key gauge of consumption, expanded by 3.1 per cent year on year, compared with a 6.7 per cent fall in May and an 11.1 per cent drop in April. They fell 0.7 per cent from a year earlier in the first six months.
Specifically, the cabinet ordered regions with car purchase restrictions to gradually raise the quantitative quota and relax purchase qualifications. Tax exemptions for new-energy vehicle purchases will be extended further.
Meanwhile, the Ministry of Commerce on Friday announced a new round of a trade-in scheme for home appliances, while Shanghai municipal government on Saturday kicked off a two-month citywide shopping festival, promising big discounts from traders.
Property, cars and home appliances and decorations are key sectors for household consumption.
Car sales, which accounted for one tenth of the national social retail revenue, rose by 23.8 per cent last month and hit the highest figure since January, government data showed.
Some, however, argue that the current rise in retail sales is a one-off rebound from the Covid lockdown and cannot be sustained.
Five of the eight Chinese cities that impose an annual car quota have already announced plans to increase the number of licence plates issued this year.
Shanghai, which was locked down for about two months and reported heavy economic damage in the period, said it will raise its licence plate quota by 40,000 this year. Last year it issued 135,000 new licence plates.
China International Capital Corporation economist Zhang Wenlang noted that local governments, if their financial condition allows, may boost consumption of environmentally friendly home appliances and other green products through consumer coupons or subsidies.
"The biggest bottlenecks for growth right now are the property market and Covid policies, and the Politburo meeting did not offer any signals of a breakthrough on these fronts," said Wei He, an analyst with research firm Gavekal Dragonomics.
"The consequence of sticking to the policy status quo is likely to be a weak recovery in the second half."
Both the Politburo and the State Council statements said they will support people's housing needs as well as upgrading demand.
The property market is another key sector that Beijing's policymakers are trying to stabilise, especially after the widespread debt default of private developers and a
mortgage boycott by homebuyers
.
"It means that other than tier-1 cities, most cities would remove the existing property curbs and the availability of mortgage loans will improve in the months ahead," Larry Hu, chief China economist of Macquarie Capital, wrote in a note.
China's commodity property sales dropped by 28.9 per cent from a year earlier to 6.6 trillion yuan (US$978 trillion) in the January-June period.