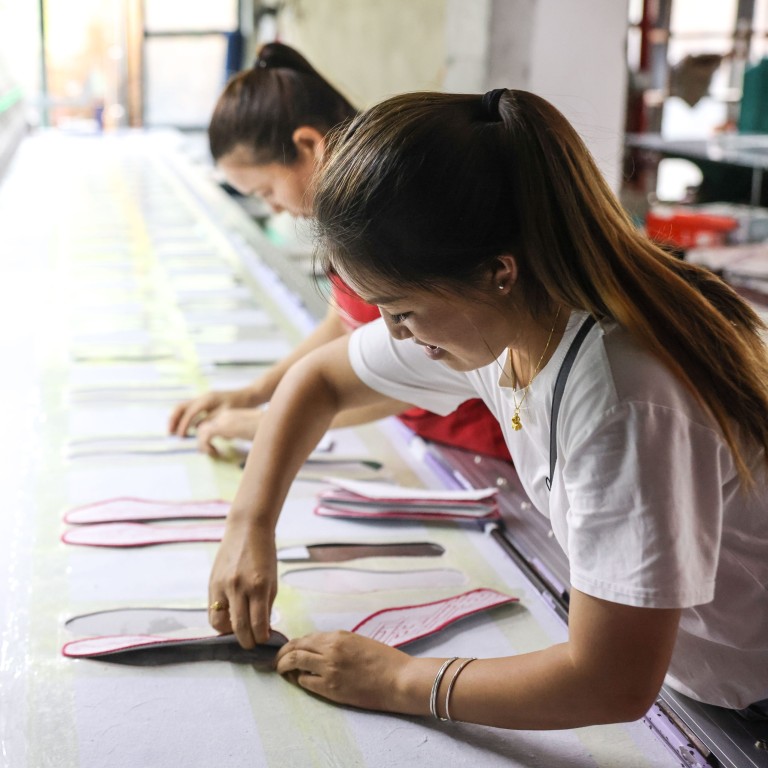 China's factory activity posts shock contraction in July despite economic rebound
Official manufacturing purchasing managers' index (PMI) fell to 49 in July, down from 50.2 in June
'The foundation of China's economic recovery is still not sound,' official Xinhua News Agency commentary warns
China's factory activity unexpectedly fell back to shrinking range in July despite recent increasing signs of moderate recovery in the world's No 2 economy.
The official manufacturing purchasing managers' index (PMI) slid from
50.2 in June
to to 49 this month, well below the 50-mark that separates growth from contraction on a monthly basis, according to data released by the National Bureau of Statistics (NBS) on Sunday.
Analysts had estimated the reading would stay unchanged from last month, according to Chinese financial data provider Wind.
The official non-manufacturing PMI, which measures business sentiment in the services and construction sectors, also declined – to 53.8 from 54.7 in June – but still remained within expansion territory.
The latest official composite PMI, which includes both manufacturing and services activity, dropped to 52.5 in July from 54.1 in June.
"On the whole, the level of economic sentiment in China has fallen somewhat, and the foundation for recovery still needs to be solid," Zhao Qinghe, senior statistician at the NBS, said.
In a commentary published on Sunday, the official Xinhua News Agency warned the country to be "soberly aware that at present, the foundation of China's economic recovery is still not sound, and it will take painstaking efforts to consolidate the momentum of improvement".
"Due to the impact of factors beyond expectation such as the complex and severe international environment and the shock of the domestic epidemic situation, China's economic operation still faces many risks and challenges."
Before the unexpectedly weak manufacturing PMI data, signs of recovery had continued to emerge earlier this month, as key indicators for
retail sales and industrial production
had improved marginally in June.
China's
industrial profits
also rebounded in June, from a 6.5 per cent decline in May to 0.8 per cent growth – the first increase in two months that was driven by a loosening of coronavirus restrictions and resumption of manufacturing activity.
The Politburo, China's top decision-making body, defended China's zero-Covid policy at its highly scrutinised
economic meeting
on July 28 while dodging mentions of the annual growth target of "around 5.5 per cent".
That target was set in March, before the country's Omicron outbreaks, the Ukraine war and US rate increases.
Rigid
pandemic restrictions
have caused a slowdown in the world's second largest economy and were
cited as a reason
for the International Monetary Fund slashing its 2022 global growth forecast from 3.6 per cent to 3.2 per cent earlier this week.
Both the supply and demand sides of the manufacturing sector fell back to contraction this month just after rebounding to expansion in June, as shown by subindices of production and new orders.
Zhao said the reasons for the decline in the manufacturing PMI were multifold, including off-season for production, insufficient market demand and low sentiment in high energy-consuming industries.
The ratio of companies reporting insufficient market demand had risen for four straight months to reach more than 50 per cent in July, Zhao noted.
"Insufficient market demand is the main difficulty faced by manufacturing enterprises at present, and the foundation for manufacturing recovery needs to be consolidated," he said.
The subindices of production and operation expectation were down 3.2 percentage points to 52 in July.
"The internal and external environment of China's economic development have become more complex and severe, the production and operation of enterprises have been under continuous pressure, and market expectations have been affected to a certain extent," said Zhao.
Subindices showed declining purchasing and ex-factory prices in major raw materials in July, while purchase activities dropped to contraction from expansion.
"Due to the sharp volatility of the price level, the wait-and-see mood of some companies has increased, and the willingness to purchase has weakened," Zhao said
Within the official non-manufacturing PMI, the construction subindex rose to 59.2 in July from 56.6 in June, while the service subindex fell to 52.8 from 54.3.