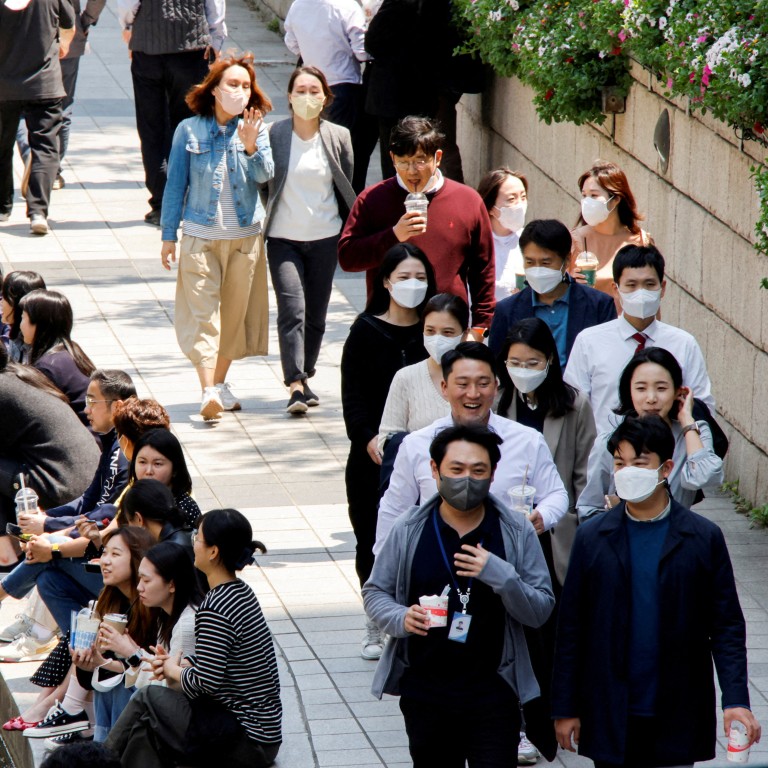 Why China's zero-Covid policy and US recession risks are clouding South Korea's economic outlook
South Korea's economy grew 2.9 per cent in the second quarter from a year earlier, following a 3 per cent rise in the first three months of the year
But whether it can continue on the same trajectory will be affected by China's zero-Covid policy and the risk of recession in the United States
Despite posting growth of 2.9 per cent in the first half of the year, the outlook for South Korea's economy is clouded by the prospects of the world's two largest economies, experts say.
Analysts expect the country's gross domestic product (GDP) to grow by around 2.5 per cent this year, which is in line with the "modest outlook" the South Korean government made in June.
South Korea's economy has been given a shot in the arm in recent months as coronavirus restrictions have eased, leading to increased household spending. But whether it can continue on the same trajectory depends largely on factors outside its borders, such as the continuation of China's
zero-Covid policy
and the risk of recession in the United States.
"Currently Korea's trade dependence on China is very high at about 24 per cent," said Kang Sung-jin, a professor of economics at the Korea University in Seoul.
"China's low growth rate directly affects Korea because Korea's economic structure is highly dependent on foreign trade."
South Korea's GDP growth was 2.9 per cent year on year in the second quarter, following a 3 per cent increase in the first three months of the year
The country's second quarter GDP figures were in sharp contrast with China – its largest trading partner – which booked
growth of only 0.4. per cent
over the same period.
"Private consumption is increasing more than expected as restrictions on social distancing against Covid-19 are eased," South Korean Prime Minister
Han Duck-soo
said last month.
"I think the growth can reach the mid-2 per cent level by the end of the year, although this is not as high as what the Bank of Korea and the government originally expected."
South Korea's trade balance with China has been negative for the past three consecutive months.
Though Seoul has said the trend is temporary due to a slowdown of the Chinese economy and pandemic-related lockdowns – both of which are weighing on consumption – it could take a heavy toll if the situation continues.
The Bank of Korea has estimated GDP growth could fall by around 0.1 to 0.15 per cent each time China's economy contracts by one per cent.
"The global economy is expected to contract throughout the second half of the year until next year," Kang earlier told local media.
"It will be difficult for the South Korean economy to avoid the impact of such an economic downturn, as it is sensitive to the external economy."
Experts say as long as growth does not dip into negative territory in the third and fourth quarter, the country will get close to the government estimate of 2.6 per cent GDP expansion for the full year.