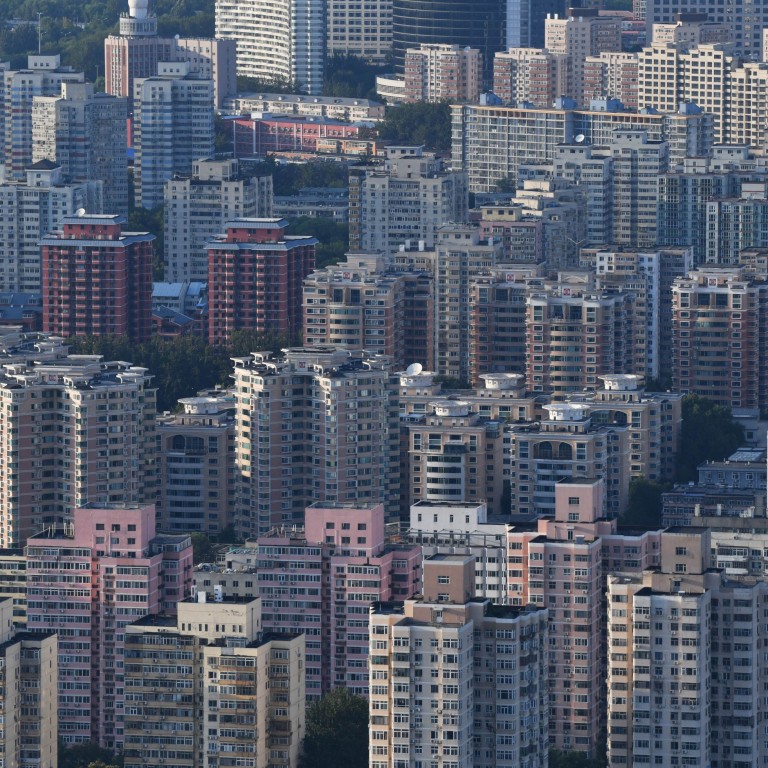 China's property market slump and weak demand highlight fragile economic recovery
China's economy faces weak demand and fallout from a property market downturn at home
Relying on infrastructure investment alone is not enough to bolster the economy, some analysts say
An unexpected contraction in China's factory activity in July has highlighted the stubborn headwinds facing the world's No 2 economy, a situation that may demand more active fiscal measures and support for the ailing property sector, according to analysts.
The official manufacturing purchasing managers' index (PMI) slid from 50.2 in June to
49 last month
, well below the 50-mark that separates growth from contraction on a monthly basis. A private survey also declined more sharply than analysts expected.
"The fastest period of recovery after the economic reopening is close to an end, with insufficient demand becoming a major constraint," China Minsheng Bank said in a note on Sunday.
The private bank said the economy faced twin threats: weak demand overseas, with developed economies slipping into recession; while consumption and the real estate market were sluggish at home.
Simply relying on infrastructure investment was not enough to bolster the economy and more policy support was needed, the bank said.
Wary of fuelling the type of inflation ravaging Western economies, Beijing has ruled out large-scale stimulus, although it has made repeated calls for local authorities to help stabilise the economy ahead of a leadership reshuffle later this year. However, the increasingly precarious economic environment may mean authorities need to do more – and fast.
Liu Siliang, senior researcher at the Rushi Advanced Institute of Finance, said the property downturn was weighing on the whole economy, as the real estate sector and related industries accounted for about one third of gross domestic product (GDP).
China's property sector has taken a sharp downwards turn over the past two years, due primarily to a regulatory crackdown on lending and the impact of the pandemic.
Output from the sector shrank by 7.0 per cent in the second quarter from a year earlier, the worst reading among all Chinese industries, according to government data. Among China's top 100 developers, there was also a year-on-year drop of 39.7 per cent in contract sales in July, market data showed.
"Although the government [worked] quickly to stop the spread of risks, it will take a long time for real estate to stabilise and recover, and residents' expectations to change," Liu said in a note on Monday.
At its half-year meeting on Monday, the People's Bank of China said it would keep real estate credit, bonds and other financing channels stable, and explore new development models for the sector.
Ding Shuang, chief economist for Greater China and North Asia at Standard Chartered Bank, said the real estate market would be "the most important downside risk" for the Chinese economy this year.
The Politburo meeting last Thursday suggested that authorities might move to ensure cash-strapped developers had credit, he said, noting it also stressed the responsibilities of local governments in delivery of commodity housing units.
"That is supposed to be a positive signal," he said.
The meeting mentioned stabilising the property market ahead of an oft-repeated line about curbing housing speculation. It also ordered local governments to ensure delivery of commodity housing units and make full use of policy tool kits.
"That is of great significance to stabilise market confidence, especially the sales market," said Tao Chuan, chief macro analyst at Soochow Securities.
"But the direct effect on stabilising property investment is still limited," he added in a note on Friday, expecting more measures by local governments in the second half of the year.
Ding said Chinese authorities are likely to issue an additional 1.5 trillion yuan (US$221.8 billion) of local special-purpose bonds in the second half of the year to boost the economy.
The Politburo sent a clear message that "expanding demand" should stand at the core of China's fiscal and monetary policies. But it skipped any mention of the annual economic growth target of "around 5.5 per cent", vowing instead to "strive for the best outcome" and maintain dynamic zero-Covid control as a priority.
The statement added to expectations that Beijing would not release another fiscal support package after unveiling a
33-point plan
to stabilise growth in May.
Speaking at the World Economic Forum in late July, Chinese Premier Li Keqiang made it clear that Beijing will not flood the economy with stimulus.
"Under current circumstances, there is room in fiscal and monetary policies to achieve a fairly high growth rate in the second half of the year. But we cannot compromise future interests, and we need to both stabilise growth and avert inflation," he said.
At a State Council meeting on Friday, Li said the third quarter was crucial for China's economic rebound as it is the peak season for construction.
Projects receiving central government budgetary investment will be accelerated and local governments have been urged to expedite the use of special-purpose bonds, according to the meeting.