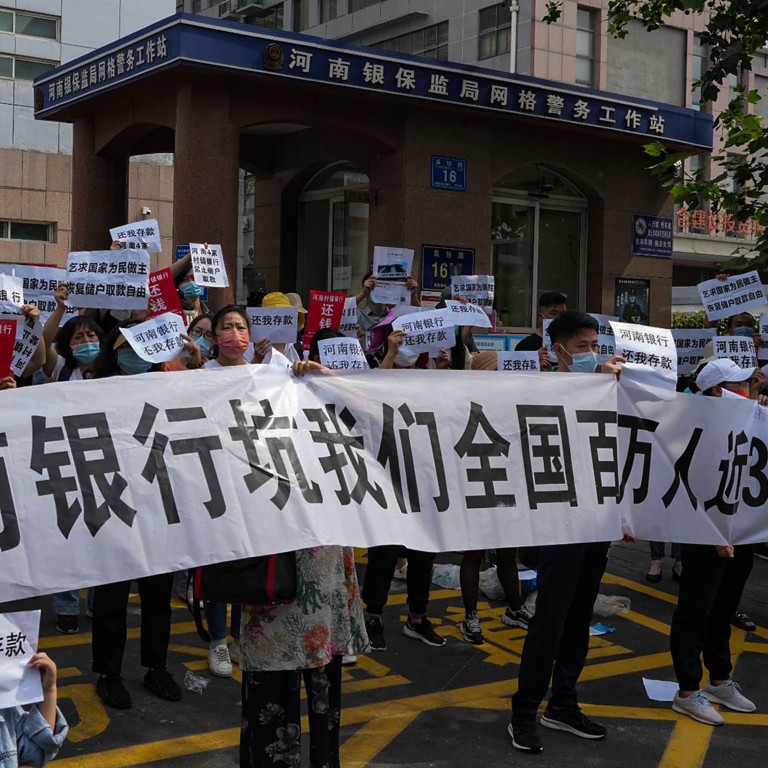 China extends compensation for Henan banking crisis victims to 250,000 yuan, 2 more officials probed
Savers with deposits of up to 250,000 yuan (US$37,000) at four rural banks in Henan province and one in Anhui will receive compensation on Monday
Chinese regulators also confirmed on Friday that another two Henan officials are under investigation for disciplinary offences
Financial authorities in Henan and Anhui provinces have announced a fourth round of repayments to victims of the rural banking scandal, although many customers are still waiting for previously promised compensation.
Individuals with deposits between 150,000 yuan and 250,000 yuan (US$37,000) at
four rural banks in Henan province
will be repaid on Monday, said a joint statement from the local branch of the China Banking and Insurance Regulatory Commission (CBIRC) and the provincial financial supervision bureau.
The statement on Friday also mentioned that repayments to depositors with savings under 150,000 yuan will continue, having initially started from 50,000 yuan last month.
Authorities in Anhui's Bengbu city issued a similar statement.
Since April, deposits estimated at around 40 billion yuan (US$6 billion) at Yuzhou Xinminsheng Village Bank, Shangcai Huimin County Bank, Zhecheng Huanghuai Community Bank and New Oriental Country Bank of Kaifeng in Henan province and Guzhen Xinhuaihe Village Bank in the neighbouring Anhui province have been affected.
On Friday, Chinese regulators confirmed another two Henan officials were under investigation for disciplinary offences, namely Guan Qifeng, the deputy director of the Henan Rural Credit Union, and Wang Xianjun, an inspector at the Xinyang branch of the CBIRC.
In a meeting of
China's Politburo last week,
the country's top leadership urged authorities to properly address the risks of "some local village banks" and crack down on financial crime, ensuring the overall stability of the financial market.
A depositor surnamed Shi, who had saved 235,000 yuan in Zhecheng Huanghuai Community Bank and another 400,000 yuan in Shangcai Huimin County Bank, is now eligible to start receiving payments having previously expressed anxiety over the process.
"If top leaders pay attention to the bank crisis and the Henan government has a responsible attitude, I believe the problem can still be solved satisfactorily, but we still need to wait," said Shi, who asked not to be fully identified due to the sensitivity of the issue.
However, Shi also revealed that there are still thousands of depositors who have yet to receive their payments as their bank cards, identity cards or mobile phone numbers had
changed before they registered,
according to a WeChat group used by bank customers.
A female surnamed Yang, who had around 7,000 yuan deposited in Zhecheng Huanghuai Community Bank, has not yet received her repayment that was supposed to arrive in early July as the information on her identity card had changed due to personal reasons.
"Whenever calling the official customer service, I was always being told to be patient, but no one came to fix the problem," Yang said, who also asked not to be fully identified.
Another woman surnamed Chen was included in the first round of payments from Yuzhou Xinminsheng Village Bank and in the latest round from New Oriental Country Bank of Kaifeng.
But having lost her original bank card, Chen has yet to receive her money as her replacement bank card number is different despite speaking to customer service in an attempt to resolve the common issue.
One customer was also told to wait two days for a notification as their application was being processed, but they have yet to receive a reply after over 20 days.
Another customer was told a new system would be fully functional in a few days, while others were told to wait patiently.
A depositor surnamed Zhang with savings totalling 380,000 yuan in three of the rural banks has also been waiting anxiously for nearly a month due to problems with a replacement bank card.
"Waiting, still waiting, at the moment the officials just tell me to wait. There is no deadline, they just promise to let me know when the proposal is available," Zhang said.