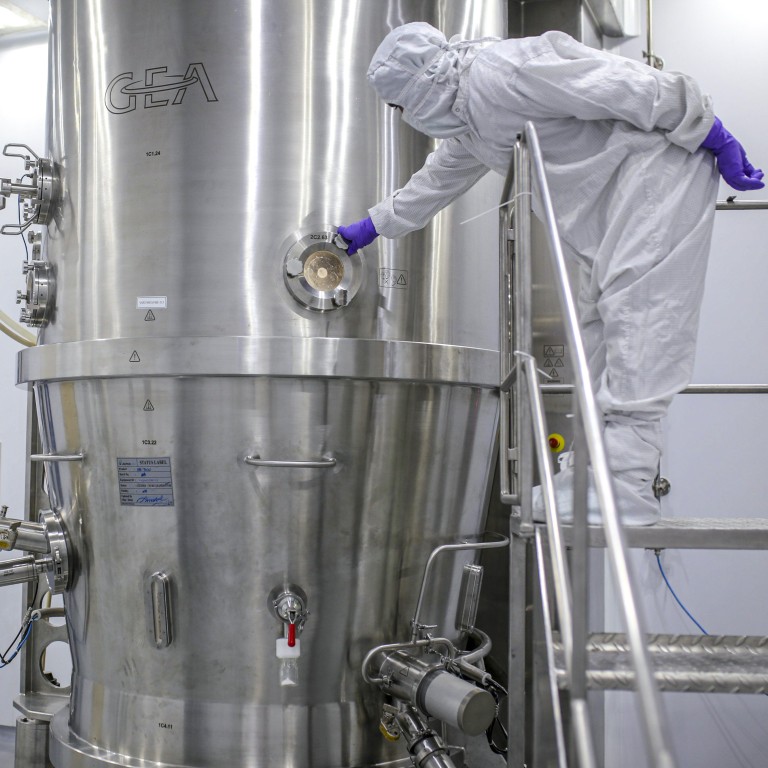 India needs China for critical medicine ingredients, but an ambitious initiative aims to correct that
Relying on China for active pharmaceutical ingredients has proved troublesome for Indian drug makers during the pandemic, but it's a problem decades in the making
New data shows dozens of funding applications have been approved in India to bolster production of crucial drug components – many of which come mainly from China
India is making progress in efforts to bolster its pharmaceutical sector and reduce the nation's dependence on medication from China, by expanding the scale of domestic production and reducing costs – an ambitious goal that has been given greater impetus amid the pandemic.
Despite being the
third-largest manufacturer
of medicines by volume, India relies on China to supply
almost 70 per cent
of active pharmaceutical ingredients (APIs) – chemicals that are responsible for the therapeutic effect of those medicines – such as paracetamol for painkillers.
India manufacturers and supplies about 50 per cent of the domestic demand for bulk drugs, but most of the critical ingredients and materials used in their production are sourced from China, according to a
report
from July 2021 by the Research and Information System (RIS) for Developing Countries, a New Delhi-based think tank under the Ministry of External Affairs.
"Companies that were heavily reliant on China faced a lot of disruptions [during the pandemic]," said Deepak Jotwani, assistant vice-president at the Investment Information and Credit Rating Agency (ICRA) of India.
And the volatility in prices due to a supply-demand mismatch, and frequent disruptions in the production process, still continue, he said.
"From time to time, we have seen in the case of China that they ban the manufacturing of certain polluting industries," Jotwani said, adding that this results in disruptions to the supply chain.
Responding to this uncertainty, the Indian government has launched programmes to bolster the pharmaceuticals sector since March 2020, including by providing financial incentives to companies that meet manufacturing targets, while aiming to create "global champions out of India".
Subsequent initiatives have included industrial parks focused on bulk-drugs production, involving multiple companies, to reduce individual capital costs.
"The idea is to incentivise the production of more critical APIs first," Jotwani said, adding that these include "ones where India is most heavily reliant on China".
For some critical APIs such as paracetamol, penicillin, ibuprofen and vitamin B12, India's import dependency on China is as high as 90-100 per cent, according to the RIS report from last year.
"The idea is to reduce dependence in terms of the criticality of the raw materials," Jotwani said. "So that tomorrow, if we face continued disruptions, we have an alternate source in the form of domestic production, which can take care of our own consumption."
Although a large part of the production activity under the scheme will not start until 2023, according to Jotswani, the initiative is already showing signs of success.
According to the ICRA's estimates, if the scheme goes according to plan, import dependence on China could be reduced by 20-25 per cent by the end of the decade, Jotswani said.
But while China intervened and supported its pharmaceutical industry by investing in infrastructure and providing financing and utility access to its domestic manufacturers, India began going in the opposite direction by providing less support for its industry, according to the RIS.
India, in 1994, reversed a 16-year-old policy by allowing manufacturers to produce the final medicinal products in bulk without having to also produce the critical API components. This opened the door to greater reliance on API imports.
"The strength of China is that they built mega projects and when they built capacities in API they thought at least 50 years ahead," said J Jayaseelan, chairman of the Indian Drug Manufacturers' Association.
As China's API production expanded in scale, and costs fell, India's own drug-pricing-control policies – which did not allow manufacturers to sell certain generic medicines above a certain price – meant that, even as costs rose, Indian manufacturers had no choice but to source cheaper APIs from China, Jayaseelan told the Post.
"As a result of the cost of APIs in China, for which some of the technologies went from India, Indian companies – including government companies – were forced to close," he added.
The problem for Indian manufacturers, according to Jayaseelan, has not been a lack of access to technology, but rather pricing issues.
Financial incentives from the Indian government's new API-bolstering initiative will last roughly six years from when a company starts producing APIs, according to Sumit Goel, who leads the healthcare and pharmaceuticals consulting practice at Praxis Global Alliance. And that, he said, should be enough time for companies to ramp up production capacity.
"It's been a chicken and egg kind of thing [for those companies]," Goel said. "If they don't have scale, their costs cannot come down. And if their costs cannot come down, they can't sell and expand scale."
By reducing cost competitiveness for the next few years, the government's hope is that companies could expand the scale of production and become self-sufficient, Goel explained.
Still, experts do not foresee India being able to completely restrict pharmaceutical imports from China, nor replace China as the top global exporter of APIs.
"[The production-linked incentives scheme] is a move in the right direction, but it will never replace China," said Mayur Sirdesai, founder and partner at Somerset Indus Capital Partners, which operates a private equity fund focused on healthcare in India.
"It's never going to be India or China. It's going to be India and China," Sirdesai said.
Sirdesai also stressed that, even though financial incentives could help make Indian companies self-sufficient in terms of cost and scale, access to new technology also needs to be an area of focus for manufacturers.
"My take on this is that India will compete more on the high-value and low-volume APIs," Sirdesai said. "They may not be able to compete in high-scale APIs, because it's not easy to compete with Chinese scale unless that kind of investment goes into Indian plants.
"This is not a two-year or five-year story, this is a 20-year to 30-year path that you need to take, so there will have to be much longer-term support."
Goel, meanwhile, cautioned that additional steps need to be taken in India to better prepare for what the future, such as in terms of bolstering research and development.
"China wants to get into patented APIs, biologics, and biosimilar drugs," Goel said. "Similarly, there should be more push towards that.
"We should not be left behind, and then repeat the same story 20 years later."