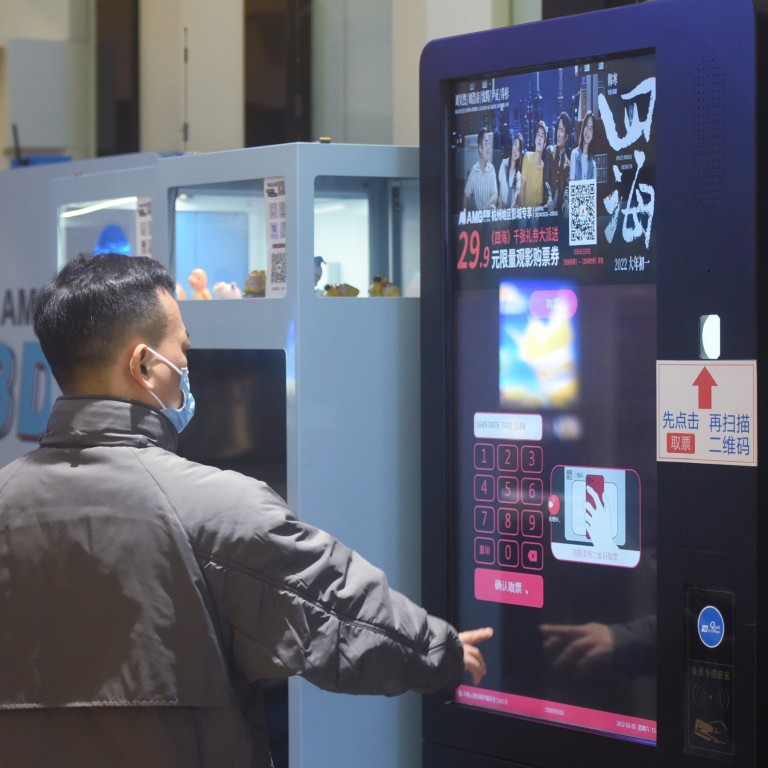 China's film authority entices moviegoers with discount vouchers to spur sluggish industry
China's box office pulled in just 17.2 billion yuan (US$2.55 billion) in the first half of this year – a 37.7 per cent decline from 2021 as zero-Covid policy hit cinemas
Some cinephiles welcome the discount scheme, valued at 100 million yuan, but others lament what they see as a lack of quality films to lure them back
China's oversight body for its film industry is issuing discounts on tickets to help bring theatregoers back to the cinema, in the latest move by authorities to boost consumption as the economy still faces sluggish growth prospects.
The China Film Administration (CFA) has joined forces with several movie-ticketing platforms to issue 100 million yuan (US$14.8 million) worth of discount vouchers in an attempt to subsidise ticketing costs and bolster spending from now through October.
With people increasingly unwilling to spend money, coupled with slow economic growth amid the nation's strict zero-Covid policy, regional governments have issued several rounds of consumption vouchers in the past few months. These have covered a wide range of industries, including film.
Cinemas in the world's second-largest economy have been forced to close from time to time since lockdown measures began being imposed in 2020, leaving the film industry in a prolonged slump.
CFA data shows that China's box office earned 20.42 billion yuan (US$3.03 billion) in 2020, down 68.2 per cent from pre-pandemic 2019. But sales went on to reach 47.26 billion yuan in 2021, representing 70 per cent of the 2019 box office.
Due to recurring outbreaks and a lack of new films, the national box office pulled in just 17.2 billion yuan in the first half of this year – a 37.7 per cent decline, year on year – according to figures from China International Capital Corporation (CICC).
In an August 1 report, the CICC said the nation's film industry was expected to do better in the year's second half, with a boost from summer releases.
There were nearly 34 million theatregoers in China during the first week of August, an increase of 11.85 per cent over the same period last month, according to Beacon, a film-data platform owned by Alibaba Pictures.
Douyin, China's version of TikTok, is one of the movie-ticketing platforms cooperating with the CFA by offering vouchers worth 12 yuan (US$1.78) each for consumers to collect – one per account – until the campaign ends on September 30.
The vouchers will be valid until October 30 and can be used to purchase tickets to any film, a Douyin official said.
A year-three university student in Shanghai, Yuan Xinyu, is among those looking to save a bit. The average ticket price is around 40 yuan.
"My parents always complain that cinema tickets are too expensive, but now with this discount, I feel more confident in persuading them to go to the cinema again," Yuan said.
And Peng Sien, a university student in Chengdu, used her discount voucher to watch a film with her friends this past weekend.
"It's nice to have a ticket offer when you happen to want to see a movie," she said.
Some would-be cinema-goers, however, say the quality of films is more of a factor in their delayed return than the price of admission.
A Hebei-based bank employee, Li Zishuo, said he is more likely to buy a ticket for a high-quality film than simply to save a few yuan.
"Instead of stimulating consumers simply through subsidies, authorities should encourage the film industry to produce more quality films by liberalising censorship," Li said.
China's retail sales, a major gauge for public consumption,
rose by 2.7 per cent in July
from the previous year, underperforming market expectations and falling short of the 3.1 per cent growth seen in June.