Taiwan
Get more with myNEWS
A personalised news feed of stories that matter to you
Learn more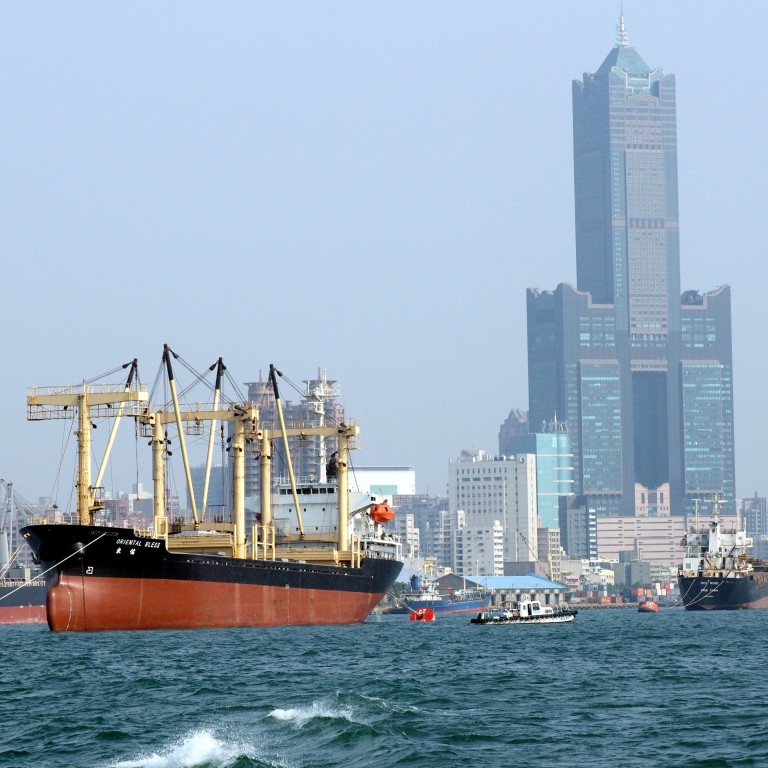 US-Taiwan trade talks get boost after 28 years, as frayed China ties trump US$40 billion trade deficit
White House may announce 'ambitious' Taiwan trade road map any day now
US-Taiwan trade talks started in 1994 but have failed to generate much traction
US officials are pushing ahead on trade talks with Taiwan – once regarded as a tough partner because of an import-export deficit – to show political support and secure semiconductors for the American market, according to analysts.
Presidential deputy assistant Kurt Campbell said at a White House briefing on Friday that the US government will continue to "deepen our ties with Taiwan, including through continuing to advance our economic and trade relationship", and that Washington was developing an "ambitious road map" for trade negotiations.
The White House was expected to announce its Taiwan trade road map "in the coming days", Campbell added. The American Institute in Taiwan – the US' de facto embassy in Taipei – had no further information as of Tuesday.
Taiwan-US trade talks began in 1994 but have failed to generate the sort of tariff-busting deal that hatches from many other trade negotiations.
The US still has a trade deficit with Taiwan, a major exporter of manufactured goods such as machinery and consumer electronics. The trade-in-goods deficit stood at about US$40.27 billion last year – a year-on-year increase of more than 30 per cent.
"The major agenda of the US is it wants to maintain a status quo, meaning military support for Taiwan as well as trade," said Liang Kuo-yuan, the retired founder of the Yuanta-Polaris Research Institute, a Taipei-based think tank.
"The sensitivity of economics is lower, but they want to use that to show they support Taiwan. The trade talks are always ongoing, and after Pelosi's visit, mainland-Taiwan relations have become super tense."
Beijing sees self-ruled Taiwan as a renegade province that must be reunited with the mainland, and objects when US officials back the island. Countries that have diplomatic ties with Beijing, including the US, acknowledge the existence of the one-China principle that holds Taiwan be part of China, but may not explicitly agree with it. Washington does not take a position on the status of Taiwan but opposes any attempt to take the island by force.
Meanwhile, many US lawmakers, who must ratify foreign trade deals after they are signed, have taken an anti-China view over the past few years to reflect voter sentiment, the Brookings think tank said in a 2021 commentary.
Beijing would oppose any Taiwan-US trade pact because it wants to "limit Taiwan in any way it can", Taipei-based independent analyst Sean Su said.
When their talks began in 1994, Taiwan and the US agreed to speak regularly in pursuit of a trade deal, and they had met 10 times as of 2016 but skipped the following five years.
Taiwan embraced the idea of a trade deal early on to lower tariffs on goods bound for its No 2 export market. US officials instead chafed over the possible impacts on US manufacturing if Taiwanese goods were pushed into the American market during a trade deficit, and they fretted over Taiwan's protection of agriculture.
The 2012 US-South Korea free-trade deal took six years to finalise because of similar issues.
Hopes to secure semiconductors and other tech hardware further motivated the US to re-enter trade talks, experts say. In June, the two sides "discussed the importance of secure and resilient supply chains", according to the Office of the US Trade Representative.
US firms are coming up short of chips, memory hardware and printed circuit boards, said Brady Wang, a Taipei-based analyst with Counterpoint Research. Su also noted that Made-in-Taiwan chips power US military equipment and infrastructure, as well as consumer electronics.
Taiwan Semiconductor Manufacturing makes 56 per cent of the world's chip supply, Taipei-based market research firm TrendForce estimates. The company has a "diversified" semiconductor line that the United States needs, Wang said.
In Washington, he said, "they're trying to make every component more secure and hoping to build a stronger supply chain".
"The United States has realised it has no easy way to shore up its manufacturing of chips any time soon," Su said.