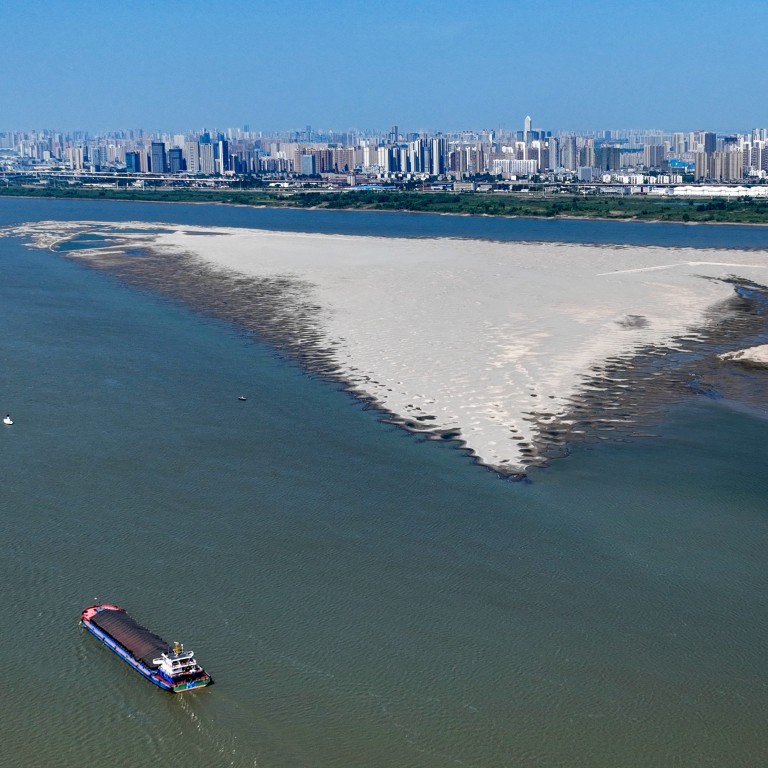 As China's energy crisis closes factories, how much is it affecting the economy?
Soaring summer temperatures have dried up crucial rivers and reservoirs, hurting hydroelectric power generation that industrial regions such as Sichuan rely heavily on
But analysts say one crucial factor will determine the extent of the economic impact
A short-term shutdown of major industries and widespread electricity rationing in China's southwestern manufacturing hub of Sichuan – with local authorities prioritising the residential power supply – may have only a "limited" economic impact as long as the curbs can be lifted within a few weeks, according to analysts.
Temperatures as high as 40-42 degrees Celsius (104-108 degrees Fahrenheit) have sent power demand soaring and dried up crucial rivers and reservoirs, with industrial production suspended for six full days, since Monday, in all but two of its 21 cities.
Sichuan, with a population of around 84 million, is China's sixth-largest economy in terms of gross domestic product, with industry accounting for more than 28 per cent. It plays a leading role in the production of silicon metal, electrolytic aluminium, chemicals, electronics and power-generation equipment.
"The power curbs will, for sure, have some negative impacts on economic growth. But I think if the power situation improves in a few weeks' time, the industrial producers might be able to catch up with the lost production later on," said Qin Yan, a carbon analyst with financial services company Refinitiv.
"At the moment, the situation is quite extreme with heatwaves and drought, therefore regulators have curbed industrial power consumption to ensure residential power supply.
"I think the adverse impact on gross domestic product is limited if the power curbs will last less than several weeks."
Sichuan relies on dams to generate around 80 per cent of its electricity, but water flows into hydropower reservoirs have dropped by 50 per cent this month.
"Under the continuous high temperature, Sichuan's power load is growing, but due to the low water coming from the Yangtze River during the dry season, Sichuan's main source of electricity consumption – hydroelectric power generation – is limited," said Yuan Jiahai, a professor with the School of Economics and Management at North China Electric Power University.
Several provinces suffering from electricity shortages have already been gradually guiding enterprises to reduce electricity consumption since the start of August through initiatives and economic incentives, according to Yuan, who is also a member of the Chinese Society of Electrical Engineering.
High-energy-consuming industries had been expecting electricity restrictions, but were unprepared for full shutdowns, Yuan added.
Beijing has recently stressed that there will be no repeat of the power crisis that rocked the country last year, with President Xi Jinping vowing that China "will never allow a major incident like large-scale power cuts to happen again", according to details of a speech published in the official Qiushi magazine in May.
Days later, Premier Li Keqiang pledged "resolute efforts" to stamp out electricity cuts during a trip to southwestern Yunnan province.
"On the whole, the uncertainty of the duel effects of the epidemic situation and the high temperatures on industrial production in August is still high," Lu Zhe, chief macroeconomist at Topsperity Securities, said last week.
Most of the leading companies in Sichuan affected by the shutdown have announced that the impact is not expected to be significant, adding that production will restart as soon as the restriction ends.
Sichuan is home to the state-owned Dongfang Electric, which manufactures power-generation equipment. It has shut down its operations and those of its subsidiaries until at least Saturday, according to an employee who declined to give his full name, as he was not authorised to speak to the media.
Henan Zhongfu Industry, which manufacturers and distributes electrolytic aluminium and aluminium products, confirmed on Sunday that its two subsidiaries in Sichuan would halt part of their production for a week.
But the power restrictions may further expand to other areas amid a scorching heatwave in southern China, Yuan cautioned, even though other regions rely more on coal for energy production. Coal prices have remained stable compared with last year, meaning the basic supply is relatively adequate.
Sichuan produces a large portion of
China's lithium
used in batteries for electric vehicles, while its hydropower projects provide electricity to other industrial hubs along the country's east coast, including major manufacturing hubs such as Jiangsu and Zhejiang, as well as Shanghai, Chongqing and Hunan.
The neighbouring municipality of Chongqing has already ordered a production shutdown in its Bishan District until August 24, while some companies in Jiangsu began to make production changes this week.
Zhejiang and Anhui provinces also introduced power restrictions, affecting industries including steel, non-ferrous metals, polyester and textiles.
Power cuts are common in China, with July and August traditionally a peak season for electricity demand to the summer temperatures.
But Lin Boqiang, dean of the China Institute for Studies in Energy Policy at Xiamen University told the Jimu News, a newspaper owned by the provincial government, that the production shutdown was a short-term phenomenon that would subside.
Sichuan, though, has found itself in a unique situation, according to Yuan.
"Sichuan has taken over many energy-intensive industries transferred from eastern China, while the widespread Covid-19 outbreak in China this spring did not affect Sichuan, resulting in higher electricity consumption in Sichuan earlier than the summer peak," he added.
The National Energy Administration (NEA) warned in late July that the country's electricity load will continue to increase after repeatedly breaking the daily record high last month, with the load expected to climb this month.
China's national power consumption rose by 6.3 per cent in July compared with a year earlier, while residential power consumption grew 26.8 per cent, which was the highest rate since the data became available in July 2009, according to figures from the NEA and Chinese data provider Wind.
"Sporadic outbreaks have emerged in multiple places since July, and high temperatures in the southern region have also led to certain adverse impacts on the operation of the economy," National Bureau of Statistics spokesman Fu Linghui said on Monday, without specifically mentioning the power cuts.