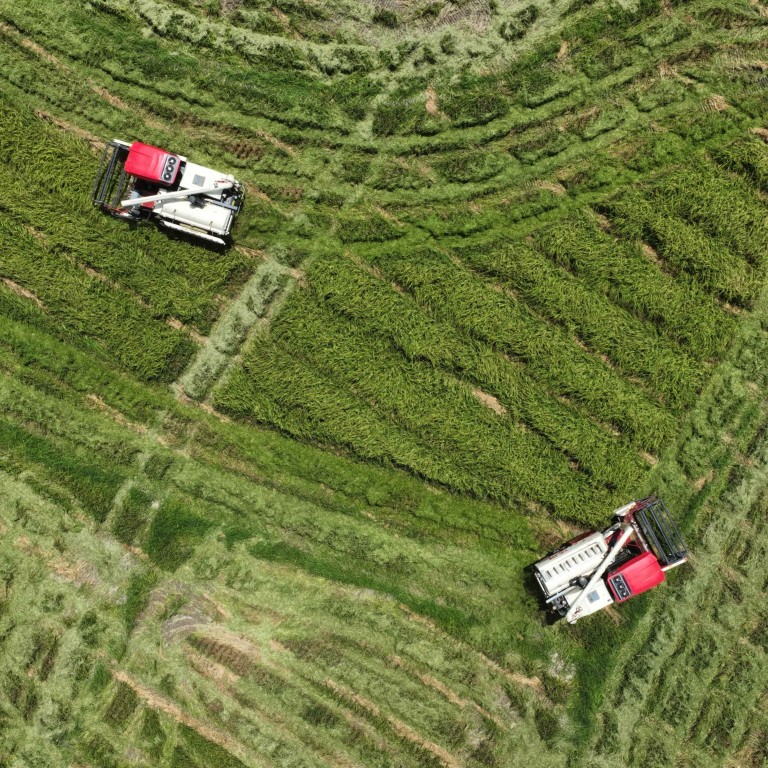 China's heatwaves stoke drought fears ahead of 'critical' autumn grain harvest
The country's meteorological service has warned of more extreme weather including droughts and flooding
Chinese authorities have pledged a host of disaster-relief measures to ensure a strong autumn grain harvest
Chinese authorities are making disaster-relief preparations to ensure a strong autumn grain harvest amid warnings of more droughts and flooding across the country.
Parts of southern China have been gripped by heatwaves and drought in recent months, with water levels in the country's largest river and its two biggest freshwater lakes at
record lows
.
The China Meteorological Administration has said the drought conditions are set to continue and also warned about the danger of flooding, which typically occurs during summer.
With the all-important autumn grain harvest on the horizon, Chinese authorities are on high alert for the likelihood of more extreme weather events.
"August and September are critical periods for the formation of autumn grain production, so close attention should be paid to the impact of natural disasters and pests on grain production," said Fu Linghui, spokesman for the National Bureau of Statistics.
Vice-Premier Hu Chunhua said on Tuesday China would go all-out with disaster-relief measures to meet the annual grain production target of more than 650 billion kilograms.
The autumn harvest accounts for three-quarters of China's annual total, Hu told a meeting on third quarter agricultural priorities.
Drought conditions are expected to continue developing in the south over the next week, while the northern regions are at risk of heavy rainfall and flooding, said Li Guoying, the minister of water resources on Monday.
Since July, six provinces and cities in southern China, including Anhui, Jiangxi, Hubei, Hunan, Chongqing and Sichuan, have been affected by drought, with 830,000 people having difficulty accessing drinking water and nearly 645,000 hectares (1.5 million acres) of crops damaged, according to the water ministry.
The ministry pledged to strengthen supply for agriculture and drinking water using temporary diversion measures, extending transmission networks and deploying timed water supply according to local conditions.
China has earmarked 300 million yuan (US$44.3 million) of relief funds to support agriculture in 13 regions affected by heavy rainfall and drought.
The emergency funds will be used to subsidise seeds, fertilisers, pesticides and other materials in hard-hit areas, and to repair post-disaster farm facilities.
The Minister of Agriculture and Rural Affairs Tang Renjian said on Friday that officials and technicians would be sent to various regions to guide crop management and prepare for natural disasters.
"With about 50 days to go before the autumn harvest, efforts should be made to prevent natural disasters," Tang said at a meeting with officials from the ministry.
China's meteorological service said on Monday it would strengthen early-warning systems and conduct risk assessments ahead of the harvest for crops, hot weather and soil.
At the World Economic Forum last month, Premier Li Keqiang said in a video address the government is focused on ensuring a healthy grain harvest this year to stabilise consumer prices.
"With a bumper harvest, grain prices will be stable in China. Food price is a key element in China's [consumer price index], as we are still a developing country," he told
global business leaders
.
"We will mainly rely on ourselves in meeting the grain demand of the 1.4 billion Chinese people."