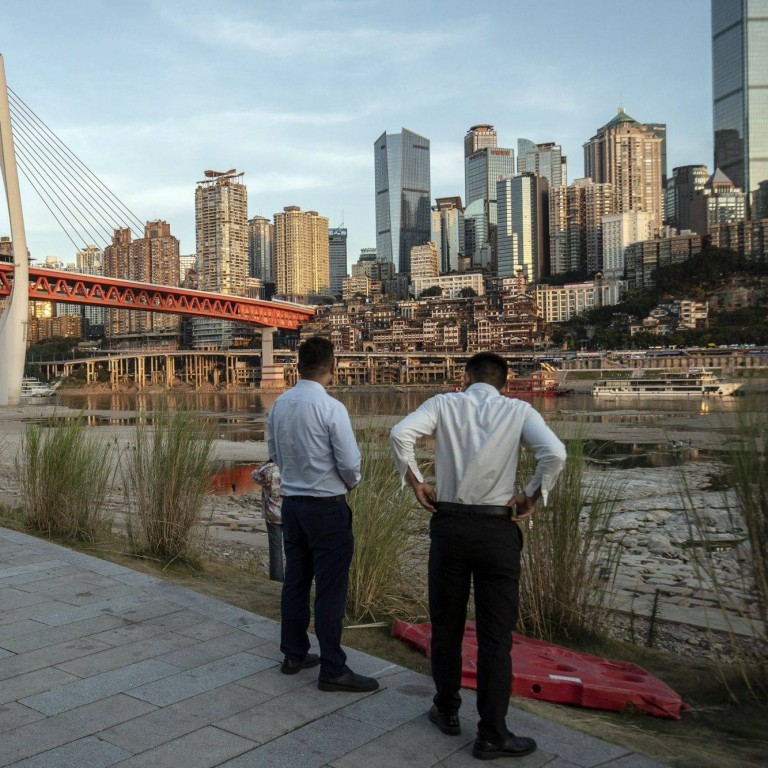 Climate change creates 'serious, long-term problem' for China's energy security, carbon neutral goal
Sichuan province relies on dams to generate around 80 per cent of its electricity via hydropower, but high summer temperatures have dried up rivers and reservoirs
China has cut fossil fuel power projects due to overcapacity and carbon emissions targets, but investment in coal-based thermal power projects has continued
The ongoing power crisis in China's Sichuan province has prompted companies to rethink their energy-sourcing strategy and consider returning to the stable supply of fossil fuel as unresolved issues including climate change are set to affect the nation's long-term development of sustainable energy, analysts said.
The southwestern region relies on dams to generate around 80 per cent of its electricity, and analysts believe that the
current high summer temperatures
have shown the severe impact climate change can impose on hydropower, which is also important to other parts of China, including Yunnan province.
"Climate change is turning the hydropower depletion occurring in Sichuan province into a long-term problem that will expand to affect the supply of other sustainable energy sources, such as wind and photovoltaics," said Yuan Jiahai, a professor at the School of Economics and Management at North China Electric Power University.
Sichuan uses its hydropower projects to provide electricity to other industrial centres along the country's east coast, including major manufacturing hubs such as Jiangsu and Zhejiang, as well as Shanghai, Chongqing and Hunan.
But
the continuous high temperatures
have restricted water from the Yangtze River, with water flows into hydropower reservoirs having dropped by as much as 50 per cent this month.
"This is a serious, long-term problem. Most of China's hydropower is located in the southwest of the country, including Sichuan, and the energy produced there is transmitted to major population and industrial centres around the country," said Norman Waite, an energy finance analyst at the Ohio-headquartered Institute for Energy Economics and Financial Analysis.
"If dams are decreasing their energy output as water levels decrease, China will have to offset power generation shortfalls through coal power unfortunately [and it's] just making global warming worse. At the moment it doesn't have a choice."
Alfredo Montufar-Helu, director of insights for Asia at The Conference Board research association, said the Chinese government's drive to attain decarbonisation is facing increasing challenges due to climate change.
"Companies are certainly looking at this closely, and I believe it will lead to a rethinking of their energy sourcing strategies.
"Despite pressures to transition to renewables, what ultimately matters to a company is identifying a stable source of energy to avoid a disruption of operations, which is why fossil fuels are still not out of the picture."
Alicia Garcia-Herrero, chief economist for Asia-Pacific at Natixis, said that Sichuan is "clearly important" because it generated 4 per cent of China's total value-added output of manufacturing production after Shanghai.
"Sichuan is generally an exporter of power to other provinces, but the distribution is decided by the central government. Does it remain the same and only Sichuan suffers rationing? Is it distributed equally? If so, should other neighbouring provinces soon suffer rationing too?," she said.
The municipality of Chongqing, which neighbours Sichuan, has also been battered by drought and high temperatures and faces water supply problems that have affected farms and livestock, Chinese media reported.
Some 66 rivers in the city have been cut off and 25 reservoirs have dried up, with the city's water conservancy projects storing only 63.3 per cent of their standard level, the Chongqing City Water Resources Bureau said, according to Chinese media.
As of Thursday, the city has endured 11 consecutive days of high temperatures above 40 degrees Celsius (104 degrees Fahrenheit), the report said, and it is expected to continue until Tuesday.
But Lin Boqiang, dean of the China Institute for Studies in Energy Policy at Xiamen University, said that high-energy-consuming companies in the country's west are still not faced with an "unendurable situation".
Lin disagreed with the assumption that climate change will have a structural impact on China's existing established hydropower infrastructure, but he conceded that the "extreme situation" in Sichuan could become "more frequent".
According to Lin, China's hydropower covers 18 per cent of the entire consumption nationwide.
"Provinces in the east have built more power sources on their own, and at the same time, these coastal provinces have nuclear power," added Yuan, who is also a member of the Chinese Society of Electrical Engineering.
The country's major hydropower investment reached 22.2 billion yuan (US$3.27 billion) from January to April, down by 27.2 per cent year on year, according to the China Electricity Council.
"There will only be a relatively large impact on Sichuan and Yunnan locally, as well as areas that are highly dependent on electricity from these two regions, such as Guangdong," Lin added
Chinese media Caixin reported on Wednesday that Guangdong will add 6.7 million kilowatts of coal power projects, with the aim for them to start providing electricity before 2024.
China has drastically cut coal power projects due to overcapacity and carbon emissions targets, but while seeking energy security, coal-based thermal power projects have grown in the wake of the massive nationwide energy crisis in 2021.
Thermal power investment in the second quarter of 2022 increased by 88.4 per cent year on year to 22.5 billion yuan (US$3.32 billion), data from Chinese financial company Essence Securities showed.
"Unlike last year, China has decided to increase coal production to ensure power supply if we make a global and regional comparison," Shuang said.