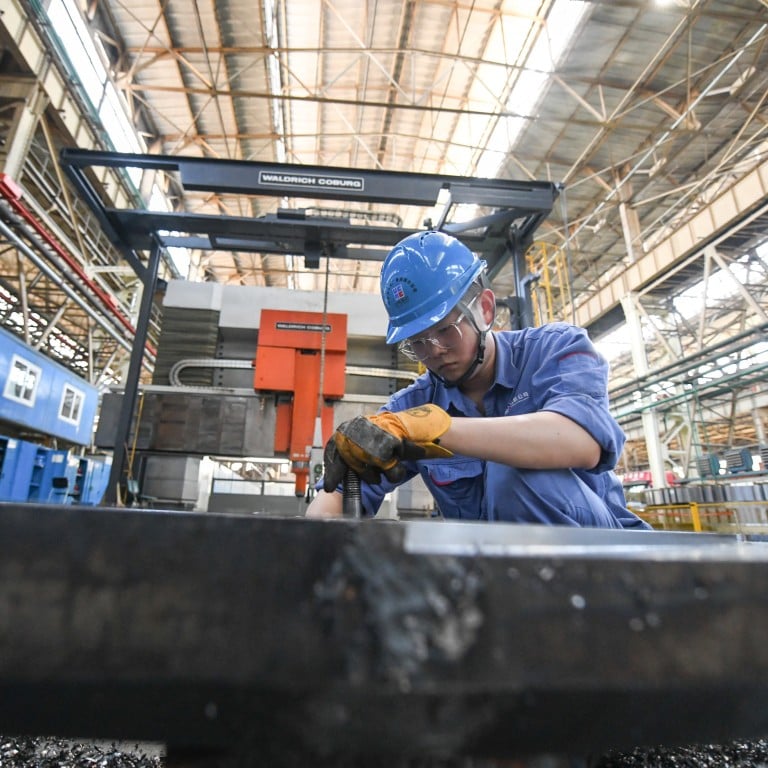 China's new industry minister looks to boost consumption and stabilise supply chains as economy slows
Jin Zhuanglong tells a ministerial conference that greater international cooperation and technological advances to boost consumer demand should be priorities
Economic growth is faltering as the country's zero-Covid policies, a slumping property sector and disruption caused by the current heatwave all take their toll
China is trying to stabilise its supply chains to maintain its industrial output and boost consumption as the
economy slows dramatically
in the face of its draconian zero-Covid policy.
Jin Zhuanglong, the new Minister for Industry and Information Technology, told a ministerial conference on Friday that boosting consumption and pushing for technological advances in key sectors should be a priority, China News Service reported.
This is the second meeting of the ministry this week to discuss methods to boost economic growth as figures for July and August show the country's industrial production is stagnating.
China's industrial sector is a key driver of the economy and has been a major source of investment for multinational manufacturers of products such as cars, appliances and hi-tech hardware since the 1980s.
China reported 3.5 per cent growth in industrial output between January to July compared with the same period last year. The manufacturing value added in the first six months this year took up 28.8 per cent of national output, a 1.4 per cent increase compared with last year.
On Friday Jin called for policies to enhance consumer confidence and efforts to advance consumer technology to boost spending.
"A new batch of new energy vehicles, household appliances, product trade-ins and environmentally friendly construction materials should be promoted in rural areas," Jin said.
Jin said there should be more international cooperation to stabilise supply chains and to push for core technology breakthroughs, but did not name any specific countries.
Industrial production grew by 3.8 per cent year-on-year in July, below the forecast of 4.3 per cent. Other data indicates industrial activity is "likely to remain weak" in August due to deteriorating consumer sentiment and new virus outbreaks.
Last week, Premier Li Keqiang offered support to entrepreneurs, new energy vehicles and technology
during a trip to Shenzhen
, which said was one of China's most "important and strategic regions" to shore up the economy.
The premier set an annual growth target of around 5.5 per cent in March but has since admitted
China is unlikely to meet this target
after the national economy grew by only 0.4 per cent in the second quarter compared with a year earlier as Covid lockdowns took their toll on the economy.
Growth forecasts for China this year have been slashed by global investment banks to 2.8 and 3.3 per cent as the economy struggles to overcome a host of problems including a property market slump and mortgage strikes.
Other policies announced by the industry ministry on Friday included efforts to support the specialised development of small and medium enterprises, expand new technological sectors – including AI, robotics, and high-end medical and electronic products – and improve 5G infrastructure.
But
another challenge comes from the ongoing heatwave
, the worst in six decades, which has seen temperatures pass 40 degrees Celsius (104 Fahrenheit) in some of the most heavily populated parts of the country – putting an enormous strain on power supplies.
In Sichuan, one of the harder-hit provinces, industry has been shut down to ensure households have enough power to stay cool.
Separately on Friday, vice-premier Hu Chunhua told a teleconference that greater efforts should be made to create new jobs while ensuring existing jobs, according to state news agency Xinhua.