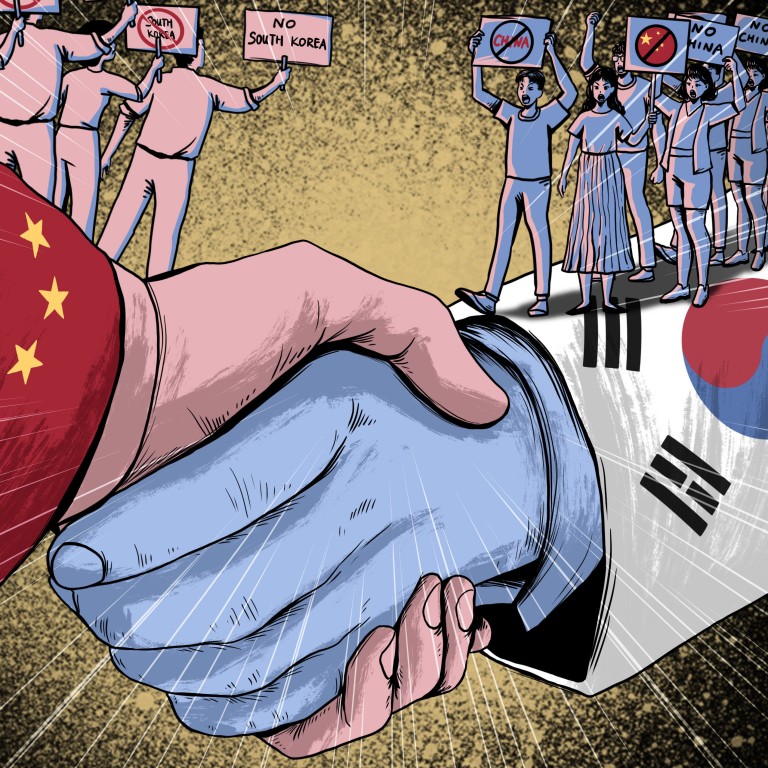 As South Korean youth sour on China, can 'economic common sense' bring bilateral balance?
Negative public opinion is fuelling discourse and xenophobia between the people of China and South Korea, sharply contrasting friendly ties of decades past
Recent public survey finds that younger South Korean adults are more inclined to dislike China than older generations – an anomaly among 19 countries polled by Pew
When South Korea established diplomatic relations with China in 1992, ties between the countries were clearly in their nascent stage. China accounted for only 3.5 per cent of South Korea's total exports, and people exchanges between the two countries were minimal.
Fast-forward 30 years, and their relations appear to be as robust as ever, at least from an economic standpoint.
China is now the biggest trading partner of South Korea, accounting for nearly a quarter of its exports in the first half of this year.
However, a dark cloud appears to have gradually formed over their thriving economic partnership, as the two countries' public opinions towards one another have perhaps never been worse in the past three decades.
The trend is particularly prevalent in South Korea, according to a Pew research study from June that suggests eight out of 10 Koreans have negative feelings about China. Also of note is that the tendency to dislike China is stronger among South Koreans in their twenties and thirties than among their older counterparts – making South Korea the only country to exhibit such a pattern among 19 countries where Pew conducted research.
Under the guise of anonymity, and buoyed by almost non-existent controls on speech and a shallow awareness of racism, racial slurs towards Chinese people are casually thrown around in the Korean online realm. To be sure, this sort of virtual vitriol and hate speech has become ubiquitous on the internet, in all countries. And China is not the only target of Korean ire.
Antagonism and divisiveness were also on display offline in 2019, during the Hong Kong protests, when students from mainland China got into physical conflicts with Korean students on university campuses after the former tore down and defiled flyers expressing support for the
pro-democracy movement
in the city.
This was not how the two countries kicked off their relationship 30 years ago. Ha Nam-suk, a professor of Chinese culture at the University of Seoul, clearly recalls how positive and hopeful Koreans were about China in 1992.
"I was in high school when South Korea established diplomatic relations with China. Back then, there was a boom among everyone to start learning Chinese," Ha recalled. "Once I was in university, there were a lot of classmates who had ambitious goals of making it big in China."
Today, something as innocuous as learning Chinese may not be perceived as positively as it used to be, Ha said.
"I recently heard a story from teachers who teach Chinese in middle and high schools – that in elementary schools, kids will make fun of their friends who learn Chinese. I'm not saying this happens everywhere, but it definitely is a telling contrast," Ha added.
This shift in thinking over the past 30 years begs the question of why – despite strengthening ties – a deep chasm has formed between citizens of the two countries. And more importantly, can it be mended?
Experts from both countries say that the future is not necessarily bleak, despite their unmistakable differences when it comes to political systems and values.
Some say that the foundation for healing will lie in the sheer size of economic interactions between the Asian neighbours, and that it must be built on the prerequisite that major geopolitical rifts are avoided between the two governments.
Other supportive elements could include more face-to-face interactions between the two countries' citizens, more regulations on online hate speech, and more education on racism.
Still, economic interdependence and geopolitical security continue to play an outsized role in how South Koreans view China, as evidenced by the 2016 deployment of the US-made anti-missile weapon system known as THAAD, and Beijing's subsequent economic retaliation. For many South Koreans, that reprisal by China served to form the building blocks of anti-Chinese feelings.
"South Koreans' sentiment towards China in the first 10 years after 1992 was really good. There were a lot of investments being made, and China really seemed like the land of opportunity, especially to the younger generation," said Choi Pil-soo, a professor of Chinese trade and commerce at Sejong University.
"In fact, in the early 2000s, anti-American sentiment was much stronger, due to incidents such as the Yangju highway incident. And in return, China was seen in a much more favourable light," Choi said, referring to the public outrage that followed an incident involving a US military vehicle that struck and killed two 14-year-old South Korean schoolgirls in 2002.
The University of Seoul's Ha also noted that, "before THAAD, how South Koreans viewed China really couldn't have been any better".
The THAAD deployment resulted in Beijing banning Korean content, including popular entertainment offerings, and also imposing limits on tour groups to South Korea.
Chinese
tourist numbers plummeted
. And according to Bank of Korea research, the economic impact of the tourism ban cost Korea 2.1 trillion Korean won (US$1.6 billion) as of 2020.
"The decision to deploy the THAAD missile defence system and what followed was an incident where elements of security, economy and nationalism all collided, and therefore left the strongest dent in terms of how Koreans feel about China," said Kim Hee-gyo, a professor of northeast Asia cultural industries at Kwangwoon University.
The plunging sentiment was also reflected in how Korean media reported on China. A 2021 study by Lee Hee-jeong, a professor specialising in machine learning at Pyeongtaek University, used AI to measure the "emotional index" of Korean media articles about China, and it found that the index – a numerical representation of how emotionally favourable the articles were towards China – dipped over the two years following the THAAD deployment.
From then on, the trend of a steady deterioration in public sentiment settled in, according to Pew's findings in June. 2016's THAAD deployment preceded a sharp rise in Koreans saying they viewed China in a negative light – increasing from 37 per cent in 2015 to 61 per cent in 2017, and eventually to 75 per cent in 2020 and 80 per cent this year.
Other contributing factors, according to experts, include more recent issues such as "fine dust" particles from China polluting Korean air; incidents in Hong Kong and Xinjiang that go against Korean values; and the coronavirus pandemic.
And young Koreans, in particular, appear to be harbouring the most negative feelings.
"Korean youth nowadays are living in the most challenging times, economically, immensely worsened by Covid-19. It is very common for people to find fault in the government during economic hardships. And since the last administration was widely seen as chummy with China, I believe it was conducive to the youth seeing China in a negative light," said Kim Hee-gyo from Kwangwoon University.
"At the same time, South Koreans in their twenties live in the most democratised era in Korean history. They deeply cherish values such as freedom, human rights and fairness. They tend to be very sensitive about human rights issues, and therefore, for them, issues relating to Hong Kong and Xinjiang are all seen as human rights issues, although China says they are related to self-sovereignty."
That assessment was shared by Ha at the University of Seoul.
"For South Koreans, what has happened
in Hong Kong
, especially, doesn't feel like something that's happening in another country," he said, pointing to South Korea's own history of democratisation movements in the 1980s.
At the same time, however, Ha emphasised that there are two distinct strands when it comes to anti-Chinese sentiment among the younger generation.
"While issues relating to human rights might weigh heavy for left-leaning liberal youth, for those on the other side of the spectrum, China has become the target of xenophobia," he added.
The fact that Chinese soft power no longer appeals to Korean youth also factors into their personal feelings, Ha said.
"One of the reasons China was very favourably viewed back in the day, and is still seen in a rather positive light by Koreans in their forties and fifties, is because people were very familiar with Chinese culture back then," Ha said, citing movies as an example. "Korean youth are no longer interested in Chinese culture, and they prefer our own."
Ignorance and hateful online discourse also weigh heavy on public opinion.
"Hating something is so easy, whereas being hopeful, introspective and logical is difficult. I think China has become an easy target for people because people think they roughly understand the country, even when they actually don't," said Choi at Sejong University.
Experts stressed, however, that while recent polls might suggest a grim outlook, there is room for improvement.
"My observation is that the anti-Chinese sentiment in Korea is not firmly solidified based on political system and values, but rather it's fluid and more grounded in economic and security matters," added Kim Hee-gyo from Kwangwoon University, who also wrote a book about the origin of anti-Chinese sentiment in Korea that was recommended by the former Korean president Moon Jae-in.
Wang Huiyao, the founder and president of the Centre for China and Globalisation, a non-government think tank based in Beijing, said that if South Korea challenges China, especially militarily, it will "further complicate matters".
"Korea may militarily or ideologically lean towards the West, but economically its tightest integration is with China," Wang said. "Its livelihood, prosperity and well-being depend largely on trading with China. So, I don't see how it can really sustain its economy while … sustaining such long-term anti-Chinese sentiment.
"Nationalism should be downplayed and social media restrained. Koreans should also be clearly aware that China is not a threat to South Korea. In fact, China can be of great help to South Korea, especially when it comes to matters related to North Korea."
All of the experts also emphasised that better face-to-face interactions would help allay heightened tensions between the countries' peoples, break down barriers to peaceful and meaningful exchanges, and curb racist sentiment.
"What is most needed is that people don't blindly hate one another," said Kim Hee-gyo from Kwangwoon University. "There's such an obtuse awareness of racism in South Korea, and most parties are just sitting idly, not doing anything about it."
Still, looking forward, Wang expressed optimism on the prospects for economic interconnectivity between South Korea and China.
"The fundamentals are still there," Wang said. "China is still Korea's largest trading partner. Korea's trade with China is larger than Korea's trade with the US and Japan combined. That is enormous … In the end, I believe economic common sense will prevail."