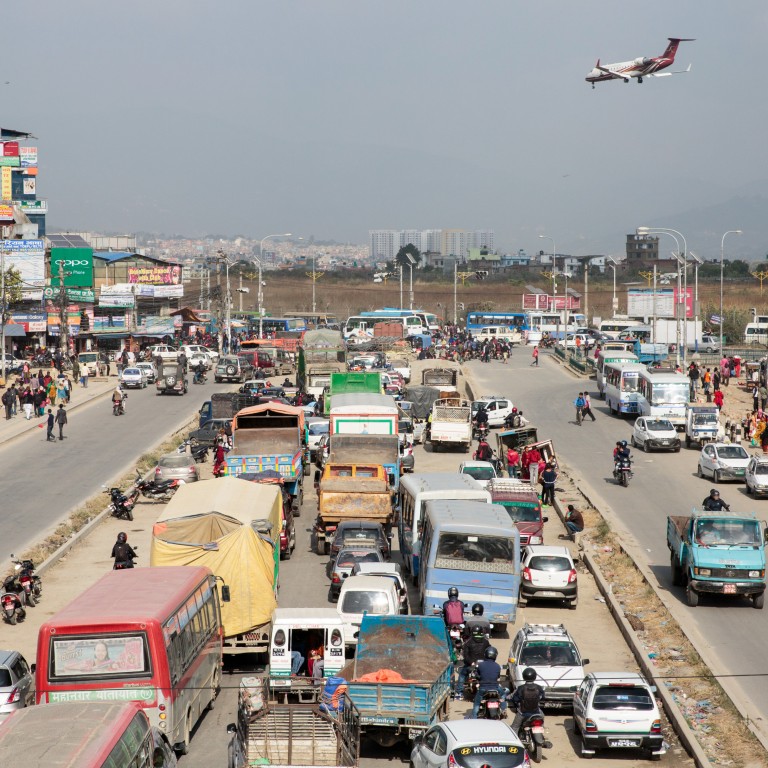 China's zero-Covid policy turns Nepal border towns into 'dead' zones as trade routes dry up
Nepal's 1,389km-long border with China is closed to the country's exporters, though a trickle of Chinese goods continues to flow the other way
China's border restrictions have disrupted bilateral trade, created uncertainty among Nepali importers and affected indigenous communities
China's
zero-Covid policy
is proving a major obstacle to the resumption of two-way trade with Nepal, with border closures causing a sharp decline in Nepalese exports to the world's No 2 economy and losses for merchants.
China has kept its borders tightly sealed even as much of the world has reopened over the past year, leaving a backlog of trucks and
mounds of rotting fruit
stuck at some checkpoints it shares with neighbouring countries, such as Vietnam and Myanmar.
Nepal's 1,389km-long border with China, including the two main crossings at Rasuwagadhi-Gyirong and Tatopani-Zhangmu, has been closed to the country's exporters for the past two years, though a trickle of Chinese goods has been allowed to flow the other way.
Most of Nepal's exports are snapped up by India, so the Chinese market is not considered critical. But the border restrictions have severely disrupted bilateral trade, stoked business uncertainty and affected indigenous communities and farmers who rely on cross-border commerce for their livelihoods, experts say.
"Before Covid there were 80-90 containers coming in [to Nepal], but now in Rasuwagadhi, only three to seven come in a day and not more than 14," said Vijay Kant Karna, Nepal's former ambassador to Denmark and executive chairman of Centre for Social Inclusion and Federalism (CESIF).
At the Tatopani checkpoint, five to 10 containers are allowed into Nepal each day, said Karna, who visited the village two weeks ago and spoke to customs officers.
"It depends on Chinese officials," he said.
Nepali exporters are faring even worse under the border restrictions.
In 2018, the value of Nepal's shipments to China was 2.4 billion Nepalese rupees (US$18.8 million), but by the end of last year that had declined to 994 million Nepalese rupees, according to the Nepal Trade Information Portal.
China's share of
Nepal
's exports has tumbled from 2.84 per cent in the 2017-18 financial year to 0.5 per cent in 2021-22.
Around 50 per cent of Nepal's exports to China crossed the border at Rasuwagadhi in 2017-18, said Posh Raj Pandey, economist and chairman at the South Asia Watch on Trade Economics and Environment. That figure was now zero, he added.
China's exports into Nepal, meanwhile, have increased from 190 billion Nepalese rupees in 2018 to roughly 282 billion Nepalese rupees in 2021, exacerbating Nepal's sizeable trade deficit with its neighbour, government figures showed.
Kathmandu said earlier this month that Beijing had agreed to open the critical Rasuwagadhi and Tatopani checkpoints for two-way trade, after respective foreign affairs ministers Narayan Khadka and Wang Yi met in Qingdao, China. But the assurance was absent in the statement released afterwards by Beijing.
China's foreign ministry did not immediately reply to a faxed request for comment.
Since then, the two checkpoints were closed by China due to a Covid-19 outbreak in its Tibet autonomous region, which borders Nepal.
Around 200 containers destined for Nepal are stranded on the other side of the Chinese border in the Tibetan capital Lhasa and a county called Nyalam, according to Pandey and Karna.
Pandey, who spoke with Nepali businessmen waiting for the goods, said the value of the shipment is estimated to be 2.5 billion Nepalese rupees.
The checkpoint closures come in the run-up to two of Nepal's biggest Hindu religious festivals – Dashain and Tihar – that are celebrated from September to November.
Around this time, merchants usually import food, clothes and other festive goods from China due to the cheap prices, said Sunil Kumar Dhanuka, president of the Nepal Foreign Trade Association.
"All of these containers are now loaded up on the other side of the border. This has created a huge problem for us," said Dhanuka.
Traders now feel increasingly unsure about doing business with China, said Pandey.
"China is still persisting with its zero-Covid strategy so no one can say when the customs points will open up," he said.
"Our traders, particularly importers, feel uncertainty now about importing from China. They are not sure any more if they will be able to send the goods to the market."
China's share of Nepal's total imports has declined from 15.2 per cent in 2018-19 to 13.8 per cent in 2021-22, Pandey said.
Nepali traders have diverted Chinese consignments through Indian ports in the coastal city of Kolkata, adding time, expense and in some cases leading to the loss of perishable goods, Karna said.
In Tatopani, which only opened for cross border trade in May 2019, four years after being struck by an earthquake, members of the indigenous community who have traditionally exported herbs and medicinal plants to Tibet are no longer able to do so.
"Thousands of people have lost jobs," said Karna. "Transporters, labourers, local inhabitants, local restaurants, hotels – everything is affected."
Men have again started migrating to other cities such as the capital Kathmandu in search of work after trading declined at the borders.
"Before it was a lively city," said Karna. "Recently when I visited, I thought it was a dead city. Nothing is there."