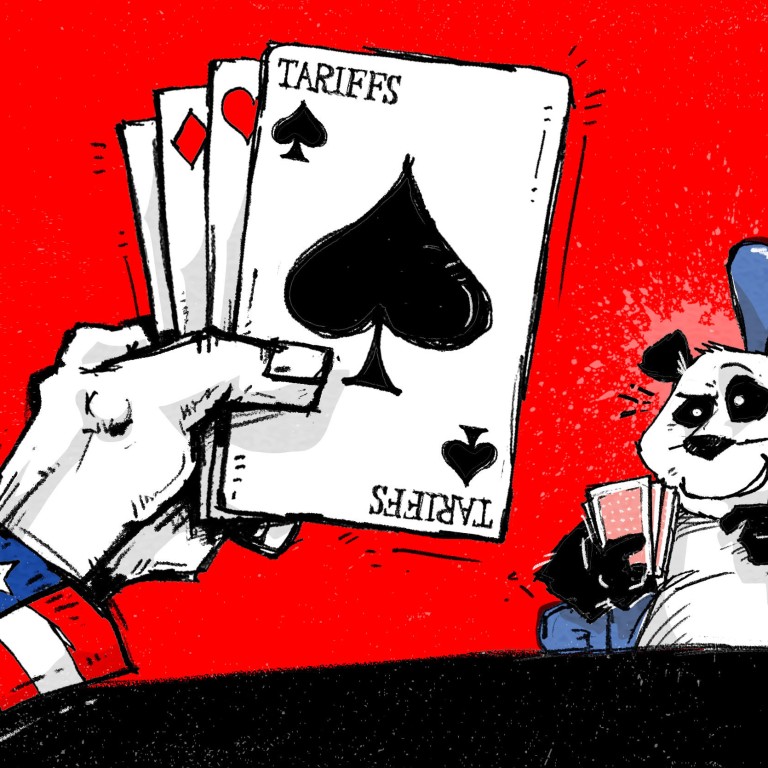 US tariffs on China goods are yesterday's problem for exporters – it made some even stronger – but now they face a bigger threat
As Biden maintains Trump-era tariffs on Chinese goods, industry experts say the punitive taxes don't matter like before, calling them 'entirely political, not economic'
But a broader drop in demand from the West, spurred by soaring prices and a lack of further stimulus payouts by governments, could have broad economic implications
Vacuum cleaners – seemingly innocuous, yet capable of bringing a company to its knees when subjected to politically motivated trade tariffs.
That happened to Shanghai-listed Ningbo Fujia Industrial in 2018, when the vacuum maker – then a major supplier to US firm JS Global Lifestyle – was slapped with punishing tariffs of up to 25 per cent on its exports to the United States.
And for them – along with nearly every other Chinese exporter and manufacturer affected by Washington's tariffs – it did not necessarily matter why the
US-China trade war
was suddenly making it harder for them to do business, but it did serve to reinforce the importance of cultivating new revenue streams with buyers in other countries.
And that they did. Ningbo Fujia even went as far as to build a factory in Vietnam in case tensions with the US further escalated.
So, by the time American tariffs against it were lifted in 2020, after just two years – and the vacuum maker was once again allowed to ship to the US without the extra tariff costs – it had already diversified a chunk of business away from the US, making the market less critical for some Chinese exporters than it was before the tariffs.
But now, even with the US
this week
maintaining a number of Trump-era tariffs on Chinese imports, they have largely become a secondary concern for Chinese firms that have had years to adapt to them.
The larger problem, they say, is waning consumption in the West, driven largely by fewer orders, supply-chain disruptions and soaring inflation.
Chinese exporters such as Wang Shui, a pet-supplies exporter in southern Guangdong province, are considering making lay-offs because demand has shrunk so much.
When US House Speaker
Nancy Pelosi's Taiwan visit
dominated Chinese media headlines and grabbed global attention earlier this month, Wang said he was thrust into his biggest business crisis in three decades.
Indeed, the state of relations between Beijing and Washington is haunting countless businesspeople in China, as bilateral politics send their expenses soaring or cost them market share. But Wang's concerns reflect the more immediate threat – that orders are just not there any more.
"Now, they [US and European consumers] have no government subsidies, and their consumption power has fallen off a cliff," Wang said.
Unlike during previous crises – including the
China-US trade war
from 2018 and when the freight fees skyrocketed last year – Wang found that overseas orders started falling steeply last year, while American and European buyers did not accordingly increase their purchases from Southeast Asia, China's top competitor.
"There are no orders, and there is no tariff problem at all," he said.
Beijing has long been pushing the administration of US President Joe Biden to roll back the punitive tariffs slapped by his predecessor, Donald Trump, on about US$370 billion worth of Chinese goods since 2018 – a move that could now prove instrumental in preventing bilateral ties from deteriorating further.
However, the four-year expiration date on a portion of Washington's tariffs on imports from China came and went on Tuesday. That means a 25 per cent levy remains in place on about US$16 billion worth of Chinese goods, with apparent ambivalence from the Biden administration.
Yet, talk of potentially rolling back duties on some non-strategic products surfaced on Washington's agenda earlier this year, with the Office of the United States Trade Representative expected to have a four-year statutory review of the Trump-era tariffs, and many believe that rolling them back would help ease soaring US consumer inflation that reached a 40-year high of 9.1 per cent in June.
The tariff decision has become a sort of a litmus test in Beijing-Washington relations, though analysts tend to believe that it could partly address America's short-term inflation concerns, and that it would not indicate any diminishment in their all-around strategic rivalry.
Robert Lighthizer, the former US trade representative who participated in the design of the tariffs, said their rollback would hurt US workers and businesses, increase the already crippling trade deficit with China, and squander Washington's negotiation leverage with Beijing over intellectual-property theft, thereby threatening American security interests.
"The [Biden] administration's purported justification – that removing these tariffs could slow inflation – is nonsense," Lighthizer wrote in a commentary for the Wall Street Journal on July 18.
Hopes of a quick rollback of tariffs may have been further dashed upon Pelosi's high-profile visit to Taiwan, which Beijing views as a part of China under the one-China policy and has to be reunified, by force if necessary.
Countries that have diplomatic ties with Beijing, including the US, acknowledge the existence of the one-China principle that holds Taiwan be part of China, but may not explicitly agree with it. Washington does not take a position on the status of Taiwan but opposes any attempt to take the island by force.
"Taiwan and the worsening bilateral relationship make any action on lifting tariffs unlikely this year," said Doug Barry, vice-president of communications and publications with the US-China Business Council.
"US domestic politics featuring intensifying anti-China sentiment constrain President Biden from taking action, which could jeopardise his party's control over Congress."
Both Beijing and Washington have appeared reluctant to conduct meaningful negotiations, given their respective political agendas – China will convene a leadership reshuffling at its
20th Party Congress
later this year, and Biden's Democratic Party wants to win the US midterm elections in November.
While
more American lawmakers
defied China's military drills and warnings to visit Taiwan, Biden has signed the
Chips and Science Act
, which is poised to contain China's tech development and open a new lane in their rivalry.
But from Beijing's perspective, persistent tariffs – largely 10 or 25 per cent – have not yet caused substantial damage in the world's second-largest economy. Foreign reliance on made-in-China products actually jumped as the pandemic crippled overseas manufacturing capacity, and extra costs have largely been passed on to downstream consumers – including buyers who are seeing steep inflation send prices up.
China's goods exports to the US jumped 7.9 per cent to US$452 billion in 2020, the first year of coronavirus, official data showed. The flows continued as Biden was sworn into the White House, with a 27.5 per cent rise to US$576 billion last year and up 15 per cent in the first seven months of this year to US$347.5 billion.
Many manufacturers – including Ningbo Fujia – are reporting rising incomes, despite tariff-induced volatility.
The vacuum maker – after those early tariffs went into effect – saw its 2019 revenue fall by 20.2 per cent to 1.1 billion yuan (US$160.6 million). But its 2020 revenue jumped 89.9 per cent as those tariffs were rolled back due to the signing of the China-US phase-one trade deal, according to the company's exchange filings. And in the first quarter of this year, the company's revenue was up 6.1 per cent, year on year, to 550 million yuan.
Ningbo Fujia is thriving in part because those tariffs helped show it the importance of tapping into the Chinese market, via enhanced cooperation with home-grown giants. This helped limit its exposure to overseas revenue last year to 86.4 per cent – from 97.6 in 2018.
Bob Guan, a California-based trader, said many Chinese products, such as batteries and other mechanical and electrical products, remain competitive because of lower industrial costs following industrial improvements in China.
"Two years ago, a cheap 12v 100AH battery cost US$700 to US$800, and now cost just about less than US$400," he said of a carriable battery type that can be used to power a golf cart or store solar energy.
"Imported products from China are cost-effective and necessities for American customers, especially now that weak consumption is obvious now in the US, and ordinary people here are downgrading their consumption."
Nonetheless, the tariffs remain a dangling sword that could fall in the future, with tariffs on Chinese goods making Southeast Asia or other regions look like more favourable sourcing points. This threatens to force some Chinese industries out of Western markets completely, in the long run.
The US, which used to be the top destination of Chinese exports, has fallen to third place after members of the Association of Southeast Asian Nations and of the European Union.
The back-and-forth debate within the US over its tariffs has exposed division among Washington elites, in terms of their preferred means of tackling inflation, but it has also confirmed an across-the-board hard line towards China, according to analysts.
US Treasury Secretary Janet Yellen and US Commerce Secretary Gina Raimondo pushed for a broader tariff removal to help curb American inflation, which the Biden administration is seeking to do via the
Inflation Reduction Act
. But some officials, including US Trade Representative Katherine Tai, have insisted on keeping the tariffs as "
significant leverage
" to pressure China.
Hundreds of requests to keep in place the tariffs on Chinese goods were also submitted for government review.
"Nothing has changed that would merit unilaterally lifting the tariffs; if anything, President Xi [Jinping] and the CCP [Chinese Communist Party] have only doubled down on their strategy and approach," according to the open letter released by the Labour Advisory Committee on Trade Policy and Negotiations.
Dan Digre, chief executive officer of Minnesota-based speaker manufacturer Misco Speakers, said tariff removals are increasingly unlikely unless Biden can extract what would need to be seen as a politically significant concession from Beijing.
"The question of what to do with tariffs is now entirely political, not economic," he said. "The issue of who actually pays the tariffs – the American importer and ultimately the American consumer – is completely lost in the politics.
"So, for sure, nothing before the midterm elections."
"China and the US should meet each other halfway and make joint efforts to create an atmosphere and conditions for economic and trade cooperation," a Chinese Ministry of Commerce spokeswoman said at a press conference in early July.
"The sooner the US cancels its tariffs on China, the sooner American consumers and businesses will benefit."
The tariff issue was also touched on during a virtual meeting between Chinese Vice-Premier Liu He and Yellen in early July. The issue, however, seemed absent during Xi's virtual meeting with Biden later that month.
Allen Shi, president of the Chinese Manufacturers' Association of Hong Kong, which represents 3,000 manufacturers, also attested that Asian manufacturers are now more concerned about an overall drop in orders due to supply-chain disruptions and weakened Western demand.
"Removing tariffs wouldn't mean the US is a friend of China again and China won't let go of its core values in order to trade with the US," he said. "Taiwan becomes a topic in the US-China negotiations, while China is a card for politicians in the US to gain popularity."
Shi also conceded that while it is hard for Washington to find definitively good cause to remove all tariffs, it may still lift some of them.
But does China really even care about the tariffs now? Not according to Wang Jun, one of the directors of the China Chief Economists Forum, who points out how China has handled stress tests in recent years, by not budging on its core values, as was seen in the recent Taiwan visits.
He said the issue could be temporarily shelved while bilateral relations are at a low ebb, and both sides need to manage their differences and conflicts with new trust-building gestures, such as a face-to-face meeting between top leaders.
I believe some time this year around the midterm election, [Biden] will remove some tariffs
"We must acknowledge that the Democratic government not only continued the Trump administration's hardline policies, but also increased pressure on China from an ideological front, including on Xinjiang, Hong Kong, Taiwan and human rights," Wang warned. "Both are making their respective political calculations and preparing for the worst-case scenario."
The Biden administration has not yet made a final decision on the tariffs, nor provided a timeline on when it might.
Ben Zhang, the founder of direct manufacturing company Greater Pacific Industries in Seattle, said a lot of American politicians would see tariff removals as caving to the Chinese government – like a display of weakness by the world's largest economy to its second-largest.
However, "I believe some time this year around the midterm election, [Biden] will remove some tariffs," he said.