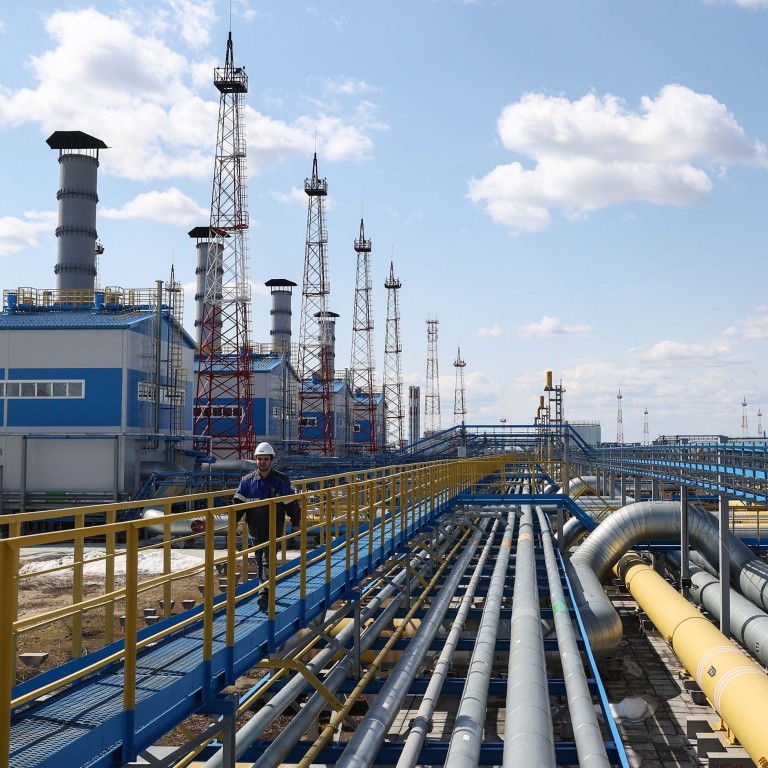 Russia pushing for more farm exports to China as Western sanctions bite, says diplomatic source
While energy remains the backbone of China-Russia trade, Moscow wants to boost exports of farm goods, a Russian diplomatic source says
In the meantime, China's stringent coronavirus border controls and concerns over secondary sanctions remain obstacles to deepening trade ties
Russia is looking to broaden trade ties with China beyond the energy sector, with a particular focus on farm goods, a diplomatic source says, as Western nations step up enforcement of sanctions against Moscow over its invasion of Ukraine.
But Beijing's stringent coronavirus controls and concern over secondary sanctions remain obstacles to deepening economic bonds, the source said, although there was a growing mood of cooperation between the strategic partners.
The Chinese government
strengthened its partnership
with Russia to one that has "no limits" and "no forbidden areas", three weeks before Russian President Vladimir Putin launched his country's all-out attack on
Ukraine
on February 24. Beijing has refused to condemn Russia's invasion and resisted calls to apply economic pressure on Moscow.
Since then, China has
stepped up imports
from Russia, especially energy products. Purchases of Russian agricultural goods like meat, seafood and soybeans expanded last month, but crude oil and natural gas still accounted for more than two-thirds of growth by value between January and July, customs released on Saturday showed.
While energy remains the backbone of trade, a Russian diplomatic source said Moscow thinks there is room for expansion.
"What China imports from Russia is still mainly concentrated on oil and gas … but Russia hopes China will buy a greater variety of Russian goods," the source told the South China Morning Post, adding the two countries were "highly complementary" in agricultural trade like soybeans.
Shu Jueting, spokeswoman for China's Ministry of Commerce, said on Thursday Beijing wanted to increase bilateral trade in both size and quality, and pointed to new opportunities in the digital economy, green development and biomedicine.
"The two sides are coordinating pandemic controls and the port customs clearance, and strive to ensure the normal order of goods passing through the border ports of the two countries," she said.
Earlier this month, Moscow's trade representative to China, Alexey Dakhnovsky, said agricultural products and food were key areas of growth potential in China for Russian exports, according to Russian state-owned news agency TASS.
Vladimir Oshchepkov, Russia's consul general in Harbin, the capital of Heilongjiang province on the Russian border, also said last week that agricultural cooperation between the two countries could be a driver of trade.
Deepening
China-Russia trade ties
took centre stage at the 6th China Soybean Industry International Summit in Harbin last week.
Russia is increasing its soybean acreage to meet China's demand, a representative of a Russian agricultural trading company named BuySell told the gathering of hundreds of Chinese soybean growers, traders and officials.
Russian farmers had also taken note of China's interest in high-protein soybeans so were changing seeds to fit the market, he said.
China's bilateral trade with Russia grew faster than with any other major economy in the first seven months of 2022, a sharp contrast with the decline in turnover with Japan, Australia and Britain, Chinese statistics showed.
But economic engagement was not always as rosy as the trade data suggested, according to the diplomatic source.
China's
zero-Covid policy
is weighing on cross-border trade, the source said, not only blocking the flow of people but forcing shipments to undergo long quarantine periods, which put the quality of imported Russian food and frozen products at stake.
Commercial cooperation is also being held back by travel restrictions that prevented Russian merchants from visiting China. The source said face-to-face communication was irreplaceable.
"The situation has improved a lot recently, but there are still many problems to address," the source said.
A number of Chinese state-owned enterprises appear to be hesitant about advancing business ties with Russia over fears of falling foul of Western sanctions, the source added.
Faced with Western embargoes, Russia has turned to China for key products that it bought from Europe and the US in the past.
Russia's economic development minister Maxim Reshetnikov said he expected bilateral trade to reach an all-time high of US$165-170 billion this year while speaking at virtual forum with his Chinese counterpart Wang Wentao in July.
But he raised concerns about China's Covid-19 restrictions, saying it was important Beijing remove pandemic-related trade barriers "as soon as possible".
The manager of a Chinese company growing crops in Russia's far east region said his company had not received any specific directives from authorities about expanding commercial operations.
He said the company had been affected by recent geopolitical tension, which initially caused a sharp depreciation of the rouble, while the Russian bank it worked with is now a target of Western sanctions.
But the impact was limited and waning, as the exchange rate had stabilised and the company had found a solution to cross-border settlement problems.
In July, China bought 157 per cent more Russian soybeans than in the same period a year earlier, though the growth was dwarfed by an eight-fold increase in purchases from the US. Russian soybean imports during the first seven months were still 3.8 per cent down on the year before.
Earlier this year, Beijing approved imports of wheat and barley from all regions of Russia, after resuming imports of seafood to two northern Chinese ports.
China's imports of Russian wheat and barley declined by 96 and 63 per cent respectively, between January and July, after Moscow imposed export restrictions on its grains.
Chinese agricultural firms in Russia are still small and scattered, and the pandemic has slowed their development, the industry source said.
Chinese companies would inevitably face more challenges as Russia put more resources into its own agriculture industry, he added.
Still, he expressed optimism about the outlook for China-Russia agricultural exchanges, citing China's appetite for goods and Russia's production capabilities.