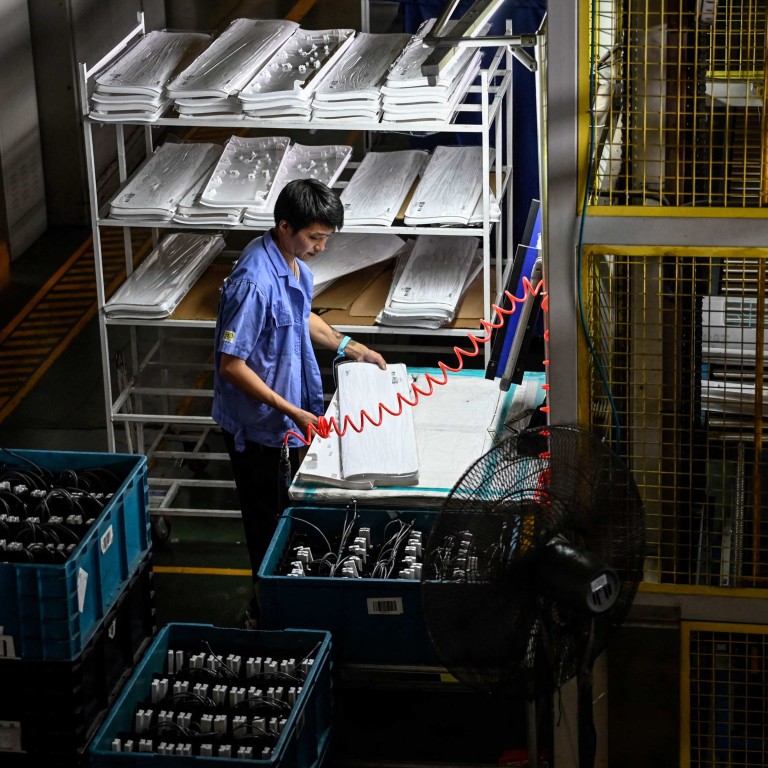 China industrial profits slide as zero-Covid, costs weigh on demand
Combined profit of Chinese industrial firms with annual revenue above 20 million yuan (US$2.9 million) fell 1.1 per cent year on year in January to July
Profits at lowest monthly figure in two years, representing an almost 25 per cent slide from June, Post's calculation based on official data shows
China's industrial profits trended lower last month amid weak domestic demand and persistent high costs, in the latest proof of continued economic headwinds and a reminder on the need for stronger policy support.
Although the supply side was relatively less impacted by China's zero-Covid policy, which has affected demand and dampened economic outlooks, analysts warned of further problems.
Challenges include the power crunch
triggered by prolonged heatwaves in southern provinces and efforts by the West to reorganise global industrial and supply chains amid worsening US-Beijing relations, most recently over Taiwan.
The combined profit of Chinese industrial firms with annual revenue of above 20 million yuan (US$2.9 million) fell 1.1 per cent year on year to 4.9 trillion yuan (US$712 billion) in the first seven months of 2022, the National Bureau of Statistics said on Saturday.
Profits in July totalled 622.7 billion yuan (US$90.5 billion), according to the Post's calculation based on government data.
It was the lowest monthly figure since July 2020, representing a nearly 12 per cent drop on year and an almost 25 per cent slide from June.
"China faces high cost levels, insufficient market demand for some industries and rising operating pressure. As the domestic and international environment have become more complex and severe, hard work is still required for the stable recovery of the industrial economy," statistics bureau official Zhu Hong said in an online statement.
"[We should] actively expand effective investment, continue to unleash consumption potential, increase efforts to assist enterprises in bailouts, and create favourable conditions for the recovery of industrial profits."
Of China's 41 sectors in all, 25 or nearly two-thirds reported a fall in profit, with the top loser being the steel industry, which was left with just a fifth of last year's takings in the same period.
Steelmakers' profits dropped by close to 81 per cent year on year in the first seven months, while building materials sectors were also hit hard by a major slump in the property market.
Coal miners and energy producers continued to perform very well, however, with profits doubled compared to the same period last year.
This came as heatwaves sent demand for electricity soaring, prompting Beijing to call for increased coal production as blackouts caused factories to be shut in several areas supplying major global corporations.
The figures were particularly bad for foreign-funded and private companies, both sectors vulnerable to raw material and energy cost rises, property market downturns, as well as overseas market changes.
While state-owned industrial firms reported 1.74 trillion yuan in profits for the first seven months, an increase of 8 per cent on year, the net income of overseas-funded companies fell by 14.5 per cent year on year to 1.09 trillion yuan, while private factories' profits declined 7.1 per cent to 1.3 trillion yuan.
But such policies generally benefit state-owned players. For instance, carmakers' profit jumped nearly 78 per cent in July, an increase of 30.1 percentage points from June growth.
The net income of railway, shipping and other transport equipment producers rose by well over 29 per cent last month, while the electrical and machinery sector made a 25.6 per cent gain.
However, analysts believe the overall dip in profits will linger.
"Both price and production will continue to drag down industrial profits," Hongta Securities analyst Yin Yue wrote in a research note.
"Capacity utilisation ratio of some industries is declining because of the epidemic, high temperatures and power cuts."
Policymakers in Beijing are piling on the measures to shore up domestic demand, as Covid-19 lockdowns and extreme weather continue to buffet the economy.
China's central bank earlier this month
cut key policy lending rate
s by 10 basis points and lowered the five-year loan prime rate by 15 basis points.
Earlier this week, the State Council granted a fresh 300 billion yuan of policy bond issuance quota, approved a new batch of infrastructure projects and sent out inspection teams to 19 provinces to ensure economic stabilisation.