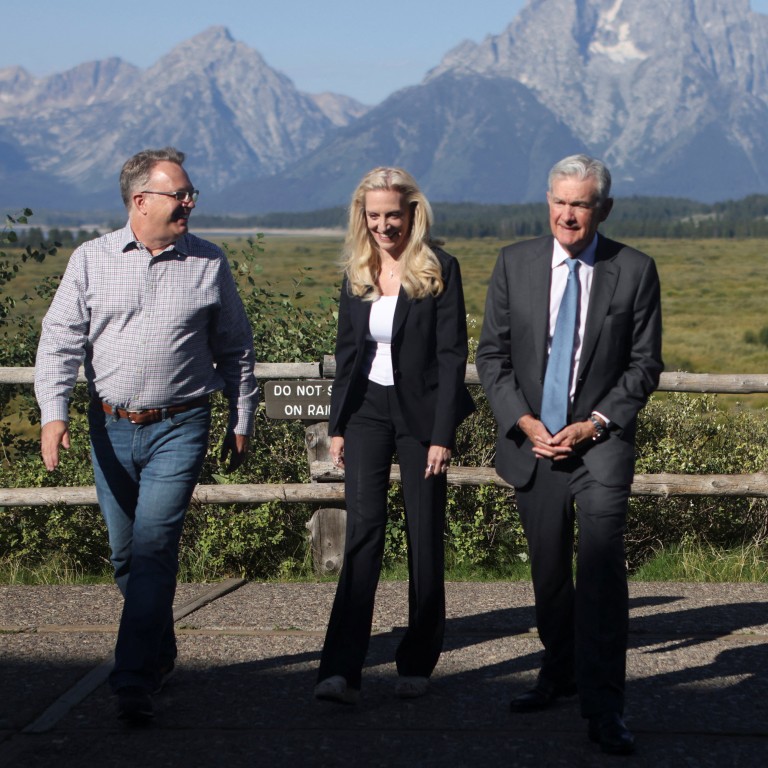 US Federal Reserve's interest rates pledge leaves China with less room to manoeuvre
Economists forecast further US rate rises after a pledge by US Federal Reserve chief Jerome Powell to bring inflation under control
The move spells 'bad news' for China by limiting the ability to further cut rates while the economy is slowing down
China's monetary authority has less room to lower interest rates following a pledge by the US Federal Reserve to use all monetary policy tools available to "forcefully" to rein in inflation in the United States.
US Federal Reserve chairman
Jerome Powell vowed on Friday
to do whatever is necessary to tackle inflation, warning of "some pain" ahead but also acknowledging the global implications of any American policy move.
"We will keep at it until we're confident the job is done," Powell told the annual Jackson Hole Economic Symposium in Wyoming.
Economists generally expect US interest rates to rise to between 3.5 and 3.75 per cent, up from the current range of 2.25 to 2.5 per cent. China's benchmark
rate currently stands at 3.65 per cent.
"This is bad news for China because it narrows the room for cuts even further at a time when China's economy needs it the most," said Alicia Garcia-Herrero, chief economist for Asia-Pacific at Natixis.
"The [People's Bank of China], however, will need to tighten capital controls on outflows even further."
China's economy is slowing as a result of its strict coronavirus controls, downward pressure on the housing sector and power shortages in Sichuan caused by the ongoing drought.
This month China cut a key policy interest rate by 10 basis points in August – the first cut since January – in an attempt to give the economy some impetus.
Powell's comments signal a wider policy gap between China and the US. China is trying to buck the trend by cutting rates to boost its economy while most central banks worldwide have raised interest rates in tandem with the US Federal Reserve.
The threats of recession in the West due to the rate hike and market volatility also overshadows Beijing's efforts to rein in the slowdown.
Markets fell after Powell's speech, with the Dow Jones Industrial Average trading down more than 1,000 points on Friday.
Yang Delong, chief economist of Qianhai Kaiyuan Fund, said Beijing will continue to prioritise stabilising its economy and disregard the gap with the West.
China's central bank has a different agenda from the US Federal Reserve's preoccupation with curbing inflation, and its recent policy focus on credit expansion is now challenged by eroding market confidence, he said.
"The main issue faced by the Chinese central bank is to stabilise economic growth. That explained its recent rate cuts," he said.
"How to finish the last mile of lending money to companies or consumers will be one of its key tasks."
Earlier this week, PBOC governor Yi Gang ordered major state-owned commercial and policy banks to shoulder a leading role in stabilising credit supply and take urgent actions to consolidate the economic recovery.
Capital may be attracted to leave China to seek higher return in the US if the US Federal Reserve accelerates its rate increases and "capital outflows will likely pick up in the second half", said Zhang Zhiwei, chief economist at Pinpoint Asset Management.
Still that would not be "a major concern for the economy," he said, adding that domestic issues like Covid-19 and the property slump are more consequential.
"Capital outflow is indeed one of the concerns for China, but not the main concern," said Dong Jinyue, senior China economist at BBVA Research.
"Unlike other major economies, China has a comparatively closed capital account, capital inflows and outflows have to strictly follow schemes such as [Qualified Foreign Institutional Investor, Renminbi Qualified Foreign Institutional Investor, and some Connect Schemes] with quotas imposed."
The yuan's exchange rate is still generally managed by the central bank, she added, and China's business cycle not being synchronised with the United States and European Union means its stock market is still attractive for global asset allocation.
Zhang said China does not have a balance of payments problem as it has a persistent trade surplus and overseas spending is not constrained.
But Garcia Herrero held a different view on overseas spending.
"I would even say, [tighter capital controls] are not going to help open the border, especially for Chinese to travel abroad," she said.
Services such as tourism and overseas education were a major source of outflows in 2019, she added, it will put additional pressure on the yuan if these activities are allowed now.
Additional reporting by Mark Magnier and Frank Tang