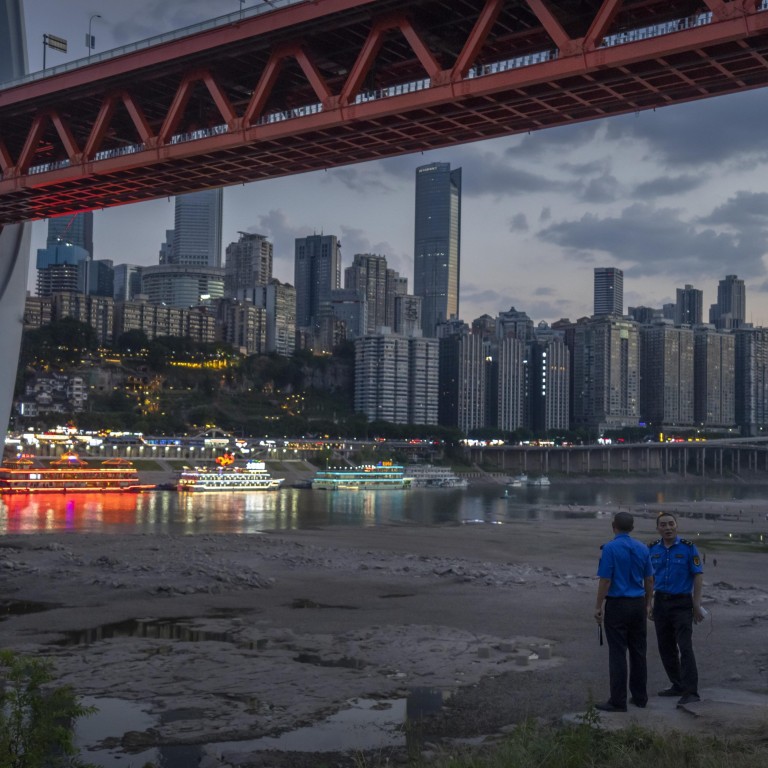 China dispatches ministers to oversee economic recovery as property slump, drought add to risks
Beijing sent high-ranking officials, including central bank governor Yi Gang and several cabinet ministers, across the country to supervise stimulus policies
The inspections were announced a day before Premier Li Keqiang rolled out 19 new support policies for the economy, worth 1 trillion yuan (US$146 billion)
China dispatched high-ranking officials, including cabinet ministers, across the country to demand local governments do more to stabilise growth, a rare move that may indicate the economy is in worse shape than official figures suggest.
Turmoil in the
property market
, a local banking crisis and financing bottlenecks for key projects would have been high on the work agenda for officials, analysts said.
China's State Council on Wednesday last week ordered teams to carry out inspections in 19 provinces, including key drivers of economic growth like Guangdong, Jiangsu and Zhejiang, according to state media.
The inspections were announced a day before Premier Li Keqiang rolled out 19 new support policies for the economy. The stimulus package is worth 1 trillion yuan (US$146 billion) and focused largely on infrastructure.
Beijing has dispatched inspection teams before, but this year they are larger and in several provinces led by higher-ranking officials.
Yi Gang, governor of the People's Bank of China, travelled on Friday to the populous province of Henan, where a local banking crisis has led to rare street protests in recent months and a large number of property projects lay idle.
Housing minister Ni Hong travelled to the southeastern coastal province of Fujian on Thursday, while transport minister Li Xiaopeng was dispatched to Hubei province, the manufacturing and tech hub in central China.
Li Guoying, the minister of water resources, inspected Hunan province, which has been suffering through a months-long heatwave and drought, and environment minister Huang Runqiu went to eastern Shandong province.
"The large-scale inspection is necessary, because July economic figures are not optimistic and the main issue is believed to be local implementation," said Huo Jianguo, former head of the Ministry of Commerce's research institute.
China's gross domestic product (GDP) grew by only 0.4 per cent in the second quarter, and only 2.5 per cent in the first half of this year due mainly to disruption from zero-Covid controls. Industrial profits contracted
1.1 per cent year on year
in the first seven months of 2022.
The government's annual growth target of "around 5.5 per cent" is now looking increasingly beyond reach.
July's data has raised concerns that China's economic recovery is derailing, as social retail sales continue to decline, property investment falls and credit demand contracts further.
"If August figures show no obvious improvement, the central government may have to double down on policy support," Huo said, adding consumption and investment are seen as key drivers of growth.
Chinese exports have held up well, however, buying authorities some time to make domestic adjustments.
Major investment banks lowered estimates on Chinese GDP growth for this year. Standard Chartered Bank has forecast growth of 3.3 per cent, Goldman Sachs 3 per cent and Nomura just 2.8 per cent.
Economic inspections were started in 2014 to tackle problems found by the National Audit Office. It has since become a tool to monitor local implementation of central government policies, from environmental protection to debt curbs.
The team led by housing minister Ni visited unfinished property projects, developers and buyers. He said the central government has recently introduced special loans or rollovers to support construction and delivery of residential projects.
"Local governments should make good use of this policy, do their job well to guarantee the delivery of properties pre-sold, earnestly protect the legitimate rights and interests of homebuyers, and maintain social stability," said Ni.
Mortgage boycotts
have erupted across the country recently, with homebuyers threatening to walk away from loans unless developers can deliver on unfinished projects.
Central bank governor Yi, who was joined by deputy governor Fan Yifei, monetary policy department head Zou Lan and other executives from policy banks, asked local authorities to plan more projects and accelerate the pace of construction. He also promised more support in financing.
Similarly, the inspection team led by deputy minister of civil affairs Zhan Chengfu in Guangdong urged more bank lending and the start of construction projects.
State media are also drumming up efforts to save the economy.
"At this critical juncture, we must face all kinds of difficulties and disturbances, always keep our strategic focus and do our own thing unswervingly," said a commentary published by the Economic Daily.
"We must take decisive measures to ensure a reasonable scale and intensity of policies to consolidate the trend of economic recovery."